Donald Trump
Who is Michael Cohen's father-in-law?
President Donald Trump has tried to turn allegations of improper dealings with Russia back on his former attorney Michael Cohen, in part by making allegations about Cohen's father-in-law. Here's what it's all about.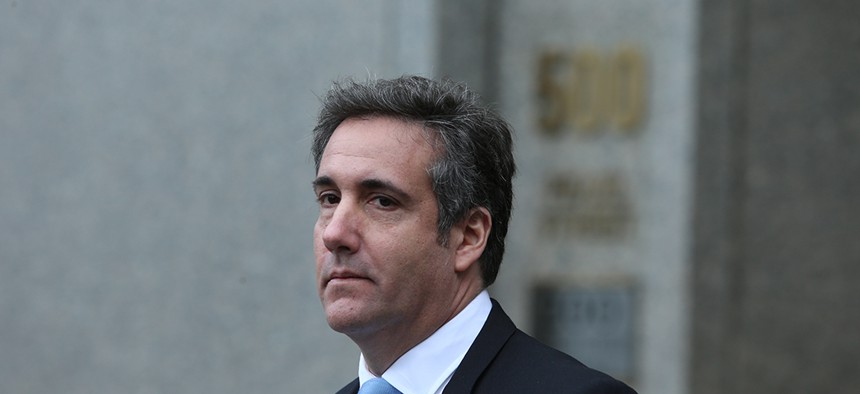 On Wednesday, President Donald Trump's former longtime personal lawyer Michael Cohen testified before the House Oversight and Reform Committee about Trump's hush payments to alleged mistresses, his misrepresentation of his wealth and his business in Russia.
But Florida Republican Rep. Matt Gaetz, a close ally of Trump's, shifted the spotlight to Cohen's own Russian ties in a now-deleted tweet posted a day before the hearing that seemed to threaten to sic Cohen's father-in-law on him: "Hey @MichaelCohen212 — Do your wife & father-in-law know about your girlfriends? Maybe tonight would be a good time for that chat I wonder if she'll remain faithful when you're in prison. She's about to learn a lot.
Why would Gaetz reference Cohen's father-in-law Fima Shusterman, and not just his wife? Why would Cohen fear his father-in-law if he had affairs? Perhaps because Trump and his allies have been implying – without producing any evidence – that Shusterman is a gangster.
Allegations about the Ukrainian-born Shusterman's ties to Russian organized crime in New York started to surface widely last spring, when FBI agents raided Cohen's home with search warrants that reportedly referenced Shusterman's $20 million loans to another Ukrainian-American taxi fleet operator in Chicago.
Since December, Trump has been using those reports in an attempt to divert attention from investigations into his own Russian links while also appearing to threaten Cohen if he testifies against Trump.
Now, facing a three-year prison sentence for arranging payments during the 2016 election to silence women who claimed to be involved with Trump and for lying to Congress about the extent of talks with Russia about a proposed Trump Tower in Moscow, Cohen says he's done protecting Trump. And perhaps because he's feeling the heat of a former trusted confidante cooperating with investigations into possible collusion with Russia, Trump is turning the allegations back on Cohen. Here's what they all mean.  
What are the allegations about Cohen's father-in-law?
Born in the Ukraine, Fima Shusterman first moved to New York in 1975, and eventually started buying up a fleet of taxis with his two business partners. The first major misstep that spectators point to when referencing Shusterman's alleged Russian mob ties is a 1993 conviction related to money laundering. Shusterman pleaded guilty to evading federal reporting requirements for large cash transactions and admitted to cashing $5.5 million worth of checks in order to do so. One year later, Cohen married Shusterman's daughter, Laura.
The New York Times story last year that revealed this history also reported that Shusterman began trying to help Cohen get work, and that Cohen soon started doing business with Russian and Ukrainian immigrants from communities in Brooklyn, including Brighton Beach, a neighborhood heavily populated by immigrants from the former Soviet Union. More recently, Shusterman lent $20 million to a Ukrainian couple by the name of Shtayner who operated a large taxi fleet in Chicago. The Shtayners were reportedly mentioned in the search warrants used to raid Cohen's home and office. Early last summer, Bloomberg also reported that the Shustermans owned three units in Trump World Tower in Manhattan – two of which Cohen's in-laws were trying to sell for a combined $11.2 million.
Some have used those facts to draw up more direct ties between Shusterman and Russian organized crime. One former federal investigator told journalist Seth Hettena that Shusterman called in a favor with Trump to get Cohen a job in the Trump Organization and that he could have been a conduit to Russian investors in Trump properties. Cohen denied this claim.
What has Trump said about Shusterman?
Trump seemed to weaponize allegations about Shusterman's supposed Russian mob ties against Cohen when it became clear that Cohen would cooperate with authorities on the investigation into possible Russian collusion with the Trump campaign during the 2016 election. Trump first tweeted about Cohen's father-in-law in December, saying the Cohen was making up stories about Trump while Shusterman and Cohen's wife got off "Scott Free."
The president later called in to a Fox News show when Cohen's testimony before the House Oversight Committee was announced. "He should give information maybe on his father-in-law, because that's the one that people want to look at, because where does that money – that's the money in the family," Trump told host Jeanine Pirro. "And I guess he didn't want to talk about his father-in-law."
While some viewed Trump's comments about Shusterman and Cohen's wife as an attempt at witness intimidation, former New York City Mayor Rudy Giuliani jumped into the ring last month to defend the president. Giuliani, who has been working for Trump, said that the comments were an instance of Trump simply trying to defend himself. "Of course it is (an instance of Trump defending himself) if the father-in-law is a criminal in the Southern District of New York," Giuliani said. "He may have ties to something called organized crime."
Were the allegations addressed during Wednesday's hearing?
In his opening statement on Wednesday, Cohen referenced the attempts to pull his family into the proceedings. "I have asked this Committee to ensure that my family be protected from Presidential threats," he said. "I have provided the Committee with copies of Tweets that Mr. Trump posted, attacking me and my family – only someone burying his head in the sand would not recognize them for what they are: encouragement to someone to do harm to me and my family."
But during the rest of his testimony, Cohen didn't have much to say on his father-in-law's alleged ties with the Russian mob. When asked why he thought Trump was going after his father-in-law, Cohen said he didn't know, mentioning that Shusterman, who is retired, was in the clothing business – which he was, in addition to owning taxicabs – and that his biggest investments happened to be in Trump properties.
What is the status of the Russian mob in New York today?
While New York is traditionally associated with the Italian mafia, Russian organized crime has a storied history in the city, too. While Russian gangs are known to operate in fraud and insurance scams and tax evasion, they've also been connected to early computer crime. In 1995, a group of Russian hackers accessed $12 million from Citibank's computer network in New York.
"The Russians start businesses and front companies and commodities firms that appear legitimate but essentially work to advance the interests of the Russian state," Craig Unger, author of "House of Trump, House of Putin," said in an interview with Vox. Unger's book looks at Trump's connections to the Russian government and mafia in New York, reaching back three decades. "They're very good at getting people entangled financially and then using that as leverage to get what they want. This appears to be what they've done with Trump, and now he's the president of the United States."
One of the largest recent busts was in 2017, when 30 members and associates of a Russian organized crime group were charged with racketeering, murder for hire and trafficking tens of thousands of pounds of stolen chocolate, among other crimes. The group, called the Shulaya Enterprise, operated in New York and New Jersey, as well as in Pennsylvania, Florida and Nevada. Among the crimes delineated, Shulaya members were accused of trying to operate an illegal poker business in Brighton Beach, where Cohen is said to have met some of his first business partners.
Powered By
NEXT STORY: Jumaane Williams' record on tech