New York State
Will recreational pot freeze out people of color – again?
Minority businesses were neglected in the rollout of medical marijuana, will recreational pot freeze them out again?.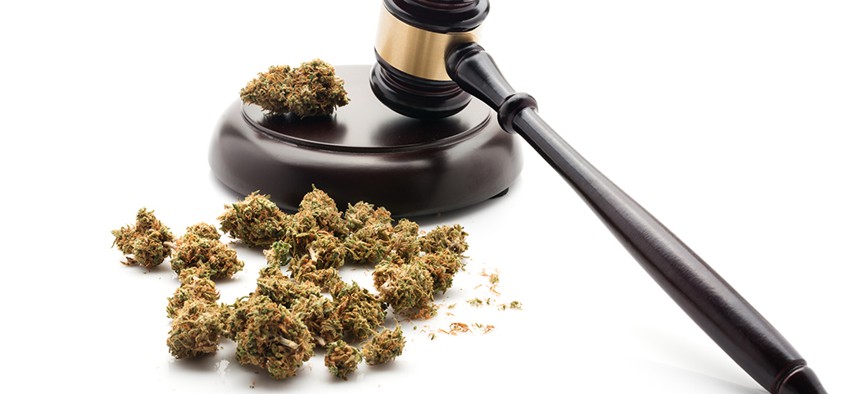 Melissa Mark-Viverito had a snappy idea for her New York City public advocate campaign: "Weed for Rails." A great tagline with sharp art, it had a simple premise: legalize recreational marijuana and use the tax proceeds to help fund the New York City subways, which – needless to say – could use some help.
But New York City Councilman Rafael Espinal Jr., one of roughly 20 rivals for the vacant post, found fault with the former council speaker, calling the plan "tone deaf to the historic realities." Instead, he said, revenue should be directed to "specifically support black and brown communities that have been most historically affected by marijuana enforcement laws."
Mark-Viverito's campaign shot back that she fully agreed. While it should be noted that the next public advocate will have virtually no say in where state tax revenue would be directed, it was just one example of just how much Espinal's position had become accepted progressive orthodoxy. Supporting marijuana legalization in New York state is now a given among the state's Democratic majority. The real lefty litmus test is how policymakers plan to involve people of color in that process. And stakeholders say they're eagerly waiting for Gov. Andrew Cuomo and state lawmakers to hash out the details.
"He's become some great progressive now. Nice words in his speech," said Bertha Lewis, a longtime Cuomo critic now leading the We Rise to Legalize campaign, which advocates for incorporating racial justice in marijuana legalization." But the devil is in the details."
For supporters like Lewis, Cuomo certainly offered some nice words in his Jan. 15 State of the State and budget address, where he made legalizing and taxing recreational marijuana a central focus. Only people over 21 would be allowed to buy and use the drug, the governor said, while counties and "large cities" would be allowed to opt out of the program. But the address and the accompanying bill showed that the governor's team is keenly aware of the calls to have people of color involved in the industry.
"Stop the disproportionate criminal impact on communities of color," Cuomo said during his speech. "And let's create an industry that empowers the poor communities that pay the price and not the rich corporations who come in to make a profit."
I'll be damned if we're going to stand by and at least not fight to get communities of color included in this new industry." – Bertha Lewis, leader of the We Rise to Legalize campaign
The proposal includes automatically sealing some records for marijuana-related crimes. And when issuing business licenses, the state will favor applicants that promise to "contribute to communities and people disproportionately harmed by cannabis law enforcement." The state would also have to set up an equity plan and prioritize the applications of minority- and women-owned businesses. More broadly, the law would reduce almost all marijuana-related crimes – except for large-scale illegal trafficking – to misdemeanors and would attempt to maintain good working conditions by essentially mandating that all workers in the industry are unionized.
The details of Cuomo's cannabis plan are extensive. The draft bill takes up 191 pages in his book of legislative proposals, almost as much space as the other 48 proposals combined. But there seems to be a lot of leeway when it comes to implementing the portions focused on equity for people of color.
Asked whether New Yorkers imprisoned on marijuana-related offenses would be released, a spokeswoman for Cuomo's office noted the bill's malleability. "The current proposal provides a robust framework for the automatic sealing of certain cannabis related convictions and we look forward to identifying additional measures, including resentencing, that reduce the direct and collateral consequences of cannabis convictions," Nicole Leblond said in an email to City & State.
Chante Harris, a vice president with Capalino+Company, a lobbying firm representing companies interested in entering New York's cannabis market, agreed that there was more to come. "I think a lot of these things will get hashed out later on," she said. Harris told City & State that there are big question marks around how the state will handle clearing people's criminal records, and also how the state will work with disadvantaged business owners. New York already has an MWBE program, and Cuomo has set a goal of getting 30 percent of state contracting dollars to companies with majority ownership by women and/or racial minorities. Lewis suggested that the state could write that 30 percent goal into the recreational marijuana bill.
There's reason to be skeptical of the administration's efforts, however. New York's medical marijuana program, which was legalized in 2014, has been roundly criticized for not including people of color. Of the 10 companies granted licenses in New York, not one of them is majority black-owned. "Most people can acknowledge the way the medical market was set up didn't make it accessible to most New Yorkers," Harris said.
The way the medical market was set up didn't make it accessible to most New Yorkers." – Chante Harris, Capalino+Company vice president
State officials seem to have heard the criticism. The medical marijuana program, for example, is vertically integrated, meaning that companies can cultivate, distribute and sell cannabis "from seed to sale." The recreational marijuana proposal would be horizontally integrated, with companies receiving licenses for only one part of the process – cultivating, processing, distributing or retailing. A single firm would be allowed to hold multiple licenses to grow and distribute, but wouldn't then be allowed to sell it to consumers. That structure is meant to allow more companies to enter the market with lower overhead costs and lower investment – in theory making the market more accessible for historically disadvantaged communities.
Cuomo's proposal isn't the only one on the table. Though the governor has outsized power in budget negotiations, Democratic legislators have been introducing their own marijuana legalization bills for years. The most recent version, sponsored by state Sen. Liz Krueger and Assembly Majority Leader Crystal Peoples-Stokes, is even more explicit about efforts to benefit people of color. The bill gives more detail about how to clear past criminal records, creating a process for New Yorkers convicted of marijuana-related offenses to petition the court for resentencing, or to vacate the case. The bill creates a $5 million business loan fund to help launch small minority- or women-owned businesses. And Krueger's and Peoples-Stokes' bill specifically mentions tax revenue going toward "communities disproportionately affected by past federal and state drug policies" – a clause absent in the governor's bill.
Thanks to the new Democratic state Senate majority, legislators have been passing bills at a relatively rapid pace to open the session. But the complexities of the pot bill mean that it might not get done by the budget, due April 1.
"I believe this can be achieved in the budget process, but if we need to wait until later in the session to bring people on board, then that's what we'll do," Krueger said. "The communities hardest hit by the failed policy of prohibition have been very patient. It's time to get this done."
In the meantime, Lewis' campaign, We Rise to Legalize, is reaching out to communities of color across the state to get more support for its concerns about the proposal.
"In the end, is the governor going to stand with us, the people who have paid the price over the years because of this war on drugs?" Lewis asked. "I'll be damned if we're going to stand by and at least not fight to get communities of color included in this new industry."