New York State
Buffalo's billion-dollar Band-Aid
Most of Buffalo, New York's largest and most costly individual projects have produced underwhelming results, whereas some of the smaller-scale, lower-profile programs are actually generating a lot of growth – or, at least, the potential for it.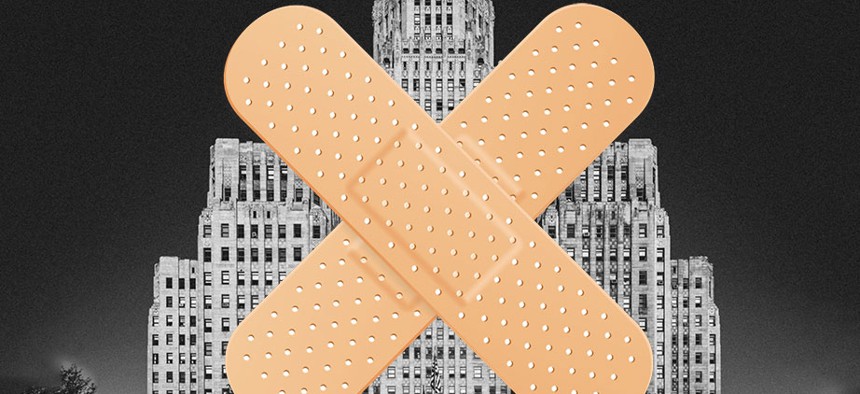 When their hometown comes up in conversation, Buffalonians love to proudly rattle off a list of manufacturing firms that are no longer there and things that made the city important a century ago. Did you know that the modern windshield wiper was invented by Trico Products Corp. in Buffalo? That Larkin Soap Co. was once, while located in Buffalo, the world's largest soap company? That in 1901 Buffalo hosted the Pan-American Exposition – and it's where instant coffee was served for the first time and where then-President William McKinley was assassinated? Even those who believe Buffalo is on the upswing tend to lead with its past.
When Trico's last manufacturing plant in Buffalo closed in 2004, it was a blow to more than just the city's economy: Imagine how New York City would feel if NBC moved to Tennessee and "Saturday Night Live" started filming there. Buffalo's identity was its industry. Today, vast stretches of Buffalo are visibly run-down and business is so slow at the city's legendary Anchor Bar, inventor of the Buffalo wing, that it sometimes shuts down an hour early because it's not worth staying open. Just a block north of downtown, one of Trico's former factories, which closed in 1998, sat for years as a hulking reminder of its abandonment.
Offices now fill the ground floor of that building and one of them is home to 43North, a startup incubator that may birth the next major regional employer. This being the 21st century, big things begin with young people, bundled up in fleeces and hoodies, sitting around tables silently staring at their laptops. The companies they run have each received an investment ranging from $500,000 to $1 million, handed out annually to a handful of winners, in exchange for a small equity stake in the firm. Last year, seven were chosen from a pool of around 500 applicants from across North America.
The current class includes a maker of medical devices like prosthetic legs, a company marketing a mobile electric vehicle charger and a shoe company making a sneaker-boot hybrid for millennials. The startups tend to arrive with around $1 million to $3 million in capital, apart from state funding, and between three and 10 employees. Five years in, 44 companies have received funding and around half of them are still operating in the Buffalo area.
In 2012, the entire Western New York region attracted only $6 million in venture capital, according state figures. Since 2014, 43North winners have collectively brought in $200 million. The broader ambition is to make the Buffalo area a magnet for startups. "We're setting up an entrepreneurial ecosystem, the next generation of talent," said Alex Gress, 43North's president. "It's a billboard to attract investment to the region."
For a city that has been stuck in the past, this provides hope for the future. As John Maggiore, a senior adviser to Gov. Andrew Cuomo and a native Buffalonian, put it: "This is not about today; it's about five years from now."
What will that future look like? Gov. Andrew Cuomo first won office in 2010 campaigning on a pledge to fix the upstate economy. Since then, he has invested considerable money and effort into doing so. Reporters on his press list receive an endless stream of announcements of grant awards and ribbon-cuttings across upstate's diverse regions. The most high-profile of these plans was the Buffalo Billion, which was supposed to bring that city roaring back.
Most of the Buffalo Billion's largest individual projects have produced underwhelming results, whereas some of the smaller-scale, lower-profile programs are actually generating a lot of growth – or, at least, the potential for it. Of all the state-backed economic development schemes, 43North has delivered some of the highest return on investment.
Even so, the 422 jobs at 43North grant recipients are a drop in the bucket for a metropolitan region with more than a million people. It would be wrong to say Buffalo has nothing to show for the state's investment. It is not an eerie wasteland like Detroit. But it also isn't a lively boomtown like Boston – and whether any economic development strategy can get it there remains to be seen.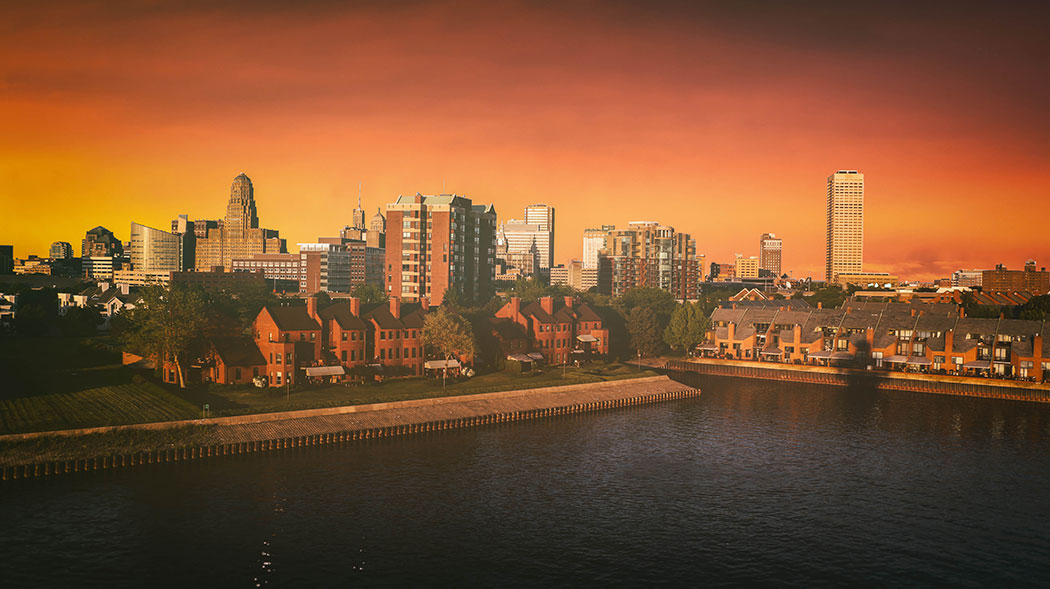 You've probably heard that Buffalo's back. Once the butt of jokes by late-night comedians about mountainous snow, an embodiment of Rust Belt decline on par with Cleveland, the city is now portrayed as a Cinderella story. Katie Couric recently celebrated its "revitalized waterfront" and "a bustling tech boom."
This is exactly what Cuomo hoped for in 2011 when he launched the Buffalo Billion – and a second $500 million phase announced in 2017 – to reverse a half-century of decline in New York's second-largest city. The larger state-run planning process, guided by the Western New York Regional Economic Development Council, has directed far more private sector and local government investment.
Whether it's causation or correlation – or just Cuomo's good luck that his tenure coincided with a national economic recovery from the Great Recession – many locals identify 2011 or so as the city's turning point. "Albany's economic shot in the arm has given our area momentum that is a key to attracting and keeping young people," The Buffalo News editorialized last year.
Since the depths of the Great Recession, metropolitan Buffalo has added almost 40,000 private sector jobs, including 20,000 since 2012, when it returned to its pre-recession employment level. "Something is happening this time," said Jonathan Bowles, executive director of the Center for an Urban Future. "It's not boom time necessarily, but it's modest job growth."
"I'm not going to be able to point to one Bethlehem Steel ever again. But when we substituted that economy with our countless smaller stories. That's where we're making the difference." – Lt. Gov. Kathy Hochul
During the previous economic expansion, from 2002 to 2008, Buffalo experienced no job growth. Until recently, even during strong years for the national economy, Buffalo-area manufacturing employment slid steadily. It dropped from 83,000 in 2000 to 49,000 in 2010. Since then, it has ticked up to 52,000. In a region nostalgic for the high-paying jobs that high school graduates could obtain in the heyday of heavy manufacturing, even that modest improvement is cause for celebration.
And while the large majority of the new jobs are in the service sector, in a region where the median home costs only $142,000, it doesn't take a huge income to live a middle-class life. "I'm not going to be able to point to one Bethlehem Steel ever again," said Lt. Gov. Kathy Hochul, who is from Western New York, referring to one of the large employers that has since left the region. "We're not banking on 20,000 jobs that pay good middle-class incomes where you can support a family. But when we substituted that economy with our countless smaller stories, that's where we're making the difference."
Over the course of last year, unemployment in the Buffalo area finally dropped to nearly as low as the national average: 4.1 percent, versus 3.7 percent nationwide, according to the federal Bureau of Labor Statistics. Other larger upstate cities, including Syracuse and Rochester, tell the same story.
However, some locals are unimpressed, noting that job growth still lags far behind the nation as a whole, including downstate New York. Unemployment rates don't include all the residents who left to find work elsewhere. Upstate cities mostly have dwindling workforces, thanks to long-term out-migration and aging populations. In Buffalo, that's caused the local labor pool to shrink by more than 6 percent in the past 10 years. "The Buffalo area's job growth is better than it used to be," said Jim Heaney, editor of the Investigative Post, which is based in Buffalo. "When you compare it with Binghamton, yeah, we're doing good. When you compare it with the country as a whole, no, we continue to lag."
The story is even bleaker in some of upstate's smaller cities. According to an Empire Center for Public Policy analysis from October, private employment during the recovery declined in the Binghamton, Elmira and Watertown-Ft. Drum metro areas. The think tank's founder, E.J. McMahon, wrote: "Upstate New York's economic recovery has been among the weakest of any region in the country. Indeed, parts of upstate have yet to 'recover' from the recession at all."
In 2017, the Investigative Post analyzed employment data and reached some dismal conclusions: "Employment upstate has grown by only 2.7 percent during Cuomo's tenure – compared with 13.1 percent downstate and 11 percent nationally. … If it were a state, upstate's job growth would rank fourth-worst in the nation, below, among others, Mississippi. What's more, 88 percent of the net jobs added upstate during the Cuomo years have been in low-wage sectors, led by restaurants and bars."
Now the state is turning its attention to Buffalo's disadvantaged East Side, with the governor's recently announced $50 million East Side Corridor Economic Development Fund. Just as challenging, it hopes to replicate the Buffalo Billion with scalable models in smaller cities across upstate. In 2015, the state awarded $500 million to Central New York as part of the Upstate Revitalization Initiative. A good portion of the funds remain unspent, but are likely to go to the Syracuse Surge, a strategy – developed by Syracuse Mayor Ben Walsh and backed in January by Cuomo – to bolster Syracuse's tech sector, science education and workforce training.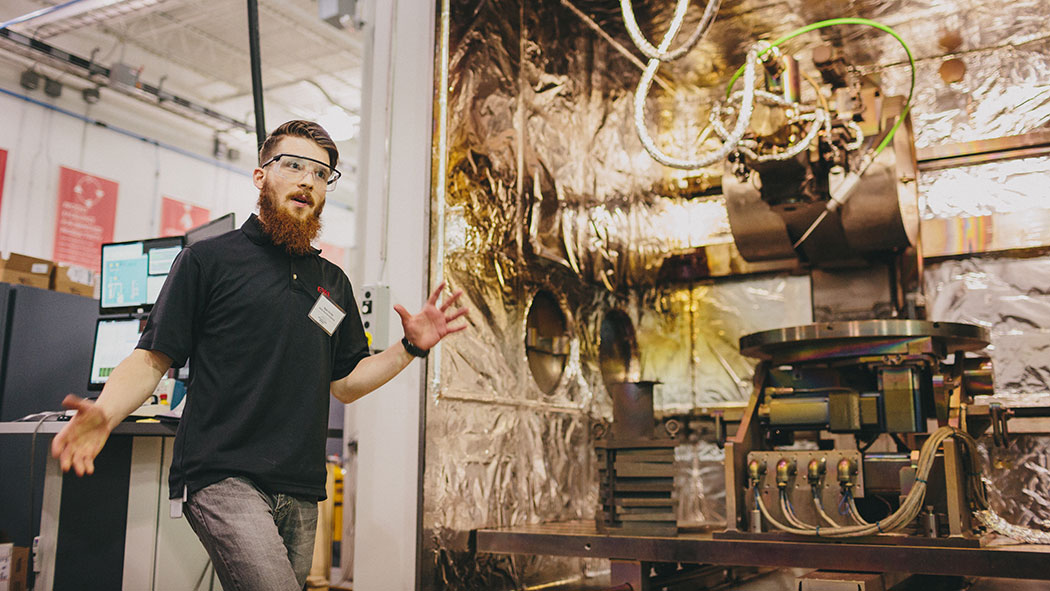 Upstate cities, like all older American cities, were battered by a one-two punch of deindustrialization and suburban sprawl. "It became that if you were high school educated, you were jobless, and if you were college educated it became: 'Let's get away from the crime,'" said Joe Lettieri, a local innkeeper and lifelong Buffalonian. "Everyone just fled." Buffalo's population was halved from a peak of about 580,000 in 1950 to less than 259,000 in 2017. Other upstate cities, such as Syracuse and Rochester, have also experienced significant, although not quite as dramatic, population losses.
Buffalo proper still makes headlines for being ranked one of the nation's worst cities to live in, based on factors like crime, the economy, health and education, with Syracuse not far behind. Inner-city Buffalo is much poorer than the surrounding suburbs: Its roughly 30 percent poverty rate and $34,000 per year median household income are slightly worse than those of the Bronx, New York City's poorest borough. By contrast, in the Buffalo metro area, just 14.2 percent of residents are impoverished and the median household income exceeds $55,000.
The increasing fashion for urban living among millennials has brought glimmers of hope to some upstate downtown areas. "Five years ago, I'd go to Syracuse and I couldn't find a place for lunch – now, I can't find a seat," Maggiore said. "Downtown Troy went from a place with interesting architecture, with nothing in it, to a place with stores and restaurants and art galleries. The common thread is all these places are becoming hipper."
The state is trying to help cities capitalize on this trend by strategically investing in public infrastructure improvements. "When I look at a map of downtown Utica, it's a jigsaw puzzle of our state (projects)," Maggiore said. "The hockey arena sells out, the brewery has become a tourist attraction. So the state has DOT projects to make it easier to access and walk around downtown." The state is also supporting an effort to turn Utica's post-industrial harbor into a mixed-use waterfront neighborhood.
In Buffalo, state efforts to support the tourism and entertainment industry include spending on refurbishing a National Historic Landmark house designed by Frank Lloyd Wright to make it suitable for visitors and renovating the massive – once decaying, but architecturally magnificent – former state psychiatric hospital into an upscale boutique hotel.
The largest such project is a redevelopment of the area around the abandoned endpoint of the Erie Canal, which was rerouted almost a century ago. The district, called Canalside, is separated from Buffalo's downtown by elevated highways. It was largely barren after the hockey arena closed in the late 1990s. Now, it features a re-created canal that serves as an ice skating rink in the winter and a waterway for paddle boats in the summer, mixed-use developments and a plan to reinstate a long-gone street grid. HarborCenter, a mixed-use tower with a hotel, retail and dining and two hockey rinks, opened in Canalside in 2014, plus it hosts outdoor concerts in the warmer months. This being Buffalo, there's also a "one-of-a-kind Tim Hortons Cafe & Bake Shop" that "pays tribute to the life and career of Tim Horton," a former professional hockey player. The number of annual visitors to the area has doubled since 2010, according to the state.
On a recent weekday morning, however, the area felt like a void in the shadow of the expressways. Sports arenas are a notoriously poor public investment, and hopes that they will revitalize an underutilized area are often at best only partially successful, as in the famous case of Baltimore's Inner Harbor near the Orioles' Camden Yards stadium. The hope, not yet fully realized, is that Canalside will have the right mix of activities to feel lively year-round, and not only on game nights.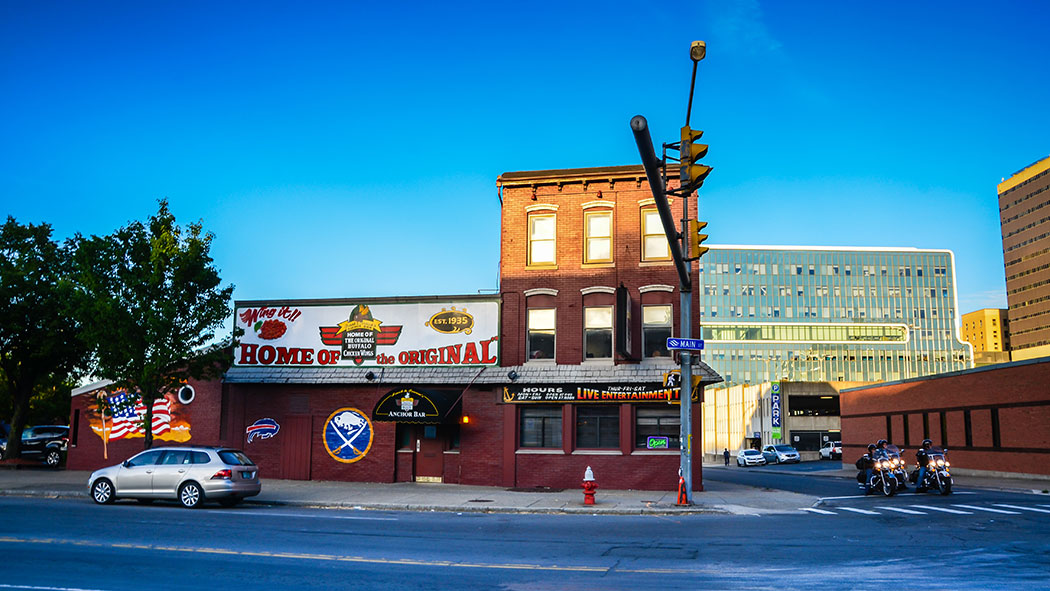 It's one thing to make Buffalo a destination for tourism and entertainment, but is that a viable strategy for smaller cities? Jamestown, a dilapidated city of 30,000 in the southwestern corner of New York state, is going to find out. In 2016, Jamestown put together a plan for reinvigorating its downtown, based off an existing master plan, and successfully applied for one of 10 annual $10 million awards from the state's Downtown Revitalization Initiative. (Thirty cities have won in total over three years.) Jamestown, which has lost 50 percent of its population from its peak in 1930, flourished in the late 19th and early 20th centuries as a site of textile mills and wood furniture manufacturing. The area experienced a decline in private employment during the post-Great Recession national recovery, according to the Empire Center.
Downtown Jamestown contains architectural remnants of a more prosperous era, but most of its retail has left for shopping malls or migrated online. "The plan is to bring some vibrancy, and build that placemaking so that when we go and try to recruit businesses – millennials in the digital economy are looking for something like that," said Vince DeJoy, Jamestown's director of development.
Every expert says cities should build on their assets rather than trying to be something they're not. In Jamestown's case, that means taking advantage of its claim to fame: Lucille Ball grew up there. Already home to the Lucille Ball Desi Arnaz Museum and an annual festival in Ball's honor, the nonprofit foundation Ball endowed opened the National Comedy Center in the heart of downtown Jamestown last summer, with support from the state and other sources. Built partly out of a magnificent old train station, the Comedy Center has impressive technology. Visitors can create a profile by selecting favorite comedians, movies and TV shows that helps determine the clips played for them throughout the experience. I laughed out loud when my taste was accurately characterized as "abrasive humor," and again when I sat on a bench that makes fart sounds. Glass cases display memorabilia, including Joan Rivers' notes to herself on how to handle a heckler, George Carlin's scroll of dirty words used as a prop onstage and Andy Kaufman's white leather jacket from his Elvis Presley imitation.
The National Comedy Center won't disclose its visitor numbers yet, although it said they've come from all 50 states. The goal is to ultimately attract 114,000 visitors per year, which would be impressive for an attraction that costs $25.50 per adult and is almost a two-hour drive from Buffalo, the nearest major city. Those numbers would be heavily concentrated on weekends and in summer. On a weekday afternoon in March, the number of visitors present could be counted on two hands, as could the number of pedestrians in downtown Jamestown.
"If you're Oneonta, $10 million is huge. But we don't know yet how effective it will be at changing these cities' trajectories." – Alan Mallach, a senior fellow at the Center for Community Progress
The liveliest place in town was an espresso bar, which opened in 2007, that has exposed brick walls and a barista who calls customers "dude." It's a sign of life, one that could be bolstered if the National Comedy Center takes off, but the cafe's existence simply reflects that every city now has at least a handful of hipsters who hang out in coffee bars downtown. The Downtown Revitalization Initiative is trying to build on that by making a full-fledged dining, entertainment and tourism district, with grants having gone to a forthcoming brewpub, a riverfront park and a performing arts center.
The Downtown Revitalization Initiative draws praise from experts for encouraging comprehensive strategic planning. "If you're Oneonta, $10 million in flexible dollars is huge," said Alan Mallach, a senior fellow at the Center for Community Progress, who studies older industrial cities. But, he cautioned: "We don't know yet how effective it will be at changing these cities' trajectories."
Hochul is confident in the resurgence of smaller upstate cities. "Where was I yesterday? Oswego, Watertown – two communities that won the Downtown Revitalization Initiative competition," Hochul told City & State in late March. "I said, 'You just won the jackpot!' It's transformative. We're using the Buffalo story and saying if we can do it in the most depressed, hard-hit area, the highest unemployment that was the most hopeless place in New York state, we can bring back Buffalo – and we have – we can do you 'cause you're a smaller scale. You can do it easier. It's easier for Jamestown to redo their waterfront than it was for Buffalo."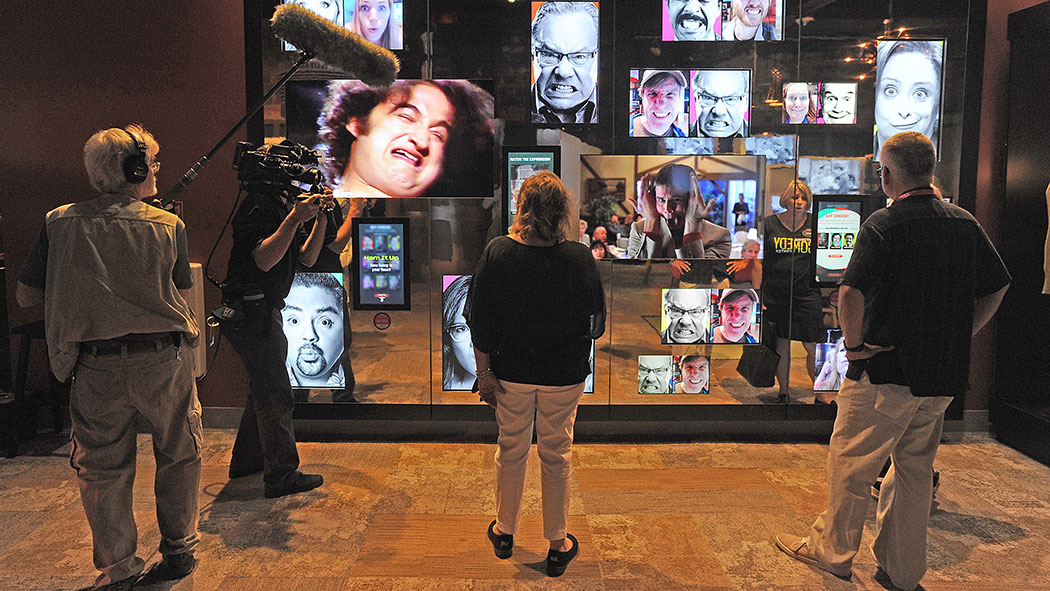 The other track on which upstate economic spending has proceeded is the more expensive and controversial practice of offering inducements to individual corporations. The largest in Buffalo is the massive solar panel factory at the waterfront site known as RiverBend. The former steel mill site was a brownfield. In 2013, the state struck a deal to clean up and refurbish the site for $750 million for a solar company, later acquired by Tesla, to open a plant that would deliver 1,460 jobs at the site and 5,000 to New York state within 10 years. Tesla has surpassed its first employment target of 500 jobs, due this month, but it would have to significantly increase its workforce to hit the next target in April 2020. Tesla's solar business is flagging and its solar workforce is shrinking elsewhere, stoking fears the jobs in Buffalo will never fully materialize. While this could be considered a success story, it's a very expensive one.
Also in 2013, the state provided a research facility on the Buffalo Niagara Medical Campus for Albany Molecular Research Inc. It was supposed to generate 250 jobs, but so far only 55 have been created.
Last year, the Investigative Post reported that a $55 million grant provided in 2014 to bring an IBM "innovation hub" and "advanced research center" to Buffalo has been "mired in dysfunction and disappointment." The IBM employees' salaries, starting at at $13.75 an hour, are not exactly what one might expect of jobs that were supposedly going to be at the tech sector's cutting edge.
The Cuomo administration counters that these projects are supposed to reach their advertised employment over years, so they shouldn't be judged a failure only part of the way through the expansion process.
In a more general sense, however, economic policy wonks say company-specific subsidies are less efficient than broader development of public goods that are attractive to companies, like high-quality education, workforce training, infrastructure or cultural amenities. (Erie County Executive Mark Poloncarz's newly unveiled proposal to spend $20 million on high-speed internet in underserved areas could be considered an example of that approach, although it's more about equity than economic development.) In the manufacturing sector, it's usually more cost-efficient to build capacity for the whole sector to grow than to assist companies individually. For example, Buffalo Manufacturing Works, a local nonprofit assisted by the Buffalo Billion, provides services, such as consulting on engineering in product development, to small and midsized local manufacturers.
"Unfortunately, the biggest projects aren't through programs, they're attempts at reviving a region through a silver bullet," said David Friedfel, director of state studies at the Citizens Budget Commission. One such failed silver bullet is the film hub in Syracuse, a $14 million facility the state constructed in a suburban office park, which Cuomo claimed would create 350 high-tech jobs but has produced no permanent positions.
Even when such efforts aren't obvious failures, it's hard to measure success. "The state does not do a good job of documenting what happens after the award is made," Friedfel said. "In some cases, it's awarded and the money doesn't go out the door because the company changes plans. Data isn't collected in a systematic way that's easily accessible."
To understand why these ventures are not a sustainable model for growth, consider that New York's metro areas have lost three-quarters of their peak manufacturing employment – more than any other Rust Belt state. Historically, New York cities' comparative advantage was their access to waterways. The United States is now two transportation revolutions beyond that era, with the rise of railroads and automobiles.
New York City has been the hardest-hit region for manufacturing, yet it thrives because its diverse economy has grown in other sectors, including finance, technology, marketing and the arts. It competes with Orlando as the nation's largest magnet for tourists.
In urban upstate areas, the state has tried two tactics: bringing back manufacturing, and diversifying by expanding new economy sectors like technology, services and tourism. The two approaches have both involved inefficiently subsidizing specific companies – like Tesla and IBM – and cheaper, industrywide measures, like Buffalo Manufacturing Works and 43North.
Suburban sprawl and the population shift toward the Sun Belt are not the only larger trends challenging upstate cities that are beyond the control of state government. The U.S. political economy has undergone massive shifts, including globalization, deindustrialization and skyrocketing inequality. That manufacturing employment has declined in every city north of the Mason-Dixon line cannot be explained by concluding that every state and local government has screwed up. Buffalo is replacing manufacturing jobs with service jobs because those are the jobs the American economy is creating. To say that, despite state and local efforts, the average Buffalonian or Jamestowner who didn't attend college has worse prospects than they would have a generation ago is simply to observe that the year is 2019 rather than 1969.
In that context, the Buffalo Billion and the Downtown Revitalization Initiative are Band-Aids on a deeper wound caused by global economic upheaval. But a Band-Aid may be the best treatment the state has at its disposal. New York can no more set federal tax, spending and trade policies than it can shape foreign policy. And one need only search online for Flint, Michigan, or East St. Louis, Illinois, to see that cities can be worse off than the ones in New York.
"New York City is one of the few places in America to really benefit from globalization, and most of the rest of the state has seen hugely negative impacts," Bowles said. "The upstate economy is better compared to the rest of the Rust Belt than it is compared to New York City or Long Island."
Since upstate is the Rust Belt, this is not an unreasonable metric. The question that remains unanswered, however, is: 100 years from now, what long-gone companies will Buffalonians brag were started there in the 2010s and 2020s?
Correction: This article originally stated that startups winning the 43North competition receive grants. In fact, it is an investment in exchange for equity. 
Powered By
NEXT STORY: New York City to pass water tank reforms