New York State
Cuomo's greatest MTA micro-managing hits
Governor Andrew Cuomo has micromanaged the MTA in the past, but he has ramped up his involvement in the past two years. Here's a guide to the most significant occasions.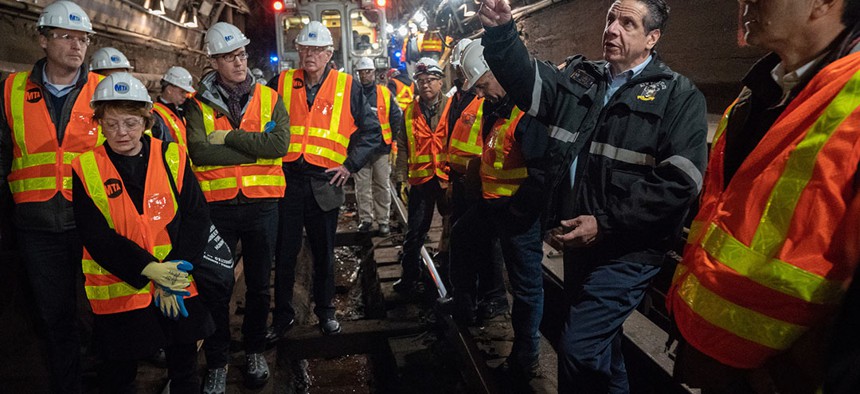 Gov. Andrew Cuomo is a famous micromanager, and perhaps nowhere is that more apparent than his frequent meddling with the Metropolitan Transportation Authority. Despite his repeated and false claims that he does not run the MTA, he still has somehow always found a way to get what he wants from it. The extent to which he gets involved with MTA business has even frustrated New York City Transit President Andy Byford to the point that Byford's associates fear he might quit. Although Byford is an expert at turning around failing subway systems, Cuomo has cut him out of decisions or found ways to work around him, particularly with the L train shutdown debacle. Cuomo hasn't even spoken to Byford in months, claiming he only deals with upper management, not a "division chief." And just last week, Cuomo reportedly cut a deal with New Jersey that could mean state's drivers won't have to pay a fee once congestion pricing takes effect, a deal the MTA had no knowledge about.
Ben Kabak, editor of the transit blog 2nd Ave. Sagas, said that while Cuomo has micromanaged the MTA in the past, he has ramped up his involvement in the past two years – beginning with the state of emergency he declared in the summer of 2017 and particularly in the last few months. Kabak said that while Cuomo insists he does not run the agency, it was becoming harder to distance himself as more advocates and journalists held him directly accountable. "His thinking seems to be that if he's going to stand behind all this money the MTA is getting, he wants to see results," Kabak said. "The problem is, he starts then undercutting the people he's brought in who are experts in this field to do their job."
Kabak said Cuomo has had some mixed success with his micromanaging approach to the MTA, but predicts that once New York City's transit is on the upswing again, he may pull back and shift his attention elsewhere. Until that happens, here are the most significant occasions when the governor has dictated policy to the transit agency.
Congestion tolling for New Jersey
When New Jersey Gov. Phil Murphy announced that he and Cuomo had reached a conceptual agreement that all Hudson River crossings would be treated the same, generally accepted to mean drivers using those crossings would be exempt, MTA Chairman Patrick Foye responded with confusion. "With all due respect to Gov. Murphy, we have no idea what he is talking about," Foye said in a statement, adding that no agreements have been made with anyone yet. Murphy, however, insisted that he and Cuomo came to an understanding based on "principle-to-principle discussion" the two governors had. A Cuomo spokesman said that the MTA will make its decisions after completing a traffic study, but does not explicitly deny that an agreement was reached. Later, in a radio interview, Cuomo stuck to the same talking points without directly denying what Murphy said.
L train shutdown
After years of planning and preparing, and just months before it was set to begin, Cuomo stepped in to stop the shutdown of the L train in New York City. The MTA, with community input, had long-before decided shutting down the line for 15 months would be the best and more efficient way to complete repairs on the Canarsie tunnel, which had been damaged during Superstorm Sandy. Then, in January of this year, Cuomo came out with his own plan created by a team of outside engineers, totally upending the years of work. Rather than completely shutting down for the line for 15 months, his plan, dubbed the "L train slowdown," would take about the same amount of time while keeping service running, albeit with massive disruptions. Although some riders rejoiced that they would still have their train, many transit advocates raised concerns about the safety of the plan, and the streamlined and somewhat questionable approval process it went through.
LaGuardia airtrain
In 2015, Cuomo proposed building an airtrain between the Mets-Willets Point station in Flushing and LaGuardia airport. He was not the first person to make the proposal, but he is the first person to make headway. The plan was not well-received by transit experts, who said it would be inefficient and costly while not saving people any time, and criticized the route it would take. Nonetheless, Cuomo has plugged ahead with construction set to begin in 2020 and the airtrain itself scheduled to open in 2022.
Blue and yellow subway tiles
Although this particular instance is fairly small-ball compared to the other instances of Cuomo influencing MTA decisions, it is perhaps the most apt example of just how involved his micromanaging can get. While the MTA was repairing the Brooklyn-Battery and Queens Midtown tunnels, which had been damaged during Superstorm Sandy, Cuomo stepped in to insist that when workers retiled the tunnels, that they use the state colors: blue and yellow. The MTA had already ordered the plain white tiles it had intended to use, and to comply with the gubernatorial order, the agency had to spend an additional $30 million to get the colored tiles for what many considered a vanity project.
Second Avenue Subway
Planning for a Second Avenue subway line had been in the works for near a century when Cuomo became governor, but he was determined that he would the one to make it a reality. The planning and contract award happened before Cuomo took office, but he made it his goal to have Phase I, the first three stops, complete by December 2016. Halfway through 2016, it seemed that work was not progressing fast enough for the end-of-year completion date, with experts saying it would require an "unprecedented" push to get it done on time in November. Yet on New Year's Day in 2017, Cuomo officially opened the new subway extension officially to the public with much fanfare. The MTA hopes to have Phase II of the Second Avenue subway complete by 2027 and it is estimated to cost $6 billion.
Snowstorm subway shutdown
Cuomo in 2015 unilaterally decided to completely shutdown New York City's subways ahead of a major expected snow storm, the first time such an action has ever been taken in the system's history. The governor did not even consult with Mayor Bill de Blasio – he reportedly gave the mayor only 15 minutes notice before making the announcement. Although the blizzard crippled other parts of the Northeast, New York City wound up getting only a little over five inches of snow.
Transit workers' contract negotiations
In 2014, Transport Workers United 100, the union that represents subway workers, reached out to Cuomo for help during its contract negotiations after two years of stalled talks. Two days later, Cuomo announced he had brokered an agreement between the TWU and MTA which included an 8% raise over five years and a price tag of $525 million over four years. The MTA had resisted providing pay raises for three years, but after Cuomo got involved, those raises were included in the contract.
A few months later, Cuomo stepped into negotiations between the MTA and the unions representing Long Island Rail Road workers, narrowly avoiding a threatened strike. The deal included a 17% increase in pay, which the unions wanted, over six-and-a-half years.
The operating expenses of the MTA are astronomically high, 60% of which are due to labor costs, which many consider to be thanks in part to generous contracts negotiated with the union workers.
Powered By
NEXT STORY: The history behind the iFinex probe