New York State
The right way to do economic development
New employers won't be able to keep growing without a skilled, ready workforce in the area, nor can locals take part in the growth without the credentials to get the jobs, a workforce training center in Buffalo shows the way to solve those problems, writes Bryce Covert.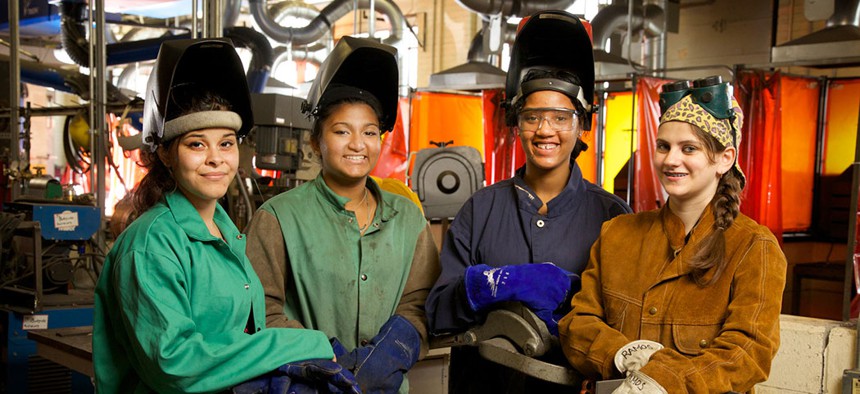 Before 2017, Stephen Tucker knew barely anything about Buffalo, New York or Gov. Andrew Cuomo's signature Buffalo Billion economic development project. Then he was recruited from Cincinnati to run the Northland Workforce Training Center on Buffalo's East Side.
The center was developed to address a problem identified by the Western New York Regional Economic Development Council: Growth in advanced manufacturing, including in traditional industries and renewable energy, was limited by a lack of skilled workers in the area, leading to thousands of open positions. That, coupled with a quickly retiring workforce, would create a huge shortage of workers.
Upstate New York used to be a manufacturing hub, offering residents middle-class jobs that didn't require a postsecondary degree. But upstate lost 105,000 manufacturing jobs between 2000 and 2008 – and the Buffalo metro area lost about 25,000 jobs – as the national economy was expanding. Since then, as the country struggled to recover from the Great Recession, the manufacturing sector in Western New York actually gained a couple thousand jobs, many of which are high-tech and require additional education. Those new positions have come from the opening and expansion of companies like pharmaceutical manufacturerAthenex and 3D-printing finisherPostProcess Technologies.
But those companies won't be able to keep growing without a skilled, ready workforce in the area, nor can locals take part in that growth without the right credentials to get the jobs.So the center was created to train local residents for those open jobs, which can pay around $70,000 on average in leading-edge industries. On Buffalo's East Side, which used to be home to many large manufacturers that either closed or left town years ago, 45 percent of residents live either in or near the poverty line. The Northland Workforce Training Center inhabits a former industrial building.
The alliance running the center partnered with nearby SUNY schools, Alfred State College and Erie Community College, to teach the training programs. Students can graduate through shorter certificate programs or with an associate degree in two years. The courses offered may lead to various careers, including in advanced manufacturing, electronics or welding.
"It'll be transformative. It's reaching people who sometimes felt like they were left out." – Stephen Tucker, Northland Workforce Training Center president and CEO
The center's biggest source of funding came from a $44 million investment from the Buffalo Billion program. If it succeeds, Tucker argued, the increased tax revenues, the multiplier effect of employed residents spending in their community and a reduced reliance on public assistance would justify thetens of millions spent by New York state and the New York Power Authority, which invested in the center due to its interest in programs that train workers for renewable energy jobs.
"It'll be transformative," Tucker said. When he first arrived in the city and started talking to community members, he quickly found that "they felt like they were left out of the resurgence of Buffalo." Billions of public dollars have been invested in the city, but blue-collar communities on the East Side didn't see much benefit. The new center aims to change that sentiment. "It's reaching people who sometimes felt like they were left out," he said.
The next phase of the project will bring research and innovation firm Buffalo Manufacturing Works to the center to help local manufacturers grow.
Economists argue that the places that get economic development right do so by investing in their assets: infrastructure attractive to both companies and residents, services to help existing companies start and grow, and training the local workforce. New York Citysaw an opportunity to help technology companies locate and grow within its boundaries by attracting and establishing engineering universities to create a supply of top-tier talent.
While Tucker's center is designed to create similar conditions in Buffalo, coverage of the Buffalo Billion has mostly been gobbled up by the huge sums of money handed out to individual companies, such as$750 million to build a solar plant for Tesla or a$55 million grant for an IBM innovation center.
Nationally, economic research shows company-specific development hasn't had a very good track record of success. There'slittle or no correlation between high-dollar incentive deals and a state's employment rate, or per-capita income, or itseconomic growth.A 2016 paper in the Cambridge Journal of Public Policy found that about two-thirds of the money goes to companies that would have come to a state anyway.
What works better, according to economists, looks more like the Northland Workforce Training Center. "I don't think it's the case that incentives have no effect," said Timothy Bartik, senior economist at the W.E. Upjohn Institute for Employment Research, a nonprofit based in Michigan. "But as a way of creating jobs, they tend to be pretty costly per job created."
Instead, the things that actually work are less sexy, politically. "You have to be a location where companies want to be," said Nathan Jensen, co-author of "Incentives to Pander: How Politicians Use Corporate Welfare for Political Gain." "That really requires infrastructure and human capital. And there is no shortcut."
One approach is to offer services to small and midsized businesses so they can start and expand. That can include, for example, entrepreneurship training programs to help people with good ideas start companies. It can also simply consist of offering expertise in new technologies or market opportunities. Manufacturing extension offices can provide short-term advice and also recommend a list of trustworthy consultants for long-term strategy – often subsidized so it doesn't cost companies.
Figuring out which companies and industries to support isn't too difficult: The best strategy is to promote ones that currently exist in a particular location and appear to have an economic future. It may not always mean that companies continue what they're doing. Bartik pointed to Grand Rapids, Michigan, where local automotive manufacturers that had been molding plastic or shaping metal pivoted to doing the same for medical instruments with the help of manufacturing extension services.
Maintaining an environment that supports growth isn't just about certain industries, it's also about having certain assets that make a city more attractive for businesses and residents. Overall infrastructure investments in highways, airports and mass transit, or in the educational system, benefit both potential new employers and existing residents.
Training workers means not just giving them better access to a college education, but helping them with short-term training as well. Smaller companies can't always afford to have an in-house training program; others might be reluctant to invest in training workers who can then leave for other opportunities. A government-funded program at a local community college, geared toward the needs of companies in the area, can solve the problem.
"Politically, it's so much better to go to a ribbon-cutting with a big company that generated 100 new jobs than 10 companies that created 10 jobs each." – author Nathan Jensen
"Smaller companies face a lot of handicaps in the market," Bartik said. They don't always know how to find well-trained employees as they grow; they're financially constrained; and a lack of information, financing and skills can inhibit their growth. "The right kind of government support, which is a smart support where the government provides some information, helps broker the supply of quality information and helps broker the supply of training, can help make up for the failures in the private market," Bartik said. And even better, these programs usually come cheap compared to thetens of billions every year that cities and states hand out in tax subsidies to large corporations. "The whole budget of manufacturing extension and small-business development centers nationwide is miniscule compared to how much we're spending on business incentives," Bartik said. "If you expand these programs, it would probably have a pretty high bang for the buck."
The most effective tactics, though, just don't generate splashy headlines. "Politically, it's so much better to go to a ribbon-cutting ceremony with a big company that generated 100 new jobs than 10 companies that were there and created 10 jobs each," Jensen said.
Subsidies to large corporations also don't require innovative program development. "It's easier to hand out cash. Really easy to do," Bartik said. But that also sucks up resources that could be better spent elsewhere. "You attract one new company, maybe they leave tomorrow," Bartik said. "And you promise them the store and then you don't have any money to do anything else."
The model being piloted at the Northland Workforce Training Center could easily be copied throughout the state with the right funding. Representatives from the Finger Lakes region and Long Island have visited the center to learn from it. "There has been talk about replicating this strategy in other places … in industries that fit the local region," Tucker said. "It may be different industries, but the model is still the same."
The question is whether politicians will choose to invest in this solution, or keep handing out cash to companies that don't need it.
Powered By
NEXT STORY: Facial recognition a bridge too far for MTA