Criminal Justice
Bail reform done, lawmakers look at more criminal justice bills
There are still a number of criminal justice reforms that are being considered before the end of session, here's a guide to each one and its prospects for passage.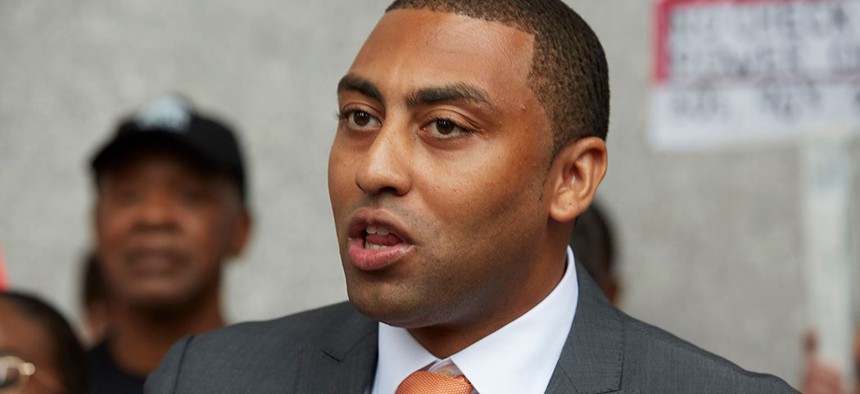 The budget brought major bail reforms, and changed the discovery process and speedy trial statutes to benefit criminal defendants. This month, New York passed a law that could allow more leniency for domestic violence victims convicted of hurting their abusive partners. A bill awaits the governor's signature that would criminalize the creation and selling of untraceable, 3D-printed "ghost guns." And advocates are pushing Gov. Andrew Cuomo to sign another bill that would legalize the carrying of so-called gravity knives, often used in building trades.
But there are still a number of criminal justice reforms that are being considered before the end of session.
HALT Solitary Confinement Act (S1623 – Sepúlveda/A2500 – Aubry)
This bill would place constraints on the use of solitary confinement in jails and prisons across the state, which is currently unlimited. It's been pushed by reformers since 2013, passed the Assembly last year, and looks likely to pass both houses in this year of united Democratic government. State Senate Codes Committee Chairman Jamaal Bailey calling it the conference's top criminal justice priority.
Repeal 50-a (S3695 – Bailey/A2513 – O'Donnell)
This bill would repeal the law that keeps secret police, fire and emergency workers' personnel records, which reformers say has hidden bad behavior by police and how departments deal with it. Debate has raged for years. The recent internal trial of NYPD officer Daniel Pantaleo has gotten the issue more attention.
Special prosecutors for police killings of civilians (S2574A – Bailey/A1601A – Perry)
In 2015, Cuomo passed Executive Order 147, which empowered the state Attorney General's office to investigate any case of law enforcement killing an unarmed civilian. This bill would codify that into law and expand the AG's jurisdiction to any case where a civilian dies during an encounter with law enforcement. Cuomo has pushed for a similar proposal, so something like it will pass, but reformers say the governor's language doesn't go far enough.
Blue Lives Matter (S335 – Akshar/A5065 – Abbate)
This bill would make attacking first responders like police officers a hate crime, and passed out of the Senate Codes Committee earlier this month. Criminal justice reformers are opposed, but it has earned some bipartisan support, and Cuomo supported a similar provision to increase penalties on assaults against journalists. despite its Republican sponsorship.
Criminal record relief for trafficking victims (S4981 – Ramos/A6983 – Gottfried)
This is one of a number of bills being considered to lessen the penalties of sex work, and the most likely become law. It would clear the criminal records of certain trafficking victims who were convicted of crimes like prostitution. It's expected to pass the state Senate soon, but is still in the Assembly Codes Committee.
Police STAT Act (S1830B – Hoylman/A5472 – Lentol)
This bill would require police departments and court systems to provide detailed data on low-level arrests and the racial and geographic breakdown of people arrested. Criminal justice reformers say it would put racially biased departments on alert, but police unions say the data would lack context, and serves an "anti-police narrative." The bill passed the Assembly the last three years, but is one of the many bills that's been edited and re-introduced now that the Democrats control both houses of the Legislature.
Parole reform
The Legislature is considering a variety of bills that would change the system of letting New Yorkers out of prison. Cuomo has endorsed some, including "geriatric parole" to parole individuals over 55 with serious medical conditions. Some lawmakers and advocates want to expand that option to any prisoner over 55. Also on the table are a bill that would make more prisoners eligible for release on parole regardless of age and a bill to lessen the impact of technical violations of parole.