Energy & Environment
Everyone wants to combat climate change. How fast can NY do it?
Time is running out for Democratic lawmakers' ambitious environmental agenda.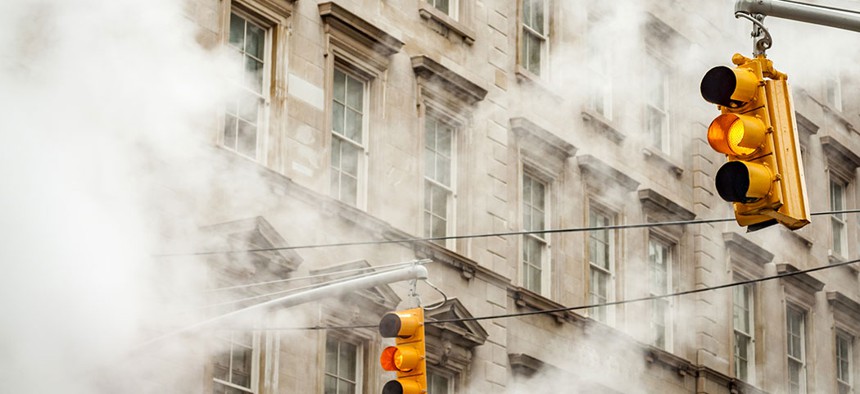 Environmentalists have ambitious plans in Albany this year: codifying aggressive targets to wean the state off of fossil fuels; a moratorium on gas pipelines; and divesting billions of dollars in state pension funds from fossil fuel companies like Exxon Mobil Corp. Already this year, lawmakers approved a statewide ban on plastic bags and passed a package of bills cracking down on toxic chemicals in consumer products.
"Gone are the days when we debated the doubts about whether climate change is happening or not," Peter Iwanowicz, executive director of Environmental Advocates of New York, said at a recent press conference with Democratic lawmakers. "For far too long, commonsense environmental measures that would protect our air, water and our health had little chance of becoming law in New York."
But while several major environmental measures should be easier to advance since Republicans lost control of the state Senate, time is running out in this session for Democrats to check the remaining boxes on their environmental agenda.
Three big environmental issues remain up in the air. The first is putting the state on a path to effectively eliminate greenhouse gas emissions statewide. The leading legislative proposal is the Climate and Community Protection Act, which mandates the elimination of all human-caused greenhouse gas emissions by 2050. Lawmakers are also pushing for a new law that would impose a moratorium on new "fossil fuel infrastructure" like power plants and pipelines. A recent legislative hearing on state divestment from fossil fuel companies highlighted the third front in lawmakers' climate efforts.
These efforts all face significant opposition from energy companies and real estate developers, but the biggest obstacle may be Gov. Andrew Cuomo – and limited time. The governor said as recently as late April that he does not see any need for additional action on the environment in the coming weeks. Issues like recreational marijuana legalization, rent regulations and a possible expansion of prevailing wages are top priorities for the governor, he told WAMC in April.
It is not that Cuomo is actively opposing environmentalists' goals; he just has a different timeline in mind. One of the key sticking points in ongoing negotiations over the Climate and Community Protection Act is the extent to which the state needs to set specific dates for emission reduction goals.
Cuomo's "Green New Deal" contains numerous provisions that increase the state's renewable energy goals, including a $1.5 billion investment in clean energy and plans to dramatically growing offshore wind, solar and energy storage in the coming years. But Cuomo's approach does not go as far as lawmakers want in battling climate change. "We need a plan, a roadmap that is going to guide our policy, our programs and our investment in New York state," state Sen. Jen Metzger, a Democrat, said at a May 6 press conference.
A similar dynamic is playing out with the Fossil Fuel Divestment Act. The legislation, sponsored by state Sen. Liz Krueger and Assemblyman Felix Ortiz, would require the state Common Retirement Fund to divest from the 200 largest publicly traded fossil fuel companies within five years. A panel established by Cuomo and state Comptroller Thomas DiNapoli issued a report on April 16 recommending that divestment happen by 2030. A legislative hearing on the divestment bill on April 30 demonstrated growing support for the bill, but Cuomo's silence on the report and hearing suggest that he is in no hurry to address the issue. The same could be said about efforts to block new infrastructure projects that use fossil fuels.
The Cuomo administration did side with environmentalists by announcing on May 15 that the Department of Environment Conservation was denying a water quality permit for the Williams pipeline, which would transport natural gas from New Jersey to Long Island. National Grid has threatened to impose a moratorium on new gas hookups on Long Island in response, but that has not dampened some lawmakers' enthusiasm for stopping as many new fossil fuel infrastructure projects as they can. One bill, sponsored by state Sen. Jen Metzger and Assemblywoman Nily Rozic, would ban new power plants and pipelines that use fossil fuels. The legislation would also require the state to eliminate fossil fuels from electrical generation statewide as early as 2030 and no later than 2040. By contrast, Cuomo's Green New Deal aims to reach 70% renewable energy by 2030. Like the divestment and climate change proposals, Cuomo agrees with activists and lawmakers in principle, but disagrees on how aggressively to move forward.
A big X-factor in transitioning the state away from fossil fuels is the rate at which technology advances. Solar and wind power technologies have made leaps in recent years, but a recent report by the New York Independent System Operator – the organization responsible for managing the state's electric grid – shows how far the state still needs to go. If the state is to move away from exhaust-spewing automobiles and power plants, it will need more renewable energy, better transmission lines and more efficient – and cheaper – energy storage. "There's no one silver bullet," said Richard Dewey, the organization's executive vice president. "There's no magic element that's going to come in and make these goals achievable. It's going to be continued innovation."
As things currently stand, the state is a "Tale of Two Grids," according to the New York Independent System Operator's Power Trends 2019 report that was released in May. Upstate New York generates nearly 90% of its electrical energy from nuclear power or hydropower, which do not emit greenhouse gases. Additional solar or wind farms are only useful insofar as the power they generate can be sent downstate, where 70% of energy is generated from fossil fuels. About 97% of the state's transmission facilities are 30 or more years older. It will take time and money to update them to allow upstate to send more electricity downstate.
Another issue is that solar and wind energy are produced intermittently. The New York Independent System Operator needs enough generation capacity to accommodate electrical customers at peak hours. The state can require as much as about 33,000 megawatts during its busiest hours of the year, but only an additional 3,000 megawatts of battery power is currently scheduled for deployment by 2030, according to the organization. Unless battery storage technology takes a big leap forward in the coming years that would allow wind and solar power to be stored, natural gas plants to fulfill peak demand will be needed in the future to keep the electric grid going, according to group.
Climate change will not wait for technological developments or political breakthroughs on environmental policy. The U.N. Intergovernmental Panel on Climate Change report from October warned that humans have until 2030 to reduce greenhouse gas emissions by 45% from 2010 levels. New York state, which produces a few tenths of a percent of total global emissions, cannot save the world by itself, but its lawmakers are determined to ensure the state does its part.