New York City
Post-Amazon, New York's tech sector is still growing
The business community worried that Amazon's unfriendly reception could scare off future tech growth, but those fears haven't been borne out, as other tech companies have added hundreds of jobs in New York City in recent weeks.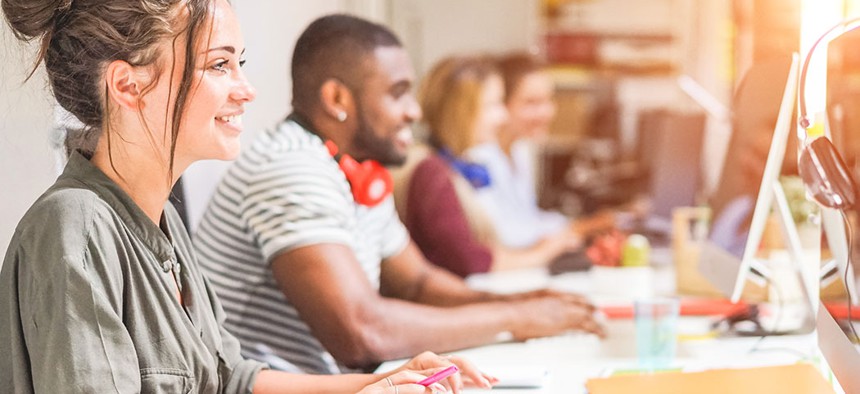 When Amazon pulled out of plans to establish a new corporate headquarters in Queens, delivering a blow to the tech industry insiders and elected officials who had toiled to attract the internet giant, some worried that it would send a harmful message to other tech companies thinking about locating in New York. Amazon's unfriendly reception – from labor groups, activists and some local lawmakers – could scare off future tech growth, a series of HQ2 postmortem headlines claimed.
But those fears haven't been borne out, at least not yet. "Losing Amazon was obviously a blow to the potential growth of the tech economy in New York, it was the largest economic development deal in the history of the state so it's very hard to replace that as such," said Howard Zemsky, president, chief executive and commissioner of Empire State Development, New York's chief economic development agency. "But all of the qualities that the city and the state offer to tech companies are still intact, obviously. So we always imagined that we'd continue to grow the tech economy in the city and the state, and that continues to be the case."
In the last two weeks, Netflix committed up to $100 million for a Williamsburg production hub along with over 100 new jobs in Manhattan, and Yext, a New York City-based cloud technology company, announced plans to grow its local presence in an expanded Chelsea headquarters, adding 500 new jobs over the next five years. The news builds on tech investments that were announced before or soon after plans for Amazon's HQ2 were revealed last November, including the $1 billion Google will pour into a new Lower Manhattan campus, with the potential to double its local workforce to more than 14,000.
"They couldn't come at a better time to send a strong message that, despite the very prominent hiccup with Amazon, New York City is still the clear number two tech hub in the U.S.," said Jonathan Bowles, executive director of the Center for an Urban Future. "I don't think that the floor was going to fall out from under New York after Amazon. The city has such a strong foundation built over the past decade or more, but it was a loss, Amazon pulling out, and I think the fact that these two announcements are happening fairly soon after that is a nice shot in the arm for New York."
Nearly as soon has Gov. Andrew Cuomo and New York City Mayor Bill de Blasio announced the $3 billion deal that would bring half of Amazon's second headquarters to a piece of prime waterfront real estate in Long Island City, local elected officials including state Sen. Michael Gianaris, New York City Councilman Jimmy Van Bramer and U.S. Rep. Alexandria Ocasio-Cortez started raising the alarm. Complaints about corporate welfare and the amount of city and state tax incentives offered to Amazon quickly snowballed into concerns about gentrification and losing affordable housing Queens, and the company's labor practices and alleged dealings with U.S. Immigration and Customs Enforcement.
Eventually, pushback on these issues reached a critical mass when Gianaris was nominated to the Public Authorities Control Board, a body that may have had the ability to veto the deal. Weeks later, Amazon pulled out of the deal, taking with it the 25,000 to 40,000 jobs it promised to bring to New York. "I think it's on the minds of many companies, what happened," Zemsky said. "It was a very unusual set of circumstances, and it did not send, in my opinion, a positive message to industry." Referring to it as "we grabbed defeat from the jaws of victory," Zemsky said he's still "indescribably, profoundly disappointed" in the outcome of HQ2.
The hefty tax incentives and subsidies offered to Amazon were among the primary complaints of HQ2 opponents. Of the total $3 billion state and local incentives combined, $1.2 billion were set to come through the state's Excelsior Jobs Program, a performance-based benefit that would be awarded if Amazon followed through on its job growth targets. The program, which has been around since 2010, will also offer benefits to Netflix and Yext. Netflix has been offered up to $4 million in Excelsior tax credits if it creates 127 jobs by 2024 and retains them for five years, and Yext can receive up to $6 million in the same tax credits if it creates 500 jobs and retains them over the same period.
But those figures may not grab headlines as Amazon's $3 billion did. "We've been doing Excelsior tax credits long before I got to ESD, this has been our most popular economic development program for a long time," Zemsky said. "I don't expect people to take exception to this. There were a lot of unique political circumstances and some other factors that were somewhat unique in that moment in time (for Amazon). But I don't expect this will cause controversy."
While companies like Netflix and Yext can cite a concrete number regarding expected job growth, tech growth can be seen in other ways, too. Zachary Hecht, policy director at the tech industry advocacy group, Tech:NYC, mentions two New York-born startups – the health care company Ro, and the insurance startup Lemonade – which last month announced $85 million and $300 million funding rounds, respectively, as examples of the city's homegrown tech sector. WeWork's initial public offering, announced earlier this week, is another New York City startup success story, he said. "It would be sort of the first New York (decacorn) to hit the public markets and that's a great sign for New York," Hecht said. "It shows that companies can grow from their infancy to that stage right here."
Some skeptics question whether New York City has the necessary digital infrastructure companies to compete with Silicon Valley. Doug Schwartz, chief investment officer of Americas real estate at JPMorgan Asset Management, said this week that New York lacked the "growth engines" that San Francisco has, like the new cellular networks that will herald 5G connectivity. Hecht, too, said that Amazon's headquarters would have produced a multiplier effect that could anchor the growth of more small and medium-sized companies. "If Amazon HQ2 were to be in Long Island City, there would be companies that would have grown out of that and entrepreneurs and founders that would have grown out of that ecosystem itself, and then they would have started their own companies," he said.
Zemsky predicts that small and medium-sized companies will continue to locate and expand in New York – along with giants like Google continuing to expand in smaller numbers – but an opportunity like Amazon's 25,000 jobs only comes around once in a while, he said. ESD is always in conversations with tech companies, and Zemsky said their focus is on growing both New York City's ecosystem, as well as tech clusters throughout the state. But there's no clear frontrunner – or even many contenders – to take Amazon's place.
"It's not like there are hundreds of these companies that have the capability to bring 25,000 jobs. There's a fairly small number of those companies out there," Bowles said. "There may be some repercussions from the Amazon fallout, for the next company thinking of doing so." The more optimistic outlook, Bowles said, is also possible. "Hopefully, the next company that might do so won't be put off from coming to New York, but might just have a better understanding of what it needs to do to invest in New York to make it work."
Correction: This article originally quoted Zachary Hecht as saying WeWork would be New York's first unicorn. It is, in fact, New York's first decacorn.