New York State
Stopping sexual harassment, cleaning up Albany, taking on Trump – and more
State lawmakers are tackling a broad range of issues in Albany, including ending sexual harassment, cleaning up Albany and taking on Trump.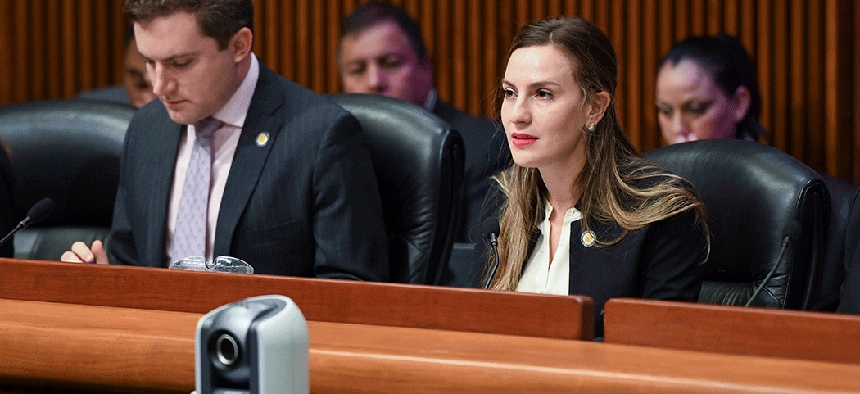 Several legislative proposals – legalizing recreational marijuana, expanding prevailing wages, raising the charter school cap in New York City – are dominating the debate in Albany. But there are plenty of other issues under discussion in the state Legislature.
Here are some of the highlights.
Sexual harassment
A May 24 hearing on sexual harassment in the workplace will highlight an issue that generated a lot of buzz earlier this year, when lawmakers held the state Legislature's first hearing on sexual harassment in over a quarter century. The upcoming hearing could pave the way for a litany of bills that have yet to pass various committees. Some bills would change the standard of what constitutes sexual harassment. Others would require the state to draft a model sexual harassment policy and extend the amount of time in which a sexual harassment complaint can be filed. Taken together, the bills could dramatically change the state's approach to sexual harassment cases.
Targeting Trump
The state Senate passed two bills in early May aimed at President Donald Trump. One would require the state tax commissioner to provide tax returns to certain congressional committees upon request. A second bill would allow for the state prosecution of people who have received presidential pardons for federal crimes. Members of the Assembly had concerns about the political nature of the bills, particularly the tax return bill, and their wider effects, but ultimately passed both bills. They now await Gov. Andrew Cuomo's signature.
Ethics
The Assembly passed a bill that would require state agencies to consult a judge when records are requested under the Freedom of Information Law related to an ongoing legal proceeding. The judge would then determine whether the records could be made public. The legislation is likely to pass the Senate. Two other pieces of legislation remain in committee. One of them, a proposed state constitutional amendment, would replace the state Joint Commission on Public Ethics with a new body modeled after the existing Commission on Judicial Conduct. Another bill would establish a nonpartisan legislative budget office to provide lawmakers with information on the state budget, appropriations and other legislation.
Election reforms
Advocates want the state Legislature to pass a bill this year that would set up a system of publicly financed political campaigns, rather than leave it to the commission established in the new state budget. The odds of accomplishing this remain remote, but other election reforms could still advance. One bill that is before committees in the state Senate and Assembly would restore voting rights to parolees. Another bill would allow the use of campaign funds for child care. A May 30 hearing will focus on automatic voter registration, an idea that would require the Legislature to approve a constitutional amendment before it could go to voters in 2021.
Mobile sports betting
Legislation that would legalize mobile sports betting statewide passed a state Senate committee on May 13, but it is far from a done deal. Lawmakers discussed the proposal at a May 8 hearing to tax casinos an 8.5% rate for in-person sports wagering and 12% for online bets. But a key issue is whether or not supporters can get around the state constitutional concerns by placing web servers for online betting at the upstate casinos where gambling is currently allowed. That is a key reason why the Cuomo administration has yet to get behind the bill. Consumer advocates, and Assembly Speaker Carl Heastie, have expressed concerns about the addictive potential of online sports gambling.
Gun control
The state Senate passed legislation that bans guns manufactured from 3D-printed parts due to the guns being untraceable and potentially undetectable by X-rays or other scanning technology. The Assembly could pass the bill in the coming weeks. Technical issues with the bill language kept the proposal out of a gun control package that passed the Legislature earlier this year. Another bill gained headlines late last year that would require prospective gun owners to have their social media accounts and search engine history reviewed before they could purchase a gun. That bill remains stuck in committee.
Decriminalization of prostitution
Two bills before the Legislature would benefit sex workers, who some lawmakers say are unfairly targeted by law enforcement. One bill would repeal a law that allows costs to arrest people for "loitering for the purpose of prostitution" a vaguely defined offense that can cause people to be arrested for carrying condoms. Another bill would expunge the criminal records of sex workers.
Powered By
NEXT STORY: New York City's fight for Airbnb user data