New York State
Cuomo has delivered for MWBEs. Lawmakers want to go further.
The state Legislature is finalizing a legislative package on state contracting for minority and women-owned businesses.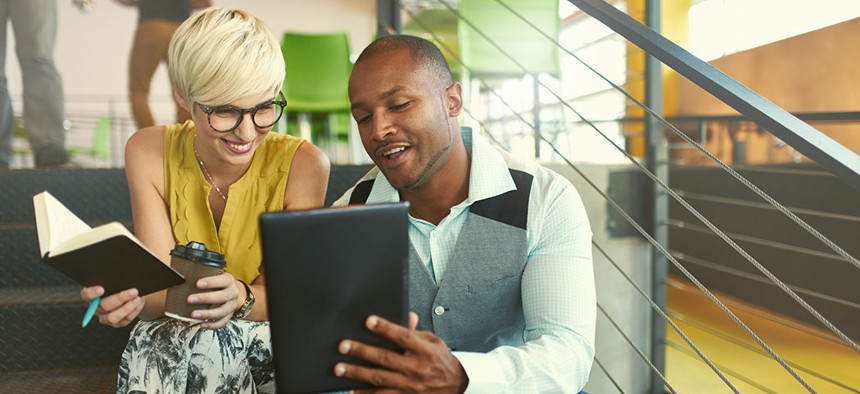 There are many issues competing for lawmakers' attention – rent regulations, marijuana legalization, environmental legislation – as they race to pass legislation on a wide variety of issues before they adjourn for the year on June 19. But lawmakers are taking a quieter and less confrontational approach on plans to renew and expand a state program that helps minority- and women-owned business enterprises, or MWBEs, get public contracts.
They have not staged rallies or held press conferences in recent weeks, instead focusing on arriving at a deal between the state Senate and Assembly that they could then send to Gov. Andrew Cuomo. Negotiations are expected to conclude this week on a package of bills that would dramatically expand the number of firms eligible for the state's MWBE program.
"We have been wrestling long and hard with this issue and we believe we are ready to have conversations and bring our governor into it," said state Sen. James Sanders Jr., who is leading efforts in the chamber. "I can see no reason why we should not be finished with this within a week."
The current MWBE program – based on the state's Article 15-a law – will expire at the end of this year unless lawmakers and Cuomo reach a deal by June 19. While the governor has listed the issue as a priority in the final days of the legislative session, lawmakers are aiming to pass their own omnibus bill to gain some leverage over Cuomo, though some changes to the final bill could happen before the Legislature passes it.
Lawmakers want broader reforms to the program than the governor, who unsuccessfully pushed for an extension in the state budget. They are now pushing for up to 15 bills that would expand, as well as renew, the program. By passing an omnibus bill next week, the governor would have just a few days left to decide whether to go along with the proposals that majorities in the state Senate and Assembly already support – or risk letting the program expire.
"I think that's all it takes," Assemblywoman Rodneyse Bichotte, who is leading the effort in her chamber, told City & State. "We're hoping to get everything done this week and hopefully vote on it next week." She added that she was "in lockstep" with Sanders on the proposals.
Among other possible changes, the proposed legislative package would extend the state MWBE program for five years and would expand the number of eligible businesses by increasing the number of "state-funded" entities that would be subject to the state target to allocate 30% of contracts to MWBEs. The omnibus bill would also loosen eligibility requirements, speed up the certification process and require quicker payments to state MWBE vendors.
While final details on a deal between the Assembly and Senate have yet to be worked out, the legislation could allow agencies to awards contracts of up to $1 million to MWBEs on a discretionary basis – a proposal New York City Mayor Bill de Blasio said he supported at a June 3 press conference in the Capitol.
Bichotte is also aiming to eliminate a $3.5 million cap on personal net worth that limits eligibility to state contracts under the current program. Cuomo has instead called for exceptions to the cap be placed under the authority of Empire State Development.
Some reforms could prove contentious in the remaining days of the legislative session, though lawmakers and Cuomo both say they want to renew the MWBE program. The governor has proposed smaller increases to the limit on contracts and he vetoed a bill early last year that would have eliminated the cap on personal net worth. The governor has signaled that the changes he wants to the MWBE program would echo his proposal in the budget, including a $400,000 cap on discretionary contracts, according to Bichotte.
"No governor in the country has been more aggressive than Gov. Cuomo in increasing opportunities for MWBEs, and there is always more work to be done," Cuomo spokesman Jason Conwall said in a statement. "Any bill which eliminates the personal net worth without replacing it with another graduation factor could subject the entire MWBE program to a constitutional challenge. Taking that into consideration, we can support a bill that would, in fact, serve to strengthen the MWBE program while ensuring it continues to meet constitutional requirements. The provisions of our proposal meets those requirements."
Lawmakers and Cuomo do share a common goal – maximizing the number of MWBE firms that get a piece of state business. The administration has focused heavily on meeting a goal to have 30% of eligible state contracts go to MWBEs, and nearly reached that level last year. Lawmakers and Cuomo have both stated that the program needs to be extended before the Legislature adjourns this month.
"The devil is in the details," Sanders said. "This has been quite a process, and of course we had the naysayers who said that not doing this in the budget was tantamount to suicide. People need to have more faith in the process (and) we're going to have to have faith in the governor too."
Here's a quick rundown of the proposals that could become part of the omnibus bill:
(*no specific bill before the state Legislature, but could be included in a final omnibus bill)
Extend Article 15-a for five years*
Eliminate the personal net worth cap of $3.5 million
Align New York's employee threshold with the U.S. Small Business Administration's size standards
Streamline the MWBE certification process to make it 30 days
Increase certification renewal from three to five years*
Implement 30% workforce development goals for minority and women employees in construction-related jobs
Increase the discretionary contracting cap to $1 million
Make "state-funded" municipal and school contracts subject to 30% carve out for MWBEs
Increases review requirements of good faith efforts by contractors that request waivers of compliance when they cannot find an MWBE vendor.
Expand definition of minority to include "Latino" to "Hispanic" for MWBE definition
Require state comptroller to prepare an annual report grading state agencies on spending with MWBEs
Establishes small business mentoring programs in the Dormitory Authority of the State of New York, Office of General Services, Department of Health, Department of Transportation, and the Empire State Development Corporation
Speed up payments to MWBE and subcontractors
Preferred source sole to include MWBE participation
Expands the 30% target to include all types of jobs in state-funded construction projects such as accountants, lawyers and other roles currently not covered.*
Powered By
NEXT STORY: A bill to halt facial recognition tech in schools