New York State
What's going on with marijuana legalization?
Full legalization of recreational marijuana this year may go up in smoke, but the state could still pass some blunted reforms in the meantime, as bills to decriminalize smoking in public and expanding the medical marijuana program were just introduced.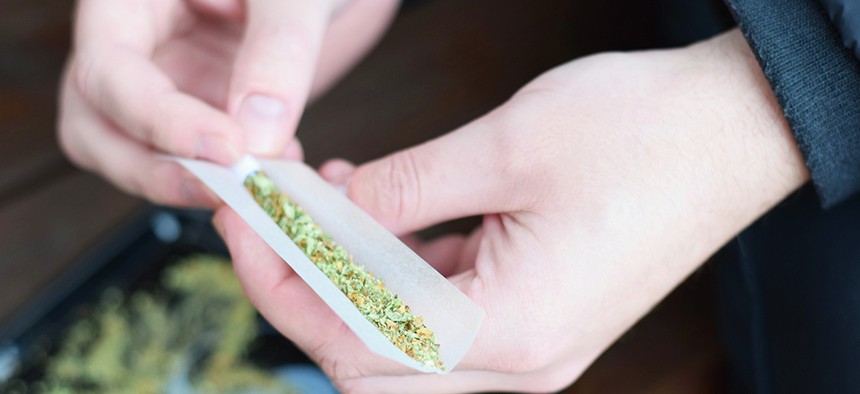 Full legalization of recreational marijuana this year may turn out to be a pipe dream that has gone up in smoke, but the state could yet pass some blunted reforms in the meantime.
The chances of recreational marijuana passing before the state legislative session ends on Wednesday seemed to take a turn for the worse over the weekend. Three-way negotiations between the staffs of legislative leaders and Gov. Andrew Cuomo failed to result in a revised bill by the Sunday night deadline, when legislation would have needed to be introduced in order to pass by the last day of session.
A deal is still possible with Cuomo's cooperation, but full legalization and regulation is not the only option on the table. The state Legislature has backups that may ensure that piecemeal action is taken, even if a comprehensive deal can't be struck.
Although neither legislative chamber introduced a new version of the Marijuana Regulation and Taxation Act that would fully legalize the drug for recreational use and set up a framework for legal sales on Sunday, state Sen. Jamaal Bailey and Assemblywoman Crystal Peoples-Stokes introduced a bill that would decriminalize smoking marijuana in public and establish a mechanism for vacating certain marijuana offenses. It would decriminalize the possession of less than an ounce of the drug, expanding the 1977 law that decriminalized the possession of up to 25 grams, and decrease the fine from $100 to $50. It also reduces smoking in public from a misdemeanor to a finable offense and establishes a way for those who faced criminal penalties for the newly decriminalized offenses to have their convictions vacated. Bailey said another bill is coming that will relate to the total expungement of records.
While the legislation falls well short of the goal of criminal justice and civil rights advocates to completely legalize the drug and expunge past convictions, it would still offer a step in that direction if lawmakers cannot come to an agreement on a more sweeping bill. Currently, reports indicate that the state Senate won't pass full legalization unless it contains a provision requiring localities to explicitly opt in to marijuana sales, rather than merely allowing them to opt out, as the language currently says. Finalizing the deal also requires deciding what to do with revenue generated through taxing the drug.
Also on the table is legislation introduced by state Sen. Diane Savino and Assemblyman Richard Gottfried to expand the existing medical marijuana program. Among other things, it would remove the restrictive list of conditions for which the drug can be prescribed, permit any practitioner authorized to prescribe a controlled substance to certify a patient for medical marijuana use, and allow patients to smoke the drug. (Currently, New York's medical marijuana program is limited to a set list of severe conditions, only certain doctors can prescribe it, and it cannot be used in smokeable form.) Such provisions are in the current version of the Marijuana Regulation and Taxation Act, but both bill sponsors said their bill is meant to help patients in the state even if the broader bill doesn't pass.
Neither the decriminalization nor medical marijuana bills have passed yet, but there is still time to do so before the legislative session ends on Wednesday.
Cuomo speculated that the state could also take the issue straight to the voters through a ballot referendum before taking action to set up the regulatory and legal framework. For some moderate lawmakers from suburban areas, this could provide cover for any political blowback from voting in favor of legalization. However, Gotham Gazette reported Monday that the state does not have the mechanisms for such a referendum.
Newly introduced or revised legislation must wait at least three days before the state Legislature can bring it to a floor vote. That means that lawmakers had to introduce any revised bills by Sunday at 11:59 p.m. in order it to come to a vote on Wednesday. Missing the deadline does to preclude the possibility that a deal may be struck on the Marijuana Regulation and Taxation Act this year, but it does rely on Cuomo's cooperation. The bill now has three paths to passage. First, the governor can issue a message of necessity, allowing a bill to forgo the three-day aging period so the state Legislature can pass it immediately. The governor most recently used that power to pass an on-time state budget, and he has used it in the past for bills he wanted to see done. Second, the governor could recall the state Legislature for a special session and lawmakers could vote on the bill then. Thirdly, marijuana legislation could be bundled into an end-of-session "big ugly" omnibus bill with other outstanding issues, and voted on either through a message of necessity or during a special session.