New York State
After blackout, can Cuomo kick Con Edison out?
Following Manhattan's brief power outage over the weekend, Gov. Andrew Cuomo declared that if Con Edison "can be replaced." Here's what removing Con Ed from New York would entail.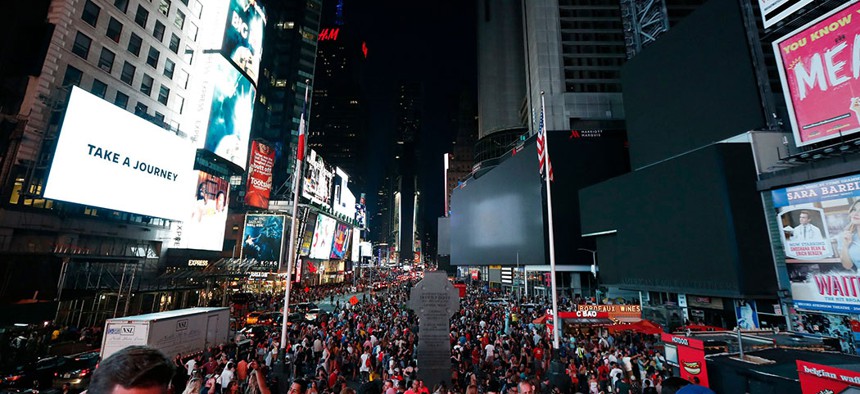 Following Manhattan's brief power outage that left about 72,000 customers on the borough's West Side without electricity for several hours, Gov. Andrew Cuomo declared that if Con Edison, the utility that provides most of New York City's power, does not shape up, it "can be replaced."
The prospect was met with skepticism, given that Con Ed effectively operates a monopoly in New York City. But that's not to say it would be impossible. Here's what removing Con Edison from New York would entail. 
Can the state actually kick Con Edison out?
All utilities in New York are licensed to operate by the state and regulated by the Department of Public Service's Public Service Commission. The agency has the power to revoke an operating license or to impose penalties for violating regulations or services outages. For example, the state imposed an $18 million penalty on Con Edison in 2007, in response to a massive 2006 outage. Should the license be revoked, a different utility company would have the opportunity to step in and take over providing electricity.
Could I wake up tomorrow and suddenly Con Ed is no longer my power provider?
Revoking a license would not happen overnight and would likely take months, if not years, to finalize. Cuomo has already announced that he plans to conduct an independent investigation into the blackout and whether the utility is meeting its legal requirements under its contract, which will take an indeterminate amount of time. The five-person Public Service Commission would then vote on whether or not it would revoke the license, a decision Con Edison would almost certainly challenge in court. A recent battle between Charter Communications, a cable provider regulated by the Public Service Commission, that began with the commission voting to kick the company out of the state took about a year to reach an official resolution. And it took the commission over a year to impose penalties following the 2006 power outage in Queens and Westchester.
Let's say Con Ed has its license revoked, then what?
In the event that Con Edison loses ability to operate in the state, the company would leave, but its infrastructure and systems would remain in place. It could sell those to another company. According to Richard Berkely, executive director of the consumer advocacy group Public Utility Law Group, Con Edison has the most complex system in the state, which also requires expertise in below-ground operating. That complexity would likely mean that smaller operators in the state would be out of the running to replace Con Edison. In terms of utilities that already operate within the state, Berkley said that National Grid would be the most likely to take over from Con Edison, although other large providers currently without a franchise in New York could step in as well.
Is this actually likely to happen?
Given the complications replacing Con Edison and the fact that the state has never take such action, the likelihood that Cuomo makes good on his threat appears low. This is not the first time the governor has threatened the company – in 2018, following outages in Westchester in the aftermath of a storm, Cuomo raised the prospect of revoking the company's license if it did not speed up power restoration. 
The state also recently reached an agreement to allow Charter Communications to continue operating in the state after the Public Service Commission actually voted to kick the cable company out of the state for failing to meet its contract agreements. Like utilities, cable companies are regulated by the state Public Service Commission and must be licensed to operate. Once the dust settled, Charter was allowed to continue operating in the state under so long as it lived up to its promises.
However, Berkley said that he believes that when Cuomo makes threats, he is trying to ensure that companies treat the public fairly and operate according to the law.
Powered By
NEXT STORY: Protesters hit Amazon over facial recognition, ICE ties