New York State
After holdup, Senate votes to extend 9/11 victims fund
Funding for those affected by the deadly attacks will be extended through 2092.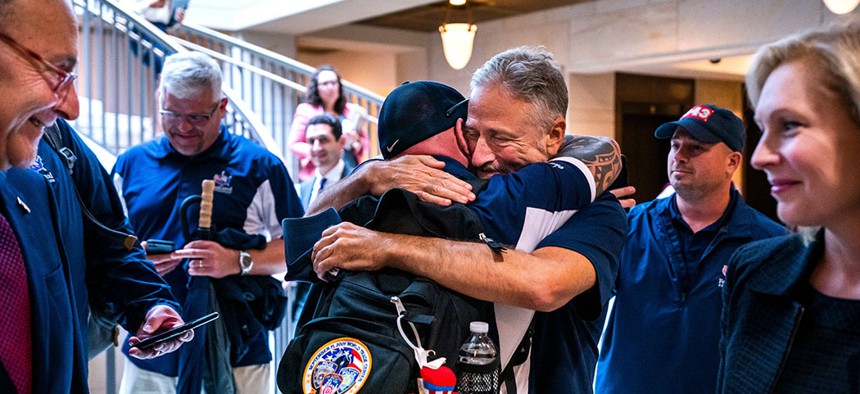 Despite the holdup by U.S. Sens. Rand Paul and Mike Lee, the U.S. Senate voted to extend the September 11th Victims Compensation Fund on Tuesday, extending the bill through 2092.
Now the $7.4 billion fund – which provides aid to those suffering or dying from 9/11-related ailments – which was quickly being depleted, with benefit payments slashed by up to 70%, will receive an estimated $10.2 billion over the next 10 years, plus an additional $4 billion for claims already filed, The Associated Press reports. Over 40,000 people have applied to the fund and there are currently 21,000 claims pending. 
Comedian Jon Stewart, who has been a staunch advocate for the fund, made an appearance at the Senate on Tuesday – perhaps to put some extra pressure on U.S. Senate Majority Leader Mitch McConnell. 
.@McConnellPress walks past Jon Stewart at the Ohio Clock Corridor in the Capitol. The Senate will be voting later today on HR 1327: Never Forget the Heroes: Permanent Authorization of the September 11th Victim Compensation Fund Act. pic.twitter.com/bZ0FaOhTSl

— Bill Clark (@billclarkphotos) July 23, 2019
U.S. Sen. Kristen Gillibrand, the bill's chief author and New York's junior senator, had called for an end to the "political games" holding up the measure. But in a surprising turn of events, Gillibrand barred New York City Mayor Bill de Blasio from appearing at the presser to announce the bill's extension. Sorry de Blaz, there's no room for two presidential candidates at such an important press briefing (even if it does directly relate to the city you currently run). 
Powered By
NEXT STORY: Report: Digital divide spells bad news for census