New York City
Facial recognition controversy spurs push for stalled NYPD transparency bill
The New York City Council wants to know what technology police are using, but transparency legislation has stalled.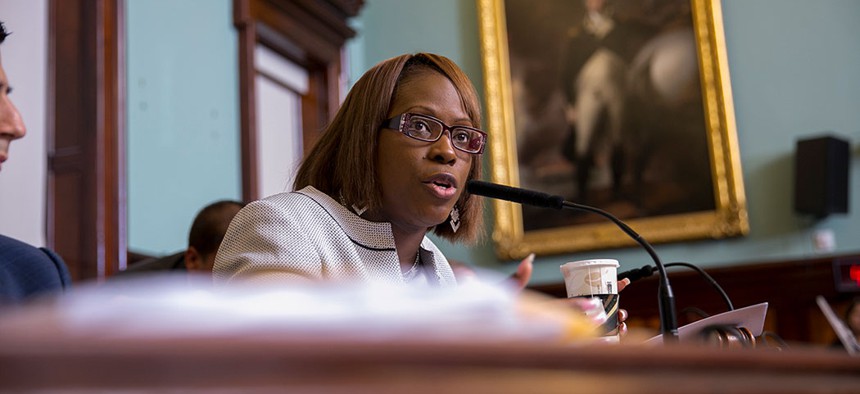 California cities like Oakland and San Francisco have banned the use of facial recognition technology by police, but in New York City, advocates are struggling just to get more information on how police already use facial recognition and other surveillance technologies. 
New York City Council members introduced the Public Oversight of Surveillance Technology Act in 2017, but have struggled to get off the ground in the two years since. But as backlash to the use of facial recognition grows nationwide – including in New York, where police have used the tech to analyze photos of children as young as 11 – advocates and legislators are hoping that passage is imminent.
"I think my colleagues, the (City Council) Public Safety Committee chair, Donovan Richards, and other elected officials, we've been getting more support for the POST Act, more colleagues are signing on, as we've been really educating them on what's been happening, particularly what other localities by doing," said City Councilwoman Vanessa Gibson, the lead sponsor of the bill.
Facial recognition has earned a bad reputation after multiple studies showed that the technology often fails to correctly identify the faces of women and people of color, and can produce false positives. While surveillance technology has never been popular among progressives and privacy advocates, the opposition has gained traction as the use of facial recognition technology by law enforcement agencies like U.S. Immigration and Customs Enforcement has come under fire.
In New York, civil liberties advocates have clashed with authorities over how and where the technology is deployed. Last month, U.S. Rep. Yvette Clarke introduced a bill to ban facial recognition in federally assisted public housing after tenants at a rent-stabilized apartment complex in Brooklyn objected to the landlord installing the technology at building entrances. Earlier this spring, the Lockport City School District in upstate New York was set to become the first in the nation to implement a security system with facial recognition, but the state Education Department ordered the district to halt those plans. 
Last week's reporting in The New York Times that the NYPD is using its technology on photos of juveniles caught some City Council members by surprise. The Times reported that for about four years, the NYPD has been loading mug shots of juveniles – mostly teenagers, but sometimes those as young as 11 years old – into its facial recognition database to compare to crime scene photos. The technology has not been widely tested on children. "No one has ever been arrested based solely on a positive facial recognition match – it is merely a lead, not probable cause," an NYPD spokeswoman wrote in an email. "We are comfortable with this technology because it has proven to be a valuable investigative method."
The POST Act wouldn't necessarily keep the NYPD from carrying out any of its current practices, or give the City Council any authority to dictate how the police deploy it. The legislation focuses on transparency, requiring the NYPD to submit information about the surveillance technology it uses, including "description and capabilities, rules, processes and guidelines, and any safeguards and security measures designed to protect the information collected." That information would then be opened up to public comment, which the police commissioner would take under consideration before submitting a "surveillance and use policy report" to the City Council and mayor and publishing it online.
And it's not just facial recognition. As written, the legislation would require the NYPD to produce detailed information on all surveillance technology, defined as software of systems capable or designed for "retaining, processing, or sharing audio, video, location, thermal, biometric, or similar information, that is operated by or at the direction of the department." Other technology used by the police that have raised concern include drones, license plate readers and stingrays – or "cell site simulators," which can identify the location of a call or text.
While the legislation now has 24 City Council co-sponsors, including Public Advocate Jumaane Williams, the NYPD is still firmly opposed to the bill. "The NYPD has opposed this legislation for years," the NYPD spokeswoman wrote. "If this bill becomes law, it would create a roadmap for terrorists and criminals to more effectively carry out their crimes."
John Miller, deputy commissioner of intelligence and counterterrorism at the department, spoke at a City & State event last week and mentioned what he sees as some of the bill's flaws. "Let's not let's not kid around, (the POST Act) was written by an advocacy group who handed it to a city councilman, and said, 'Pass this legislation,'" Miller said, referring to former City Councilman Daniel Garodnick, who was a sponsor of the bill in 2017. The NYPD's primary objection, Miller said, was that the bill is too broad, subjecting any audio or video recording device to the required information disclosure. "To describe what equipment (officers) wear, how it works, what its limitations are – because that would include anything that records audio, or video, or still images – would be to put them in danger." Miller added that the NYPD proposed changes to the legislation, but that the bill didn't reflect any of that input when it was introduced.
Opposition from law enforcement has stymied the bill, with various op-eds repeating Miller's argument that publishing information about law enforcement's programs and processes would dampen the power of those programs and help would-be terrorists and criminals. That concern and respect for law enforcement is what may be holding some of Gibson's colleagues back from supporting the bill. "I think it's some of my more conservative colleagues that are Democrats – and obviously, the Republicans, they would never support this," Gibson said. "But I think it's just an understanding of supporting law enforcement and not wanting to do anything that will diminish their power, that would take away the tools in their toolbox."
Yet advocates are hopeful that there is newfound momentum behind the legislation. "I think we're starting to see a renewed interest in taking on the issue of law enforcement surveillance technology, and it's a major priority for us that we're working to move this bill forward in the coming months," said Michael Sisitzky, lead policy counsel at the New York Civil Liberties Union. "(Last) year, we saw support from the Black, Latino and Asian Caucus, and they've made this a priority for caucus members. And we've seen new members come on as co-sponsors."
Both critics and proponents of the technology said that the POST Act stops short of what has been done in other cities to ban the use of facial recognition by city agencies outright. But while civil liberties advocates say such a ban is ultimately called for in New York too, others caution against going so far. "I think the problem with a ban is it limits all uses of the technology, rather than maybe considering some particularly sensitive cases," said Daniel Castro, vice president at the Information Technology and Innovation Foundation, a technology think tank in Washington, D.C. "I think people hear 'facial recognition technology' and they think of the worst case scenario instead of the best case scenario. I think transparency can help with some of that by being clear about what uses are under consideration and what uses are not."
Gibson said she spoke with City Council Speaker Corey Johnson last month, and he asked where the NYPD stood on the bill. "The Council is working to determine the best course of action that will balance the use of technology to keep our city safe with the civil liberties of all New Yorkers, especially vulnerable populations and young children," a City Council spokesperson said in an emailed statement. "Speaker Johnson is monitoring this bill closely as it goes through the legislative process."
Right now, Gibson said she is waiting for the NYPD to submit its own bill language. She said she would not support a fully watered-down bill, but is still hopeful – though not optimistic – that the department will offer revisions that make the legislation palatable to advocates and law enforcement alike.
"Working with the NYPD, we will work it out, try to be as patient and as understanding as I can. I only got two more years in the Council, though," Gibson joked. "So we will work with them. But we're going to have to decide – meaning myself talking to the speaker – if this is a bill that's important to us and the advocates and the impacted community – if we want to push the bill forward anyway. We just have to make sure that we understand that doing that with (the NYPD's) opposition, we're going to have to get to a veto-proof majority to make sure that we have enough council members that are solidly behind this bill."
Powered By
NEXT STORY: Bill de Blasio's rough start to the week