New York State
JCOPE's strange priorities
The state ethics watchdog slept on a lot of major corruption scandals, but it's chasing a private citizen for buying a billboard.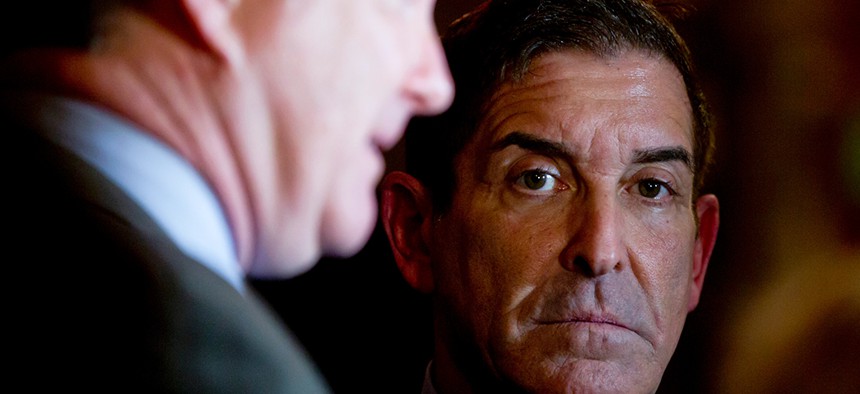 The Joint Commission on Public Ethics may not have taken action against New York's most corrupt public officials, but it is relentless in its pursuit of an alleged rape victim who it says violated lobbying rules. The usually indolent state ethics agency has warned Kat Sullivan an advocate for victims of sexual abuse, that she could face a misdemeanor charge and a more than $40,000 fine for renting a billboard without registering as a lobbyist.
Sullivan invested in three billboards – one of which was in New York – a website and an airplane banner while advocating for the Child Victims Act, which extended the statute of limitations for cases of child sexual abuse. She's arguing in a lawsuit filed Wednesday against JCOPE that her actions should not be subject to the $5,000 threshold for registering as a lobbyist.
Many observers are wondering why JCOPE is so invested in penalizing a private citizen's advocacy after neglecting to take action on some of New York's most high-profile corruption and ethics cases. State Sen. Alessandra Biaggi, who heads the Senate's Ethics and Internal Governance Committee and who backed the Child Victims Act, questioned why JCOPE, which has complained of strained financial resources, would dedicate its time to investigating Sullivan.
"This is something that is in my opinion a waste of time," Biaggi told City & State, calling JCOPE's actions against Sullivan "disgusting."
Critics have suspected JCOPE's silence on certain cases has to do with its ties to the governor, as each of its former directors has previously worked for Cuomo while he was governor or attorney general. 
It is often impossible to know whether the body is doing anything on a case. JCOPE does not confirm or deny its investigations or their progress, including when those investigations are dropped. The ethics body is also not subject to FOIL, which means that the public is generally only aware of JCOPE investigations made public by those involved. Even so, City & State has identified several cases where JCOPE's work, or lack thereof, has drawn criticism. 
Joe Percoco
JCOPE voted in January on whether it should investigate an ethics complaint against Joe Percoco, Cuomo's former top aide who's spending six years in prison for taking more than $300,000 in bribes while in office. But what did it decide? That's a question JCOPE won't answer. The kicker is that the ethics body didn't take action – whatever that action is – until Dutchess County Executive Marc Molinaro and state GOP chairman Ed Cox filed a lawsuit to force them to examine the complaint. The mystery vote also took place 10 months after Percoco – once dubbed "my father's third son" by the governor – was found guilty in federal court.
That's not the end of the criticism of its handling of the case. Seth Agata, then-executive director of JCOPE, had testified in Percoco's trial that he had advised the Percoco about his outside employment while Agata served as Cuomo's counsel. JCOPE also failed to flag information in the very financial disclosures it collects that indicated Percoco has receiving money from businesses working with state government. Its excuse: limited staffing and budget. 
Jeff Klein
Erica Vladimer, a former staffer for then-state Sen. Jeff Klein, accused him of forcibly kissing her one night. Both of them ended up calling on JCOPE to investigate the allegations in January 2018. But as of July this year, according to a Times Union article, Vladimer hadn't heard any updates about the investigation process in the previous six months. While the investigation presumably continues, Klein has already been out of office since losing his seat in last November's election. He is now working as a lobbyist at Mercury. 
Joe Lhota 
Two years ago, Agata warned Joe Lhota about earning outside income while chair of the Metropolitan Transportation Authority. But after complaints from Lhota, Agata later backtracked and approved it. Good government groups decried Agata's response over the perceived conflict of interest, given that Lhota also held private-sector positions as a paid board member of Madison Square Garden, which has business before the MTA, and chief of staff at N.Y.U. Langone Health. Lhota ended up resigning from the MTA in November, 2018, but the reason wasn't revealed until this past July. It turns out that JCOPE did end up taking issue with his outside employment, contradicting Agata's earlier assessment, which had contradicted his even earlier one. 
JCOPE also has not taken enforcement actions against former Assembly Speaker Sheldon Silver and former State Senate Majority Leader Dean Skelos, who were both sent to prison last year in separate major corruption cases. SUNY Polytechnic Institute founder Alain Kaloyeros, who was also convicted on counts of wire fraud and wire fraud conspiracy last year, has not seen public scrutiny from JCOPE either. However, experts have noted it is common for ethics bodies to step aside when prosecutors pursue more high-profile cases. 
To JCOPE's credit, the body has taken action against some notable lawmakers and lobbyists. Former Assemblmembers Vito Lopez, Angela Wozniak and Dennis Gabryszak have all been penalized by the body over sexual harassment complaints. However, staffers who've brought forward complaints and been subject to JCOPE's investigation process have criticized its sensitivity in handling such cases. Among its cases against lobbyists, JCOPE spokesman Walter McClure highlighted its efforts against Brookfield Financial Properties and James Capalino, over contributions to New York City Mayor Bill de Blasio's controversial nonprofit, and Glenwood, a real estate development firm, which was involved in the scandals surrounding Silver and Skelos.
"No conclusions can be, or ever should be drawn from the Commission's silence when it is asked whether an investigation is possible, commenced, or finished," JCOPE Chair Michael Rozen said in a statement. "To divulge such information is a crime." However, JCOPE acknowledged its investigation of Lopez in 2012 after news reports indicated as much. This much is certain: it never penalized Klein, Silver, Skelos, Percoco or Kaloyeros as much as it has this much less powerful woman.
Powered By
NEXT STORY: City previews future of new procurement portal