New York City
Here's why State Sen. Jessica Ramos wants the cap on NYC street vendors lifted
The City Council could take action, but it hasn't.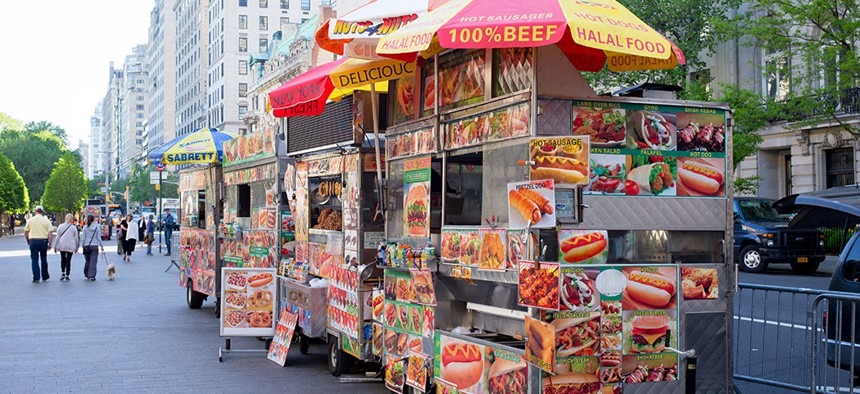 A new proposal, sponsored by state Sen. Jessica Ramos on Oct. 28, would lift the cap on street vendors in New York City, prevent legislators from regulating where vendors are permitted to go and clear vendors' past "citations and misdemeanors related to sidewalk vending."
"We need to start seeing street vendors for who they are: small business owners and, often, people of color – immigrants, women, seniors and parents who work in public spaces to provide food and other goods to our communities," Ramos told the New York Post.
The cap on street vendor permits, currently at around 5,100, hasn't changed much since the early 1980s, when New York City Mayor Ed Koch, irritated by their prevalence throughout the city, put a limit on the number of full-time (3,000) and part-time (1,000) vendors allowed. The decision was also a result of pressure from traditional brick-and-mortar stores who feared competition from street vendors. New York's iconic hot dog carts and their ilk were further regulated during New York City Mayor Rudolph Giuliani's tenure in the 1990s, when he attempted to ban push carts from Downtown and Midtown Manhattan.
Vendor permits last for two-years, cost $200 and can be renewed indefinitely, making it difficult for the people stuck on the city's permit waitlist, which was about 1,450 names long in 2007. As a result of the permit cap, many vendors have chosen to set up shop illegally, either renting a permit (which is illegal) or going without a permit altogether. Permits being rented illegally can cost renters as much as $25,000, according to a report from The New York Times in 2016. It's estimated that there are roughly 10,000 to 12,000 food vendors in the city, when vendors operating without a license are included.
There are also numerous street vending regulations in place, such as "vending in a restricted area," that are strongly enforced by the New York Police Department, which handed out an estimated 18,744 vending violation tickets – a maximum fine of $1,000 – in 2015. In more severe cases, vendors might also have their equipment taken away by authorities. "Over the years, it's become increasingly difficult for vendors to make a living through caps for vendor permits and the criminalization of the industry," Ramos said. "We must end criminal penalties and let people grow our local economy."
Ramos' new proposal won't be addressed until the state Senate's session commences in January, but her new proposal may have some wondering how the issue of New York City's street vendor permits became a state issue. Isn't street vendor licensing the epitome of a completely local issue?
Ramos' district in Queens is home to many of the city's street vendors and while the New York City Council has reviewed a few proposals to expand the number of permits offered, vendors have yet to see things change.
In 2016, then-Council Speaker Melissa Mark-Viverito proposed the Street Vending Modernization Act, that aimed to double the number of vendor permits offered, create vendor specific enforcement and establish several other means of better regulating the city's vendors. But in 2017, the legislation was abruptly shut down. "We don't know why the mayor pulled the rug out," Sean Basinski, director of the Street Vendor Project, told The Villager. "We thought that there was a deal, and suddenly there wasn't. We don't know what changed his mind. When you are fighting against the mayor, it's very, very hard to win."
In April, the Council considered additional legislation, similar to the legislation proposed in 2016, that would offer 4,000 new permits over the course of a decade, in addition to creating a new city-run enforcement unit to ensure carts were being run by permit-holders to eliminate black market permit sales and rentals. Ultimately, nothing came of the proposal, which was opposed by New York City Mayor Bill de Blasio's administration and groups representing brick-and-mortar stores, such as business improvement districts. "I'm not here today to speak against vending. I'm a regular coffee guy at an illegally sited coffee cart," Jeffrey LeFrancois, executive director of the Meatpacking Business Improvement District, told Patch in April, regarding the proposed legislation. "But we cannot attempt to reform a system that has never been enforced while further giving away precious public space on our already crowded sidewalks."
Many brick-and-mortar establishments – as well as chambers of commerce and business improvement districts within the city – are fearful of the effect that such legislation would have on their business, despite readily available research that upends this argument. "Just eliminating the cap and putting thousands more vendors on the streets exacerbates the problems that already exist," Andrew Rigie, executive director of the NYC Hospitality Alliance, told the Post. "You (already) have people selling bagels and coffee for half the price in front of a brick-and-mortar store."
Powered By
NEXT STORY: Uber cap lawsuit dismissed