New York City
Is East Side Access really going to happen this time?
The LIRR expansion project, decades in the making, is finally in sight of the finish line.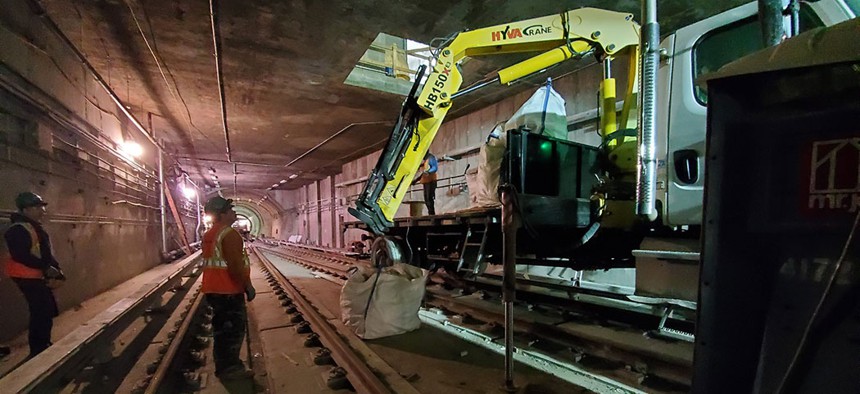 In 1968, in the middle of Nelson Rockefeller's third term as governor of New York, the first chairman of the new Metropolitan Transportation Authority, William Ronan, approached Rockefeller with an idea about building access to the East Side of Manhattan for the Long Island Rail Road. Now, more than 50 years later, that massive project is finally nearing the finish line.
Today, it's not Rockefeller but Gov. Andrew Cuomo pushing for the project's completion. "We're going to finish this if I have to go down there with a shovel myself. We are going to get this done, so help me God," Cuomo said of the East Side Access project in April.
Exasperation on the part of officials like Cuomo reflect the fact that East Side Access has been five decades in the making. But planning for the modern incarnation of the project – which involves building miles of train tunnels beneath the East River to connect the LIRR to Grand Central Terminal in Manhattan – did not begin in earnest until the mid-1990s. Since that official start, the project has been plagued by delays and budget overruns. The 2009 deadline that officials originally set for the project – then estimated to cost $4.3 billion – has been adjusted more than a half-dozen times and has since ballooned into a $11.2 billion behemoth, now slated to be completed by the end of 2022.
With an annual ridership of nearly 90 million, the LIRR has struggled to keep up with increasing demand, at the same time dealing with congestion at Penn Station that keeps LIRR riders waiting for an available platform. Those riders may finally get relief from East Side Access this time around, thanks to recent project management changes at the MTA and insistence by Cuomo and MTA leadership that the project must be a priority. "We're on schedule, on budget for that December 2022 service start time," said John McCarthy, a special adviser for agency operations and initiatives at the MTA.
Proponents of the project say direct service to Grand Central would cut down on subsequent subway or bus trips in Manhattan for LIRR riders who work on the East Side of Manhattan. The MTA estimates that East Side Access will serve approximately 162,000 customers a day, shaving off up to 40 minutes on some commutes. Proponents also say that less traffic at Penn Station will allow for much-needed improvements there – including connecting the Metro-North Railroad, which currently terminates at Grand Central, to Penn Station. Work on the two existing East River tunnels, which were damaged during Superstorm Sandy, won't begin until East Side Access is complete and can provide another route to Manhattan, allowing the damaged tunnels to be taken out of service for repairs, McCarthy said.
Some transportation policy experts are hopeful that the project will actually be finished within the new budget and by the new deadline, even if they're not 100% willing to place bets it'll actually happen. "I think there's a much stronger level of commitment on the part of the MTA. I do think that they've addressed some of the issues that have plagued it before," said Chris Jones, senior vice president and chief planner at the Regional Plan Association, a local research organization. Jones was sure to note, however, that the project is incredibly complicated and has a bad track record. "I would put myself in the cautiously optimistic camp. But certainly no guarantee," he said.
The project has run into a number of issues over the years that have given experts good reason to be skeptical. "Probably the planning upfront wasn't as effective in identifying what the issues would be as far as the amount of work necessary, how long it would take and how much it would cost," McCarthy said.
Expansion projects are always complicated, Jones said, but East Side Access in particular has required coordination among the MTA and other entities, including Amtrak. East Side Access involves construction at the Harold Interlocking in Queens to help ease congestion. The railroad junction serves both LIRR and Amtrak trains, and much of the LIRR's work must be done with Amtrak's participation, including coordinating schedules and workers. In the past, the MTA has blamed Amtrak for not putting in enough effort, while Amtrak has said that it must balance the demands of other major projects it is working on.
And then there are issues with the MTA's project management. A report by the Regional Plan Association noted that excessive change orders – adding or adjusting work originally set out in a contract – were common. "The change order process had an excessive number of hoops for staff to jump through, as well as for contractors," Rachael Fauss, a senior research analyst at the good-government group Reinvent Albany, said of East Side Access. One of the project's more widely shared mistakes involved ordering steel beams that were the wrong size.
While these problems have caused delays and cost overruns, there may be a bright side – namely, that the MTA can use the experience as a lesson for the future. Already, in order to get East Side Access across the finish line, the authority has instituted changes to remedy sticking points, like the change order process, which McCarthy said the authority has tried to simplify. "What we've done is streamline it," he said. "In some cases you'd have 20 or 30 hands touching a change order, and now we've reduced that number greatly."
McCarthy attributes the renewed force behind East Side Access to Janno Lieber, president of MTA Capital Construction since 2017. "He came to the MTA and was sort of tasked with taking a deep dive into East Side Access and some of these other big projects that have had flaws that have been well documented," McCarthy said. "(Lieber) started getting this ship going in the right direction."
Other changes that have been instituted since Lieber's arrival include prioritizing the MTA's relationship with Amtrak, holding quarterly meetings with the railroad and creating a master schedule for all LIRR and Amtrak work. Additionally, the MTA said it has cracked down on "scope creep" and is making oversight of contractors a priority. In April, Cuomo ordered an independent expert review team to review the project – much like the one that reviewed, and subsequently transformed, the L train tunnel repairs.
Some changes that might seem insignificant – like more detailed scheduling – keep the project on track, McCarthy said. "What we're doing is we're getting more granular, but by becoming more granular, it keeps you on schedule," McCarthy said. "Everything's anticipated, everything is scheduled and everything gets accomplished."
In some ways, there's been a cultural shift at the MTA as East Side Access enters its final years – at least on the current timeline. Kevin Law, an MTA board member appointed in April, is also president and CEO of the Long Island Association. "I'm part of a new majority on the MTA board where there's a new mindset, a new culture, and I think it's been driven by the governor in terms of (him saying), stay on top of projects, budgets mean something, deadlines mean something, and it's not OK and it's not acceptable to miss deadlines and to go over budget," Law said.
That's not to say that everything ahead will be smooth sailing. Once the project is completed, the embattled MTA still has an operating deficit to reckon with – something that East Side Access could exacerbate. The MTA's November financial plan estimated that East Side Access' operating costs will reach close to $212 million in 2023, though the increase in new fare revenue that year will be only $14 million, a report by state Comptroller Thomas DiNapoli's office found. "I think that's incredibly important to think about for all these projects in terms of the return on investment that they expect," Fauss said of the operating deficit. An MTA spokeswoman noted that East Side Access ridership is expected to grow to full capacity by 2030, emphasizing that $14 million represented only new ridership revenue and not all revenue for East Side Access.
Assemblywoman Amy Paulin, who chairs the Corporations, Authorities and Commissions Committee, said East Side Access is just one contributor to the MTA's operating deficit. "We don't right now have the money. Without increasing fares to the respective riders or taxes to the entire MTA region, the operating deficit is just too high," Paulin told City & State, adding that she is waiting to see whether the MTA's cost-cutting measures currently in the works are effective. "It does give me pause."
But even Paulin, whose district is in Westchester County, acknowledges that when East Side Access is completed, it will provide benefits not just to Long Islanders commuting to Manhattan, but for Manhattanites visiting Long Island, and for Metro-North riders as well, who may someday finally find out what it's like to roll into Penn Station.
With roughly two years left before the 2022 deadline, Fauss said one of the most promising factors at play is public pressure on the MTA to not miss another deadline. "When the agency has a reputation for constantly re-baselining projects, there's healthy skepticism for their project delivery," Fauss said. "On this one, I think given how public it is and how it's kind of the poster child project for them of not managing projects well, I think they're probably going to hit that date."