MTA
Byford resigns, a despondent Twitter reacts
The celebrated transit chief officially resigns from the MTA, after quarreling with Gov. Cuomo over the subways turnaround.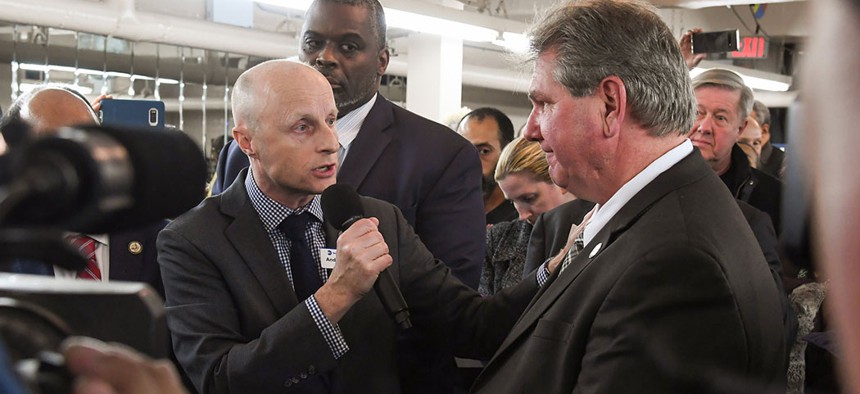 New York City commuters' hopes rested on the shoulders of one unimposing, well-liked British straphanger, and on Thursday, general consensus had it that those hopes were dashed when New York City Transit President Andy Byford, who was in the midst of leading the subways' turnaround, resigned his post on Thursday, bringing his two years of service to an end.
Byford, who was responsible for the subway, city buses, paratransit and Staten Island Railway, previously submitted a letter of resignation to the Metropolitan Transportation Authority in October, which cited frustration in trying to lead the agency while bumping up against interference from Gov. Andrew Cuomo. MTA leadership eventually convinced Byford to rescind his resignation. 
While Cuomo helped hired Byford, the two have publicly disagreed on issues like how to redesign the subway signaling system and the governor's last minute changed plan for the L-train shutdown. Just before Byford resigned for the first time in October, however, there was talk of Cuomo taking a friendlier approach to working with Byford. Nonetheless, reports of the two mens' dueling egos have persisted. 
When the MTA brough Byford in January 2018, he was praised for his success as CEO of the Toronto Transit Commission and helping to lead modernization there. On Tuesday of this week, Byford celebrated 2019 being the best operating performance year for the subways since 2013. "I'm very proud of what we have achieved as a team over the past two years and I believe New York City Transit is well-placed to continue its forward progress now that the MTA has a record breaking $51.5 billion Capital Program in place," Byford said in a statement on Thursday. "I'm very grateful to Governor Cuomo, Chairman Foye and members of the Board for giving me the opportunity to serve New York and to head up North America's largest transit system."
The news came out during an MTA hearing on Thursday, during which officials and even labor advocates thanked Byford for his service, including Cuomo's top appointee, MTA Chairman Pat Foye. "We all respect his decision and wish him well in his next chapters," Foye said. "We thank him for his service. Among his achievements was to build a strong team at transit that will continue the work of the Subway Action Plan and Fast Forward," he added, referring to the master plan to turnaround the ways, as well as the plan to modernize its signaling system.
Several New York City elected officials expressed their disappointment at Byford's resignation, including some who alluded to Byford not being given the authority to enact his vision for transit – and some who blamed Cuomo directly.
This is a real loss for New York City's subway and bus riders. The MTA needs people like Andy Byford — now more than ever. https://t.co/3WioRrLFe6

— Mayor Bill de Blasio (@NYCMayor) January 23, 2020
Another terrible display of this Gov's style

We didn't agree on everything but I always appreciated his great work

This is serious step backward & it belongs at the foot of @NYGovCuomo who I hope people finally realize DOES control the @MTA#andybyfordhttps://t.co/suk5OZNVFY

— Jumaane Williams (@JumaaneWilliams) January 23, 2020
This is very bad for New Yorkers.

At its best, democracy can give you Andy Byford. At its worst, power-hoarding can take him away. https://t.co/rixrDOfwkY

— Brad Lander (@bradlander) January 23, 2020
This is a terrible loss for New York City public transit riders.

Whether it was working together on the 14th Street Busway or simply running into him riding the 6 train, Andy Byford demonstrated an enthusiasm for public transportation and public service. https://t.co/oTIosMJGOk

— Keith Powers (@KeithPowersNYC) January 23, 2020
This is a major loss. Byford has done an incredible amount in putting our subway system on a path towards long-term sustainability and efficiency. https://t.co/YbGVUDTc70

— Alessandra Biaggi (@SenatorBiaggi) January 23, 2020
Andy Byford is a mobility visionary. When state leaders were chugging along, Andy took the express track to propose plans to transform our outdated public transit into a world-class system. He answered our calls to #FixTheMTA. This is unfortunate.https://t.co/8goftqr89D

— Jessica Ramos (@jessicaramos) January 23, 2020
DEVASTATED https://t.co/JoEMyNbyCt

— Corey Johnson (@CoreyinNYC) January 23, 2020
In addition to bemoaning his departure, New York City Council Speaker Corey Johnson also used the occasion to advocate for municipal control of the subways. 
It would be much easier to retain top talent like Andy Byford under municipal control. It's time for municipal control now! Maybe we can bring Andy back. https://t.co/27fdYlum9p

— NYC Council Speaker Corey Johnson (@NYCSpeakerCoJo) January 23, 2020
Other observers remarked that New York had not only lost its popular transit head, but a kind of father figure as well.
the start of the MTA's daddy issues https://t.co/YDplgBrVpw

— Ruth Weissmann (@_ruthbetold) January 23, 2020
Maybe Train Daddy is just going out for a pack of cigarettes https://t.co/neE17xMDoV

— Jillian Jorgensen (@Jill_Jorgensen) January 23, 2020
Train Daddy are you out there?
Did Cuomo drive you away?
Train Daddy, do you not care?
Who's gonna fix up the A? https://t.co/UUFdDm0DX3

— Lisa Tozzi (@lisatozzi) January 23, 2020
If Twitter had a common refrain in the immediate aftermath of the news of Byford's departure, it was nervousness about the uncertainty of what comes next for the transit authority.
This is disappointing news. The MTA has made tremendous gains under Andy Byford's tenure and will be made worse because of his departure. https://t.co/eU1dppsIgN

— Senator Andrew Gounardes (@Sen_Gounardes) January 23, 2020
We are about to witness a huge exodus of talent from the NYC Transit that is going to seriously undermine efforts to improve and modernize the system. Please direct your ire toward Andrew M. Cuomo, who refused to get along with the people he hired once they got some credit.

— Second Ave. Sagas (@2AvSagas) January 23, 2020
The head of NYCT buses is shook as hell by Byford's resignation. I don't think many people understand just how much NYCT needed his leadership. This is real, real bad folks. https://t.co/mvxzGdQARZ

— Aaron W. Gordon (@A_W_Gordon) January 23, 2020
In the days ahead, speculation will surely turn to who is qualified enough, and willing, to take Byford's place now.