Eliot Engel
Rep. Eliot Engel is facing primary opponents critical of his foreign policy
As chair of the House Foreign Affairs Committee Engel has tried to protect congressional power.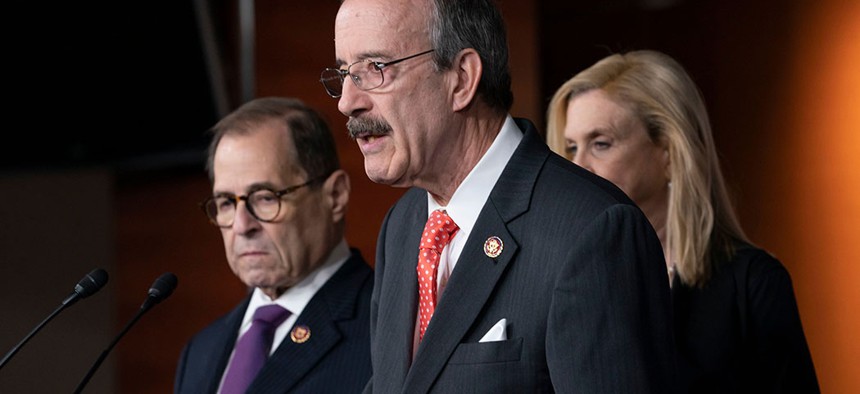 As President Donald Trump's administration comes under fire for the killing of Iranian military commander Qassem Soleimani – an event which triggered reprisals and escalating tensions in the region – Congress is attempting to rein in the executive branch. The House of Representatives recently passed a bill to prevent the president from using military force against Iran without congressional authorization, and the Senate is expected to pass a similar bill, though the president is expected to veto the measure.
In addition to Senate Minority Leader Charles Schumer and the many House Democrats from New York involved in impeachment and investigating the administration, one New Yorker holds a particularly powerful position in affecting U.S. foreign policy: Rep. Eliot Engel, the 31-year House veteran from the Bronx, who has served as chair of the House Foreign Affairs Committee since the Democrats took control of the House last year.
Now that Engel faces a potentially threatening challenge from school principal Jamaal Bowman – and several other candidates, including special education teacher Andom Ghebreghiorgis – the primary in his Westchester and North Bronx district this summer could end up changing Democratic congressional leadership on foreign policy. 
Ghebreghiorgis and Bowman are both running to Engel's left – Bowman with the backing of the progressive group Justice Democrats – but Engel himself is hard to pin down, beyond the fact that his voting record is in the Democratic Party's liberal mainstream. He's not someone who's publicly staked out strong ideological positions on foreign policy in the way that a hawk like former Sen. Joe Lieberman of Connecticut or a dove such as former Rep. Dennis Kucinich of Ohio has. (Of course, if Engel were defeated, his replacement as committee chair wouldn't be Bowman or Ghebreghiorgis – the next Democrat in line is Rep. Brad Sherman of California.)
Rather than laying out a sharply drawn ideology on war and peace, observers say that Engel is a mainline Democrat who has continued the House Foreign Affairs Committee's tradition as a body focused on oversight, especially with regard to Trump's sometimes unorthodox decisions, including the so-called "hollowing out" of the State Department and plans to cut foreign aid. 
"I think he has been one of the leaders in Congress of efforts to oppose some of the more troubling aspects of Trump's foreign policy, particularly efforts by Trump to cut back U.S. international engagement in certain areas," said Jordan Tama an associate professor in the School of International Service at American University.
Perhaps more notable as the situation in Iran continues to unfold, experts also pointed to Engel's efforts to limit in Trump's war-making powers. Engel, along with many other Democrats, co-sponsored the House's recently approved a resolution related to the 1973 War Powers Resolution that would limit Trump's ability to take military action in Iran. "We've heard the argument that the 2002 Authorization for the Use of Military Force – the Iraq War authorization – would justify military action against Iran. That's just wrong. It's not what Congress intended when it passed that resolution," Engel said earlier this month, during debate on the resolution. "It should be repealed, not used to launch more military action. If the president wants to use military force against Iran, he has to come to Congress."
Engel, who first joined Congress in 1989 and now represents New York's 16th Congressional District, did not have a background or prior professional experience in foreign policy. Engel studied history as an undergraduate and received his master's in guidance and counseling before serving in the New York state Assembly for nearly 12 years. He nevertheless rose up through the ranks of the Foreign Affairs committee, becoming ranking member in 2013, and then being appointed chair after Democrats flipped the House in 2018. 
Experts say his lack of prior expertise in foreign policy is not necessarily atypical of a committee chair. "Most members of Congress don't come into Congress with previous foreign policy experience, except to the extent that some of them have served in the military," Tama said, adding that prior chairs of the Foreign Affairs committees have been a mix of those with military or prior international relations experience, and those without it. "He didn't become chairman of the committee during his first year in Congress. He was on the Foreign Affairs Committee for many years, gaining expertise during those years before he became chairman."
In the three decades he spent in Congress prior to chairing the committee, Engel has led on a few key foreign policy issues. Engel was out in front on U.S.-Kosovo relations, drawing attention to the ethnic cleansing of Kosovar Albanians in the late 1990s, urging former President Bill Clinton to attack Serbian strongholds there. Later, he spoke out in support of Kosovo's independence from Serbia. Engel's actions on Kosovo were appreciated by their government in 2017, becoming the first Jewish man put on a postal stamp of a Muslim territory. 
"In terms of foreign policy identity, I wouldn't say 'left,' 'right,' 'hawk,' 'dove,' or any of that. I think he found issues where he thought he could make a direct impact, and he focused primarily on those," Louis Lauter, vice president for congressional and government affairs at the Center for Strategic and International Studies, said, when asked to characterize Engel's foreign policy philosophy. 
Leading the House Foreign Affairs Committee presents Engel an opportunity to stand up to executive branch, even if he might be hamstrung by a divided Congress. "He had been pushing legislation that would limit the president's ability to intervene militarily in Yemen," prior to his role in the recent Iran bill, Tama said. "Those are areas where a lot of Democrats have had concerns that the president might not be constrained enough in being able to intervene militarily in other countries."
On Friday, Engel said in an emailed statement to City & State that he's seen Congress cede too much of its responsibility to the executive branch. "I've learned some hard lessons along the way and taken votes that I would change knowing what I know now," he said. "The United States has been at war for nearly all of the 21st century. I wish we could have some of those pivotal moments back, because we see now that the authorizations that Congress approved have been stretched well beyond what we ever intended." Engel added that he's in favor of repealing the 2002 Iraq war authorization and considering whether existing war powers legislation needs to be updated.
In the past, however, Engel has come under criticism for supporting various military actions. Despite those who praise him for challenging Trump, more progressive media outlets have also referred to him as "hawkish." This is perhaps most true on the Middle East. In 2002, Engel voted in favor of the Iraq War resolution. Engel also voted against the 2015 Iran nuclear deal, but has since come out in favor of it. "I didn't support the nuclear deal because I didn't think it went far enough," Engel said to City & State. "But I said when President Trump walked away that it was a mistake. Since then, we've seen tensions tick up bit by bit, because the administration simply doesn't have a coherent approach to Iran."
If he veers away from more progressive Democrats in some instances, Tama said Engel's other views are shared among the party. "There have been some cases where he's been more supportive of military action by the United States than some other Democrats," said Tama. "But, generally, he is somebody who thinks that the military should not be the main instrument for addressing foreign policy problems. And that's a perspective that's widely shared among Democrats."
Engel is also considered pro-Israel, and he took a hard line against Rep. Ilhan Omar last year when she came under fire for a series of remarks related to U.S. policy towards Israel that some viewed as anti-Semitic. In one instance, Engel demanded an apology from Omar in response to comments she made suggesting that pro-Israel groups have undue influence on American politicians. "I welcome debate in Congress based on the merits of policy, but it's unacceptable and deeply offensive to call into question the loyalty of fellow American citizens because of their political views, including support for the U.S.-Israel relationship," Engel said. "We all take the same oath. Worse, Representative Omar's comments leveled that charge by invoking a vile anti-Semitic slur."
Engel, along with fellow New York Reps. Nita Lowey and Jerry Nadler, pushed to formally condemn Omar with a resolution over her statements on Israel, intensifying friction between establishment Democrats and younger progressives. Left-of-center outlets like The Intercept, have hit Engel for other aspects of his record on Israel, including applauding Trump's moving the U.S. embassy in Jerusalem, effectively recognizing Jerusalem as Israel's capital. In the last year, Engel has also spoken at eventshosted by the Zionist Organization of America and the American Israel Public Affairs Committee.
Bowman and Ghebreghiorgis are among those criticizing Engel's stance on Israel, as well as other foreign policy positions. Bowman wants to make U.S. military funding for Israel conditional on human rights agreements, while Ghebreghiorgis is a supporter of the BDS movement and a former member of Yale's chapter of Students for Justice in Palestine, according to The Intercept. Both hit Engel for "hawkish" foreign policy views. "(Engel) repeatedly found himself at odds with President Obama, most notably in his opposition to the Iran nuclear deal," Ghebreghiorgis said, noting that Engel called on the U.S. to veto a United Nations resolution that criticized the construction of Israeli settlements – a vote from which the U.S. ended up abstaining. "Over the course of his 31 years in office, Rep. Engel's rhetoric and votes have consistently beaten the drums of war, and his leadership of the House Foreign Affairs Committee is dangerous to international peace and justice."
Bowman, too, called Engel's actions "hawkish," but also offered a criticism of Engel's overall focus on foreign policy, which Bowman says comes at the expense of issues important to the district. 
If Engel is defeated in a primary challenge and the chairmanship role opens up, Engel's absence wouldn't necessarily leave a gaping hole on the committee that another couldn't fill. "Is he going to go down in the history books? I have no idea. I wouldn't think so after one term as chair," said Linda Fowler, a professor at Dartmouth College. "But he seems like he's done a responsible job and that he is interested in protecting the prerogatives of Congress from excessive dominance by the executive branch." 
But some say Engel's skill at working across the aisle is increasingly unique, and important, to foreign policy these days. Observers cite Engel's close working relationship with the House Foreign Affairs Committee's Republican ranking member, Rep. Michael McCaul, as well as with the former Republican chair, Rep. Ed Royce. "I think that would be a loss," Tama said, citing examples including Engel and McCaul's joint effort to fortify the State Department, which has seen a loss in personnel since Trump took office. "Not every member of Congress is necessarily as adept or inclined to seek out Republican support. In today's Congress, that's important if you want to actually get legislation passed."
Correction: Due to an editing error, this article originally misstated Senate Minority Leader Charles Schumer's title. 
Powered By
NEXT STORY: Talking 5G with AT&T's Amy Kramer