New York City
The policy battles that pit the left against the left.
Progressives are ascendant. But they don't always agree.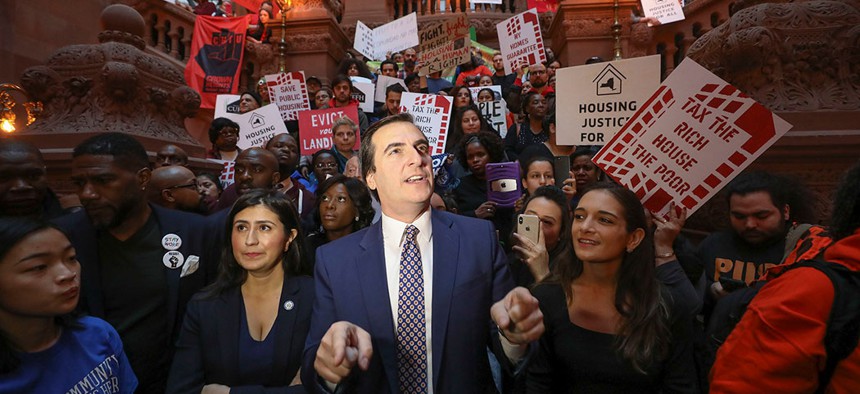 Democrats seized control of the state Legislature and passed a slew of long-stalled priorities last year, but that doesn't mean everything is hunky-dory in leftyland. Progressives sometimes pushed for more change than their moderate colleagues could bear. Suburban lawmakers occasionally broke with their urban legislators. Single-payer health care and recreational marijuana are just two issues that stalled due to intraparty disputes, but other fault lines have emerged among progressives on issues that aren't so clear-cut. Here are some policies that have spurred progressive infighting.
Gestational surrogacy
Generally, feminist priorities go hand in hand with progressive ideals. Gestational surrogacy, however, created a schism. In New York right now, a woman can't be paid for carrying a baby to term. Many progressives wanted to change the law in order to lower barriers to parenthood for gay couples, those who can't conceive traditionally and women who can't carry children. It was touted as a major priority for the LGBT community.
But several female legislators and prominent feminists came out against it. Assemblywoman Deborah Glick, the first openly gay person elected to the state Legislature, asserted that gestational surrogacy is not an issue for the LGBT community at large because it costs so much money. She and others said it commodifies women by putting a price on their wombs and bodies. State Sen. Liz Krueger, a progressive stalwart, voted against the legislation, which ultimately passed her chamber. In the Assembly, it never came to a full floor vote. The measure is expected to be taken up again this year, and it will likely continue to divide progressives.
Decriminalizing sex work
The topic has not yet been debated in earnest in Albany, but when the time comes, the idea of fully decriminalizing sex work will surely be a divisive issue among progressives. Proposed measures would affect not just those selling sexual services, but also those buying and promoting it. The fissures are already there, as some prominent feminists and women's organizations have come out in opposition to the full decriminalization. Proponents like democratic socialist state Sen. Julia Salazar say full decriminalization would remove the stigma around sex work and make it safer for those doing it voluntarily. Others, like National Organization for Women New York City President Sonia Ossorio, argue it would lead to an increase in sex trafficking and would protect pimps. Ossorio supports partial decriminalization that would keep buying and promoting sexual services illegal. Sex workers say this model, which is used in Norway, actually makes their work more dangerous.
Plastic bag ban
Environmental issues are a cornerstone for progressive lawmakers and activists, but there's not always agreement on specific measures. In New York City, efforts to reduce the use of plastic bags took years to pass, until it finally did in 2016. And the measure, which was set to impose a 5-cent fee on plastic bags, passed by just eight votes in the overwhelmingly Democratic City Council. Lawmakers like Inez Barron, a proud left-wing radical, opposed the fee over the contention it would hurt low-income New Yorkers.
The city law was overturned by the state Legislature, although the fight to pass a statewide ban was fraught as well. State Sens. Brad Hoylman and Liz Krueger in 2018 introduced a bill that would ban plastic bags outright and place a fee on any other single-use carryout bags, such as paper bags. Longtime activist and The Black Institute President Bertha Lewis opposed it on the same grounds as those who opposed the city fee. Ultimately, what passed in the 2020 budget was a compromise that banned most plastic bags, but did not include a mandatory fee on paper bags.
Fur ban
New York City's debate over whether to outlaw the sale of fur opened a divide between progressives and members of the black community. Progressives, like New York City Council Speaker Corey Johnson, wanted to take a stand on animal rights issues by banning fur in the city. Most of his colleagues agreed. The proposal garnered swift backlash, including from black ministers because of fur's cultural significance. They argue that wearing fur is a sign of achievement for members of the black community and that animal rights activists, who were pushing for the ban, were elevating animals over black lives.
Banning menthol cigarettes
Another measure that has broad progressive appeal but has been opposed due to its impact on black and low-income communities is a New York City bill to ban the sale of menthol cigarettes. New York City Councilman Fernando Cabrera introduced a proposed ban, citing concerns over health and children becoming addicted to nicotine through flavored tobacco products. But the Rev. Al Sharpton, who has a long history of being a progressive leader, said a ban would disproportionately hurt black people and result in a larger illicit cigarette market – and more police interactions like the one that led to the death of Eric Garner. Although that view is not shared by all black activists, with the likes of the Rev. Kirsten John Foy supporting a ban. Either way, the opposition was enough to stop New York City Council Speaker Corey Johnson from backing the bill or bringing it to the floor for a vote.