New York State
What Brian Kolb's arrest means for bail reform
Getting arrested on New Year's Eve for allegedly drinking and driving is bad enough, but Assembly Minority Leader Brian Kolb drove his state-issued GMC Acadia into a ditch at an especially inopportune time for Republicans as they vociferously oppose bail reform.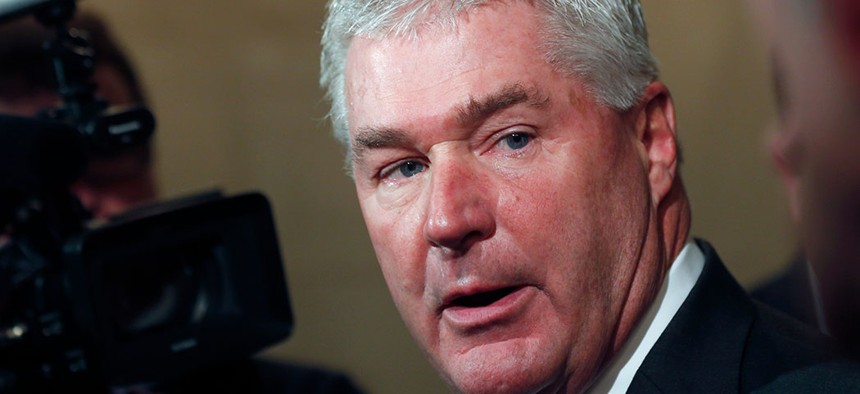 Getting arrested on New Year's Eve for allegedly drinking and driving is bad enough. But Assembly Minority Leader Brian Kolb drove his state-issued GMC Acadia into a ditch at an especially inopportune time for Republicans – transforming himself in the process into one of the first beneficiaries of bail reforms that he vociferously opposed. 
While Kolb is much more politically powerful than your average criminal suspect, his case is fairly typical of those affected by the new bail law. He is accused of committing a nonviolent misdemeanor that may or may not have required that he post a cash bail before the new law took effect on Jan. 1. However, his arrest undermines Republican arguments that they are standing up for law and order, at a time when new laws allow dangerous suspects to go out and commit additional crimes instead of being safely locked up behind bars before they've faced trial. It's only natural that Democrats have seized on the opportunity to use Kolb – who is now reportedly being investigated by the Joint Commission on Public Ethics for misusing his state-issued SUV – as an example of why they passed bail reform within the state budget that passed earlier this year. Should someone arrested once for drunk driving be held in jail at great public expense if they can't afford to post bail?
Supporters of bail reform say that the ability to pay bail should not determine who has to stay in jail before their days in court. Financial disclosures suggest that Kolb is not particularly wealthy, but he presumably would have been able to post bail much more easily than a low-income person accused of a similar crime. Either way, there is reason to think neither Kolb or someone else in similar circumstances would pose a danger to society, according to Democratic state Sen. James Skoufis of the Hudson Valley. "Since Brian Kolb 'walked free;' after his arrest, is he a danger to society?" Skoufis tweeted on Jan. 1. "Should Brian Kolb be locked in jail until his trial or plea."
The new reforms eliminate cash bail for most misdemeanors and nonviolent felonies, including some forms of assault, arson and robbery. Judges are required to impose the "least restrictive conditions" when deciding whether a criminal suspect should be released pretrial. This could include electronic monitoring, other forms of supervised release or simply allowing the suspect to be free on their own recognizance. Unlike other states that have changed their bail systems, judges are also not allowed to consider the "dangerousness" of a suspect, though they can keep them jailed if they demonstrably present a flight risk. 
Sufficient pretrial services are arguably as effective as posting bail at making sure that criminal defendants appear in court. But critics of bail reform have argued that releasing people who would have otherwise been unable to afford bail endangers public safety. Some recent cases of suspects committing additional crimes have underscored this point. This includes a Brooklyn woman who was arrested three times in five days before being ordered to be held for a psychiatric evaluation. In another case, a convicted bank robbery suspect was released in recent days after being charged with robbing an upstate bank without a weapon. "Happy New Year everyone!" reads a statement from the Colonie Police Department. "Especially happy for our most recent bank robber." 
Republicans like New York City Councilman Joe Borelli of Staten Island, the just-named 2020 GOP spokesman, used the case as an example of how criminal justice reforms have gone too far, but Democrats had a simple response that highlighted their new rhetorical weapon against such arguments. "Weird you don't seem to be upset about top GOP leader being let out after drunk driving," Democratic state Senate spokesman Mike Murphy tweeted. While Kolb – who did not respond to a request for comment – expressed contrition for his arrest in a statement, he has yet to respond to calls for his resignation from the leadership post he has held for the past decade. For the time being, most Republican lawmakers appear to be waiting until they return to Albany next week before deciding whether or not they will stand by him. "I think it will be very difficult to maintain a leadership position given the seriousness of the charge," said Assemblyman John Salka of Central New York. "We have constituents we have to be an example to."
Besides undermining Republican claims to be the party of law and order, Kolb looks especially hypocritical because he got arrested for drunk driving just one week after he penned an op-ed urging others to "drive safely this holiday season." 
If the Rochester-area Republican manages to remain as leader, he would not be the first legislator to survive such a political embarrassment. The former chairwoman of the state Assembly's Committee on Alcoholism and Drug Abuse, Susan John, stayed in office for 13 years after getting arrested for driving while intoxicated in 1997, in the same town of Colonie, outside Albany, that the bank robber recently hit. 
John, like Kolb, was from the Rochester area, but she was a Democrat, not the leader of a Republican conference – nor did her arrest come at a time when the party was arguing that releasing more criminal suspects pre-trial endangered public safety. While it remains unclear whether Kolb will keep his leadership post, one thing is certain: he better stay away from drinking and driving, or else he will be one repeat offender that Republicans will never want to talk about. 
Powered By
NEXT STORY: What's next for e-bikes in New York?