Small Business
A balancing act in Brooklyn
Brooklyn business improvement districts want to grow their neighborhoods - without spurring gentrification.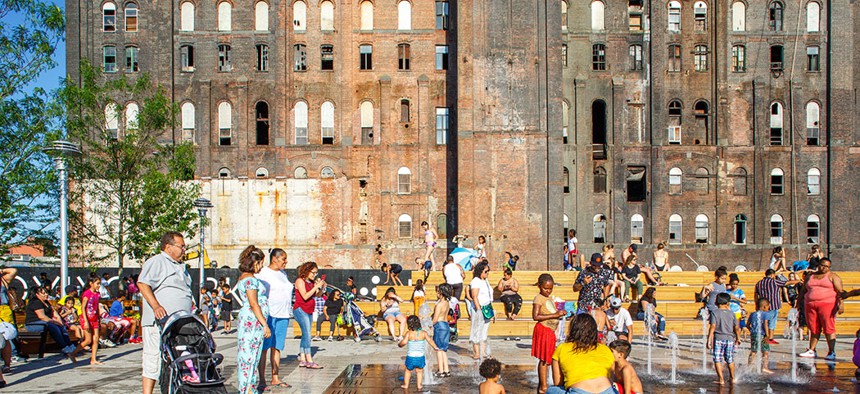 Though its day as a major manufacturing hub may be long gone, over the past couple of decades Brooklyn has reinvented itself on the global stage. Industrial parks and warehouses have been repurposed and neighborhoods rezoned. Not only has the borough succeeded in reversing decades of economic decline, but in the years since the 2007 financial crisis Brooklyn's growth has outpaced the rest of the city. Between 2009 and 2018, the borough's rate of private sector growth (46 percent) more than doubled that of Manhattan, according to an April 2019 report by the Office of the New York State Comptroller.
A June 2019 study, released by the Center for an Urban Future, found that employment growth in Brooklyn's tech sector was also more than double that of Manhattan—and nationally only San Francisco produced more new startups during that time.
Many of the new tech jobs have flowed to Downtown Brooklyn, which has simultaneously seen more than 14,000 housing units built since a 2004 rezoning, according to the Downtown Brooklyn Partnership, an economic development organization.
"We do see Downtown Brooklyn as emblematic of the nation's move to cities," said Regina Myer, the Partnership's president, who oversaw the area's rezoning when she was director of the NYC Department of Planning's Brooklyn office.
The Partnership manages three of Brooklyn's 23 businesses improvement districts (BIDs), which have been quietly working to strengthen retail corridors throughout borough's economical revival.
BIDs form when a majority of property owners and merchants in a proposed district agree to a self-imposed tax on commercial real estate in order to fund services beyond what the city provides–from supplemental street cleaning and private security to marketing and capital projects.
For all the glamorous new growth in creative industries, regular mom-and-pop shops still form the backbone of many Brooklyn neighborhoods, and the borough's metamorphosis from backwater to global brand comes with challenges in addition to economic opportunities.
"There was a time when landlords may have been happy to have just about anybody who would pay the rent, and now there are extreme rent pressures for commercial businesses in the district," said Phillip Kellog, executive director of the Fulton Area Business Alliance BID.
Although the majority of a BID's board must, by law, be comprised of property owners—who stand to profit from lofty rents—many BID leaders view persistent rent hikes with concern.
"My understanding is that the commercial rents have come down 10 to 15 percent over the past year and, as an organization that worries about the overall health of the commercial strip, I'm certainly not upset about that," said Mark Caserta, executive director of the Park Slope 5th Avenue BID. "We're starting to see some new business come and take over some of the vacant spaces, and some people trying ideas that they may not have been able to try a year or so ago."
The Myrtle Avenue Brooklyn Partnership, for its part, collects lease data on its commercial corridor, which can be used to help property owners and tenants find common ground.
"We actually know within a block the averages of what is happening," explained Chad Purkey, executive director of the BID. "If we are talking to a property owner and a business owner who is looking to renegotiate a lease or sign a lease, we can provide them with accurate information about what is sustainable to charge so they can make wise decisions for both of their operations."
"The commercial rents have come down 10-15% over the past year and, as an organization that worries about the overall health of the commericial strip, I'm certainly not upset about that." - Mark Caserta, Park Slope Fifth Avenue Business Improvement District executive director
But rents are not the only cost of business rising throughout the borough. The regulatory burden on small businesses, BID leaders say, has also increased in recent years, due in part to new government mandates, such as the minimum wage increase and paid sick leave law.
"These are policies that have merit, but is there not some way that government can help the small business owner when their costs are increasing so rapidly?" Kellog said.
Across the city, recent revitalization campaigns have come at a social and cultural cost, displacing low-income residents and local businesses, which can have a major impact on the social fabric of a neighborhood. This has led, in some instances, to pushback against BID formation and expansion. A recent effort to expand an existing BID in Jackson Heights, Queens, was met with opposition from storeowners who feared it would lead to gentrification.
The impact that BIDs have on local rents, however, is not cut and dried. There are gentrified areas without a BID, as well as BIDs in parts of the city that have experienced no gentrification. A 2007 NYU Furman Center study found no causal relationship between BIDs and substantial increases in property values outside of a handful of Manhattan districts with high concentrations of office buildings.
"We didn't actually find that the BIDs in Brooklyn and, for the most part, these smaller, more retail focused BIDs had much of an impact on property values either way," Ingrid Gould Ellen, one of the study's co-authors, said.
Yet if a BID is effective in its mission of cleaning up and promoting a commercial area, it can contribute to making a neighborhood more attractive, which could play a role, plausibly, in rents going up.
"Could at the margin—could a BID potentially accelerate gentrification, magnify it? Possibly," Ellen said. "But there are a lot more fundamental causal factors driving what we're seeing."
Given the current rise in costs, many BIDs leaders have redoubled their efforts to help small businesses become more resilient and adaptable in the face of accelerated economic trends. BIDs can help small storeowners navigate regulatory issues, tap into city resources, and provide marketing as well as market research so they can adapt their business model to the times.
"When you're a guy running a 99 cent store, and you're primarily Chinese speaking, and you only have a few employees and are finding out about anti-harassment and commercial waste zone reform and changes to paid sick leave and all these regulations that are coming down the pike, it's really hard to keep up," said David Estrada, executive director of the Sunset Park BID. "So I see the role of the BID as being a translator and an ambassador between stuff that is happening at the city level and stuff that never really crosses the threshold of these small shops were people are just hustling to stay open."
Brooklyn has long been a gateway for immigrants—well before it became a choice destination among the cool set. Changing demographics, of course, is accompanied by changing consumer demands, and some BID leaders are trying to help the mom-and-pop businesses in their districts adapt.
"When you're a guy running a 99-cent store, and you're primarily Chinese-speaking, and you only have a few employees and are finding out about anti-harassment and commercial waste zone reform and changes to paid sick leave, it's really hard to keep up. So I see the role of the BID as being a translator." - David Estrada, Sunset Park Business Improvement District executive Director
"We're trying to avoid the legacy issues with many of these small businesses, where they are so comfortable selling the same product year in year out," said Kenneth Mbonu, executive director of the Flatbush-Nostrand Junction BID.

At the same time that neighborhood demographics are changing, so too is the national retail landscape, with brick-and-mortar storeowners facing fierce competition online. As part of a broader effort to encourage businesses to embrace social media and new technologies, Mbonu has been connecting storeowners in his district to local tech companies that are looking to beta test new products. Mbonu has also enlisted local artists and designers to help stores improve their visual appeal, which has the potential to not only enhance foot traffic but also bring attention to their "cultural significance" within the community.
"At the end of the day, the community understands the challenges many of these businesses are going through and is ready to pay a little more of a premium, because it wants the businesses to be able to stay in the neighborhood in order to avoid vacancies that can lead to all these depressing issues," he said.
By helping businesses capitalize on new opportunities, and persevere through challenging times, some BID leaders see themselves as agents of preservation in a time of sweeping change. Still, there are those who express concern that BIDs may play a role in activating market forces that could ultimately prove too potent for many small businesses to withstand.
"In the beginning, small businesses can benefit (from the formation of a BID), but in the last phase—which is the lasting impact—it would be really hard for the small business to keep up with the fast-paced changes that are happening in a place," said Bakry Elmedni an assistant professor at LIU Brooklyn's School of Business, Public Administration and Information Sciences.
In addition to whatever support BIDs can offer small businesses, Elmedni believes the city has to explore supplemental policy tools—such as tenant protection and affordable housing initiatives—in order to ensure the long-term diversity of its neighborhoods.
Amanda Zenteno, executive director of the Bay Ridge 5th Avenue BID, is well aware of the economic and social change edging its way towards her district. And while she hopes to take advantage and attract new consumers to her commercial corridor, like other BID leaders she has become increasingly concerned with preserving the small-town vibe, local flavor and cultural diversity that originally made Brooklyn such a popular destination. So in addition to the more traditional BID services, Zenteno has updated her portfolio with initiatives designed to foster a sense of community, such as public events, cultural programming and translation services.
"People shop because they love a store, and they get upset when something leaves," Zenteno said. "So we are now better understanding how the community interacts with commercial corridors and the stores that make this its own place."
Powered By
NEXT STORY: Get to know Brooklyn's Business Improvement Districts