Marijuana
Where do nearby states stand on recreational marijuana?
New York and its neighbors want to make sure they're all on the same page before they pass anything.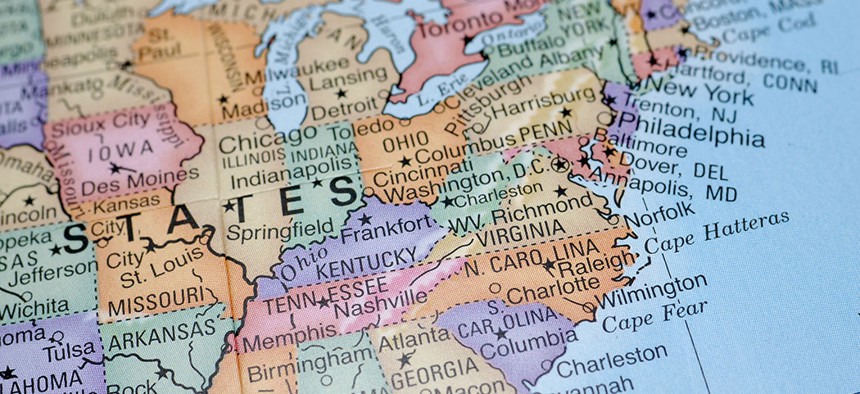 If or when New York legalizes recreational marijuana, Gov. Andrew Cuomo wants the state to vibe with its neighbors.
Cuomo co-hosted a summit in October with the governors of New Jersey, Connecticut and Pennsylvania to talk about coordinating recreational marijuana legalization so that the region could have relatively cohesive marijuana policies and prices. The meeting also included other officials and lawmakers from all four states as well as some from Massachusetts and Rhode Island.
The summit was closed to the press, but Cuomo said it went well. He released a set of about 30 core principles the governors of each state agreed to follow. Most were generally vague – like coming up with "law enforcement strategies for (an) illicit market" and "identifying best practices" for taxation and market regulation – but some of the more specific bullet points mentioned instituting similar tax rates from state to state, implementing social justice initiatives and prioritizing small and minority-owned businesses.
The principles were really meant to be broad guidelines, not rules. The states won't be introducing the same legislation, and there's no guarantee what will actually get passed. It's also unclear how Massachusetts, a neighbor to both New York and Connecticut, plays into this regional lovefest, since it already has legal pot.
New York
Recreational: Not yet legal
Decriminalization: Possession of small amounts decriminalized in 1977; further decriminalized possession in 2019, with new provisions to expunge records for some marijuana-related offenses
Medical marijuana: Program established in 2014
New Jersey
Recreational: Not yet legal
Decriminalization: No statewide decriminalization, but limited provisions to expunge records for some marijuana-related offenses established in 2019
Medical marijuana: Program established in 2010
The Garden State has tried to pass marijuana legalization through legislation since Gov. Phil Murphy took office in 2018, but every effort has gone up in smoke. The extent of provisions to expunge marijuana conviction records was a key point of debate, and legalization also faced opposition from some black lawmakers, who said minority communities would bear the brunt of negative health impacts from marijuana use while major companies profited off them. In December, legislators approved a ballot referendum that would amend the state constitution to legalize the use of pot for anyone over the age of 21, but it does not include any provisions for marijuana cultivation or specifics about possession. The new market would be overseen by an existing Cannabis Regulatory Commission created for the medical marijuana industry and would be subject to the state sales tax. If approved in November, the state would still need to do the hard work of figuring out the bulk of the regulatory framework. New Jersey did, however, approve a bill that would help expunge low-level marijuana offenses, much like New York did after its legalization push failed. But unlike New York, it did not decriminalize pot, nor did it set up an automatic expungement system – instead, New Jersey residents need to apply to have their record expunged. Also like New York, several municipalities in New Jersey have already passed ordinances to ban dispensaries if weed is legalized.
Connecticut
Recreational: Not yet legal
Decriminalization: Possession of small amounts decriminalized in 2011
Medical marijuana: Program established in 2012
Gov. Ned Lamont campaigned on legalizing pot in his 2018 election and pushed for legislation in 2019. Notably, the legislation included key social justice provisions, such as investing tax revenue into communities disproportionately affected by marijuana enforcement and expunging criminal records. Unlike New York and New Jersey, Connecticut did not pass smaller bills to decriminalize possession or implement provisions to expunge minor marijuana offenses. The state tried a different strategy than its neighbors: lawmakers split up various aspects of legalization, such as expungement and regulatory frameworks, so they could be considered separately, with a plan to merge the legislation into one bill once they passed their respective committees. That didn't work out in the end. And like its neighbors, the General Assembly in Connecticut just couldn't reach a consensus.
Pennsylvania
Recreational: Not yet legal
Decriminalization: No statewide decriminalization
Medical marijuana: Program established in 2016
Like in New York, Pennsylvania's governor only came out in support of legalizing recreational marijuana recently. In fact, Gov. Tom Wolf's announcement came only about a month before he met with his fellow governors to discuss policy. So his state is starting from perhaps the cleanest slate in 2020. Pennsylvania lawmakers introduced a bill that some advocates said would be "the gold standard" for legalization bills. It includes provisions to expunge criminal records, allows people to grow weed at home and has various social justice components to help minority business owners and those living in communities that were affected by marijuana enforcement. But Pennsylvania likely faces even steeper odds than its neighbors. Unlike New York, Connecticut and New Jersey, Pennsylvania's General Assembly is dominated by Republicans. This could mean that legalization proponents may need to wait until the Legislature flips, or be willing to compromise on parts of the bill in order to get Republican support.
Massachusetts
Recreational: Legalized through ballot referendum in 2016
Decriminalization: Possession of small amounts decriminalized in 2008
Medical marijuana: Program established in 2012
Right now, Massachusetts is one of the leaders in the Northeast in terms of recreational marijuana, since it is so far only the second state in the region to legalize it after Vermont. Since legalization occurred through a ballot initiative rather than legislation, which is the route most of its neighbors are attempting now, it meant that the regulatory framework was decided after the fact, including attempts at social justice provisions. The state doesn't have a provision for the automatic expungement of past marijuana offenses and is still ramping up its equity programs for marijuana businesses to get more revenue in the hands of communities most affected by marijuana enforcement. But it offers potential guidelines in terms of other regulations, such as being allowed to grow up to six plants at home and being permitted to carry 1 ounce of weed and have up to 10 ounces at home.
Powered By
NEXT STORY: New York gets a big broadband win