New York State
Can pot legalization pass while the state reacts to the coronavirus?
Albany lawmakers still disagree with Cuomo on how to use tax revenues from pot sales.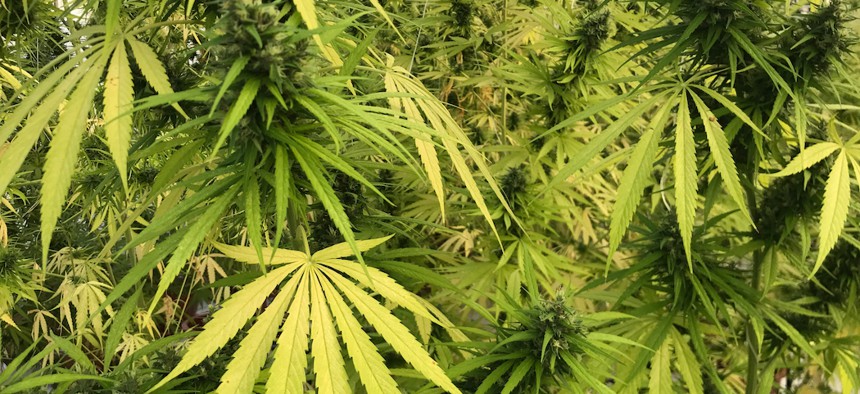 As the coronavirus crisis continues to rage in New York, state lawmakers have returned to Abany intent on passing a budget, which is due April 1. Given the pandemic, many lawmakers are hoping to reach a deal sooner rather than later. But despite calls from numerous sources that the state pass a bare-bones budget – devoid of the usual big-ticket legislative items that find their way into the spending bill – Gov. Andrew Cuomo has remained adamant that whatever passes should include some key pieces of legislation. 
One of his priorities remains legalizing recreational marijuana, a massive agenda item that failed to pass last year. "I would like to do legalized marijuana," Cuomo said at a press conference on Monday when asked about his legislative budget priorities. It was the latest sign that the current health crisis has not swayed him from pursuing the measure. Unless the governor plans to use his influence to force it through, there has still apparently been no compromise between himself and state lawmakers on the biggest outstanding issue on pot legalization: what to do with the tax revenues.
State Sen. Liz Krueger and Assembly Majority Leader Crystal Peoples-Stokes introduced an amended version of their Marijuana Regulation and Taxation Act in mid-March. It reflected a number of key changes that brought it closer in line with Cuomo's most recent executive budget proposal, following negotiations between the Cuomo administration and lawmakers. One modification the lawmakers made was including a cannabis control board within a proposed Office of Cannabis Management, which was Cuomo's preferred regulatory framework. While there are differences in the two proposals about the makeup of that board, as well as how appointments are made, the key similarity is that it would have the greatest control over the rulemaking authority of the new agency, rather than being run by an executive director.
What hasn't changed in the latest version of the bill is what to do with the tax revenues. Unlike the governor's proposal, it still would earmark roughly 50% of the tax revenues for a community reinvestment grant program. The money is seen by lawmakers and marijuana legalization advocates as a crucial part of the social equity aspect of the bill. It's a guarantee that a large chunk of the tax money would go to communities that have been disproportionately affected marijuana enforcement. "Assembly Member Peoples-Stokes and I have put forward what I believe to be the best proposal to achieve marijuana legalization, and I would be happy to see the Governor include it in his budget," Krueger said in a statement to City & State. "However, while it is important that we end marijuana prohibition as soon as possible, it is also important that it be done the right way." Her bill also sets aside money for other key programs, such as education, research and police training.
Cuomo's proposal doesn't direct tax revenues for specific purposes. In a March interview with City & State that took place before the state Legislature unveiled changes to its bill, Norman Birenbaum, the governor's pot czar, emphasized the importance of flexibility written into the law to ensure that the state can adapt to whatever needs may arise. "It is hard to say this is going to be the very rigid either allocation or percentage or amount of resources that we're going to dedicate to a certain area when we don't know what those needs will be," Birenbaum said at the time. He added that the executive proposal still had strong social equity and social justice provisions, including its own community reinvestment grant program.
But it did not mandate how much money should be put into that program. That omission has long been a non-starter for pot advocates and lawmakers, who want to make sure those communities don't get shortchanged.
It's possible that Cuomo will muscle his version of marijuana legalization into the budget, but the amended Marijuana Regulation and Taxation Act makes it clear that a compromise on tax revenues is as unlikely this year as it was last year. If it's not part of the budget, Cuomo has said that it won't get done this year. But Krueger, at least, remains hopeful and willing to wait in order to get it right. "If that cannot be achieved in the midst of a public health crisis, then we will all be better off waiting," she said. "There is no reason we cannot negotiate and pass a nation-leading legalization model when the crisis is over."
Powered By
NEXT STORY: Hurdles aplenty as remote learning begins today