New York City
Everything New Yorkers need to know about the 2020 census
The decennial count will be conducted primarily online for the first time this year.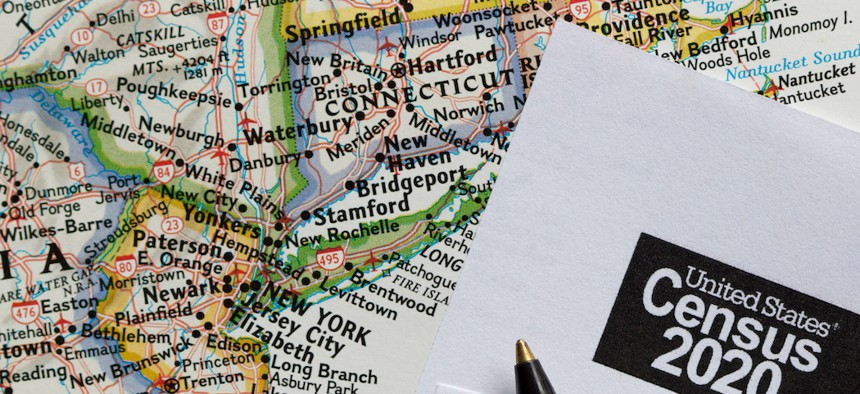 Starting this week, New Yorkers all across the state will get a letter from the federal government. It will ask everyone to participate in the decennial count of the United States population, through a combination of mailings, door-knockers and – for the first time – online forms. This census count provides the federal government more up-to-date information on demographics and population shifts in the country, which is then used to determine how much federal aid New York will get as well as how much political representation the state will have for the next 10 years. 
Here are some of the most frequently asked questions about this year's count.
Why does the census matter?
New York is at risk of losing one or possibly two congressional seats, especially if the state is undercounted in the census. The data generated from the 2020 census will also be used to guide the state's redistricting process. 
In addition, the census determines how much federal funding New York will get in the future for programs such as Medicaid, food stamps and Section 8 housing vouchers. For context, New York received $73.3 billion through 55 large federal programs in fiscal year 2016, an allocation guided by 2010 census figures, according to the George Washington Institute of Public Policy. Overall, census data helps determine how Washington doles out more than $675 billion in funding.
Who should participate in the census?
Everyone living in the 50 states, Washington D.C. and the five U.S. territories – Puerto Rico, American Samoa, the Commonwealth of the Northern Mariana Islands, Guam and the U.S. Virgin Islands – is supposed to be included in the census. 
What is the timeline of the census?
New Yorkers will be able to complete their census form online starting on March 12. Everyone should also be sent two initial mailings from the U.S. Census Bureau encouraging them to fill out their census forms. If you don't fill it out, you will receive up to three more reminders by mail to do so through the end of April. 
If you don't participate in the census before May, the federal government will send employees called "enumerators" to knock on your door to try and count you. If you don't open your door, they will reach out to your neighbors to get details about your household instead. This can produce more inaccurate census information, which is why officials try to encourage people to self-respond before the door-knocking phase, which will continue through July.
Census workers will not get in touch with people by phone or email, which is important to note since census scammers sometimes try to reach New Yorkers this way. The census bureau has a guide to identifying their employees, who must carry a photo ID with a U.S. Department of Commerce watermark and a bag or laptop with the census bureau's logo. 
What questions are on the census?
There are 12 questions on the 2020 census form. It asks for the number of people living in your home as of April 1, the relationships between them, and demographic information for all members. This includes name, sex, age, race and whether a respondent has "Hispanic, Latino, or Spanish origin." The form also asks if the respondent owns or rents their home. The U.S. Census Bureau also has a guide online explaining why each of those questions are asked.
You are allowed to skip questions when filling out the census form online, by mail or by phone. However, too many skipped questions may lead to a census enumerator knocking on your door. "We tell people the more questions you leave blank, the higher probability that someone may knock on your door to collect the remaining information," Jeff T. Behler, director for the Census Bureau's New York Regional Office, told City & State. "But if you fill everything out and you just say I'm not going to include my birthday, we're not going to follow up on something like that." The census bureau also assures participants reluctant to answer certain questions that it legally cannot release identifiable information about individuals or households under any circumstances for the next 72 years.
The census will also not ask for a Social Security number or financial information, so if someone claiming to be a census worker asks for this information, don't respond. 
Is there a citizenship question on the census?
No. A proposed citizenship question was dropped from the census last summer and will not be included in the 2020 census. Everyone living in the United States, including undocumented immigrants and other non-citizens, is supposed to fill out the census. 
Which person should be filling out the form?
Anyone in a particular household can fill out the form and, ideally, they should fill out one form for the whole household. This means even roommates should fill out one census form together.
People can technically fill out the census multiple times at the same address, however. If each person living at the same address responds the census individually, without including other people living at the home, the U.S. Census Bureau combines those responses. But if everyone at that address filled out a census form which includes everyone else living with them, only one response would be accepted since the forms are identical. Similarly, if someone is incorrectly counted at two different addresses, only one response would be accepted. 
Where should I be counted?
People should be counted where they are residing on April 1. College students living away from home should be counted at the on-campus or off-campus residence they live most of the time, even if they are home on April 1. Visitors staying at your home on that day but who will return to another U.S. address should be counted at their original address, while foreigners visiting on vacation or business should not get counted. Young children, roommates and people staying in your home who have no other residence should all get counted. 
People living in homeless shelters, prisons and nursing facilities get counted at those locations. The U.S. Census Bureau will work directly with universities, prisons and homeless shelters to generate a list of people living at their respective institutions for the purposes of the 2020 census. The federal government will conduct a count specifically for people who are homeless between March 30 and April 1. 
How will the digital census work?
The online form, which can be filled out on a computer, smartphone or tablet, is accessible at the following URL: https://my2020census.gov/. Participants can either input a code included in the mailing the Census Bureau sends to them or manually type in their address to access the form. There is a video preview walking through what the online form looks as well. And though the census will be primarily online, it can also be completed by phone, by calling 844-330-2020, or by mail. 
There are lingering concerns about how smoothly the online rollout will go. The federal government has only test run the digital census once, in Rhode Island in 2018. And fears remain that it will be hampered by hacking attempts, phishing scams and misinformation. The census bureau has argued that its cybersecurity measures, such as encrypting census data, will suffice.
Is there anything else new this year?
For the first time, everyone will be allowed to write in an ethnic descriptor alongside their racial identity. That way, people can be listed as both white and Irish or both black and Nigerian, for example. It will also count Sikhs for the first time.
Powered By
NEXT STORY: Katz admits mistake in asking for bail