Gambling
Poll: New Yorkers want online sports betting
A majority of New Yorkers polled said that adults should be allowed to legally place online sports bets in the state.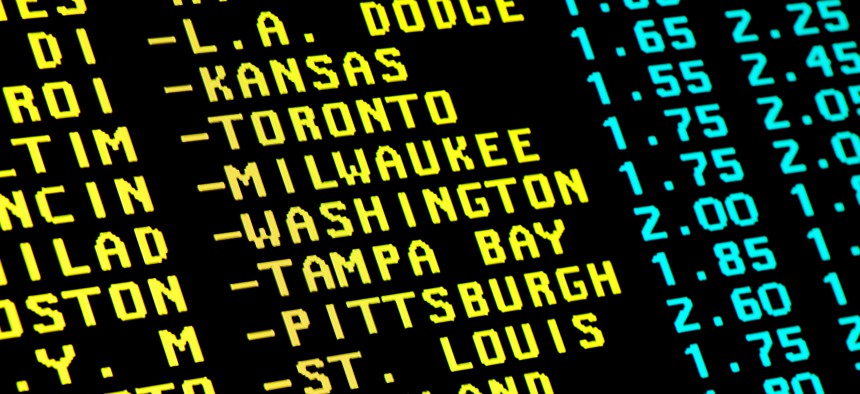 Whenever New Yorkers want to wager on a sporting competition, they have to either break the law by gambling on overseas websites, travel to a state where its legal or head to one of four upstate casinos: Tioga Downs, Del Lago Resort & Casino, Resorts World Catskills and Rivers Casino & Resort Schenectady. 
According to a new survey, New Yorkers want to change that system.
More than a third of likely New York voters who were polled admitted to betting on sports in some way, despite those restrictions. And a majority of New Yorkers polled – 61% – said that adults should be allowed to legally place online sports bets in the state, according to a recent survey conducted by Anzalone Liszt Grove Research and The Parkside Group. Legally allowing online wagers had majority support across partisan, gender and regional divides. Despite legalization efforts by the industry and their supporters in Albany, Gov. Andrew Cuomo has taken little action to legalize online sports betting.   
Commissioned by FanDuel and DraftKings, two of the nation's most popular bookmakers and sports betting providers, the survey is part of an ongoing attempt to convince Cuomo to support online sports betting. However, Cuomo has raised concerns about the constitutionality of legislators passing legislation that legalize online sports betting. He has said that there needs to be a constitutional amendment, which must be approved by two successive legislatures and then put to a vote on the ballot. 
A plurality of the surveyed New Yorkers disagree with the governor. Regardless of their position on online sports betting, most said that they would prefer that the Legislature change the law instead of it being allowed through a constitutional amendment. 
On the more basic matter of support for online sports betting in New York, the survey question noted that the current rules mean that most New Yorkers have to travel out of state, drive long distances use illegal, unregulated overseas websites to make online bets. The survey, conducted Feb. 16-20, queried 800 New York voters likely to vote in the 2020 general election.
Another poll from February 2019 found more divided views on the issue. In that Siena College poll, 44% supported legalizing online sports betting, and 44% were opposed. 
Legalization of mobile sports betting has stalled in New York. A 2013 amendment to the state Constitution and an accompanying law legalized commercial casinos and on-site sports betting, but it wasn't until the U.S. Supreme Court struck down a federal law that effectively banned sports gambling in May of 2018 that states were allowed to introduce legislation to legalize the practice. 
In June of 2019, state Sen. Joe Addabbo and Assemblyman Gary Pretlow sponsored a bill that would have allowed online mobile betting. It passed the Senate, but couldn't get through the Assembly. 
The lawmakers were optimistic that the current $6 billion budget deficit would incentivize the governor to expedite the process, but Cuomo earlier this year said that it's not the "right time to come up with creative although irresponsible revenue sources." During a state Senate hearing last year, financial analysts said that online and mobile betting companies stand to make up to $1 billion a year if the bill is passed. That could mean an extra $100 million in tax revenue.