Coronavirus
Who will feed the hungry during the coronavirus outbreak?
Charities are feeling the strain as New York City tries to feed its students and elderly.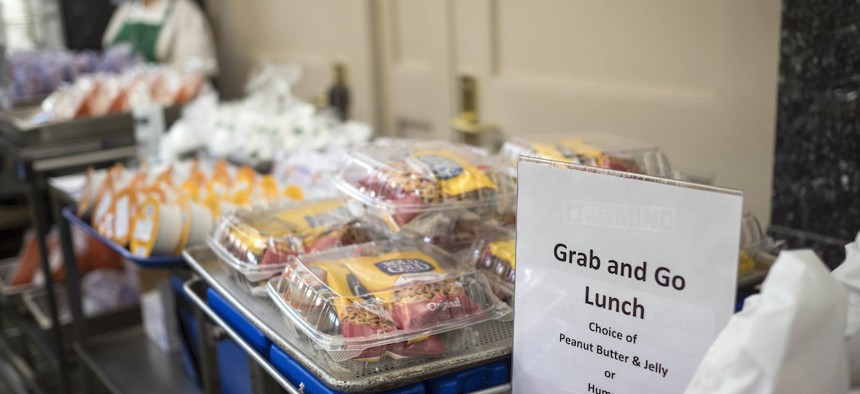 New York City food pantries and soup kitchens had already been seeing increasing demand for food assistance before the new coronavirus outbreak, with about 1 in 8 New Yorkers unable to afford enough food, according to Hunger Free America. Now, the pandemic is expected to exacerbate those needs, especially among elderly individual encouraged to stay home, children who are out of school or people losing jobs.
"It's going to take a hunger crisis and make it far worse," said Joel Berg, CEO of Hunger Free America. 
The city has sought to address rising hunger despite closing down public schools and senior centers. Anyone who is 18 years old or younger will be able to go to any public school building to get free breakfast and lunch for now. And senior citizens who normally get food at senior centers – which have largely stopped their usual programming – can still pick up their meals there or get it delivered to their home.
Though Berg praised the city for taking initiative to continue providing school meals, he cautioned that it wouldn't fully account for students' ongoing needs.
"If the whole reason for closing schools is you want social distancing and don't want large crowds of people together, parents may not be thrilled to send their kids to school to pick up food," he said, arguing that a more coordinated effort with greater federal funding would be needed. 
Charities providing food assistance are continuing their services, though they now have fewer volunteers and face many uncertainties about the future. About 70% of the New York Common Pantry's labor is provided by volunteers, who have been coming in to help less often. The nonprofit has relied on a partnership with FreshDirect to provide pre-prepared to-go meals, prepared by the company's staff, to speed up their services and reduce crowding in their facilities.
Karen Pearl, president and CEO of God's Love We Deliver, a nonprofit that delivers homemade meals to New Yorkers with serious illnesses, has also struggled with declining numbers of volunteer groups coming in.
"We have some of our regular volunteers who come as individuals. … They are doing, you know, not just their regular shifts, but a second shift, sometimes a third shift, sometimes even more," she said. "We're putting all of that together at great expense."
Demand has varied in recent weeks. The New York Common Pantry saw a 27% increase in services about two weeks ago, though that demand dropped off the week after. 
"I'm not sure why," said Judy Secon, senior director of programs and operations at the New York Common Pantry. "I think it may be now people are scared to go out and get anything and go anywhere. We're kind of like looking at this day by day and seeing where numbers are going." 
Citymeals On Wheels, which provides homebound elderly New Yorkers home-delivered meals, has significantly ramped up its services in light of the coronavirus. Right before Superstorm Sandy hit New York in 2012 and in the two weeks after, the organization gave out 64,000 emergency meals. In comparison, it currently expects to deliver nearly 150,000 emergency meals by March 17, which is possible since Citymeals typically buys a year's worth of food at a time. 
"I don't think there are very many of us who fully anticipated what could be coming our way," said Beth Shapiro, executive director of the organization. 
For Berg, who heads Hunger Free America, local efforts likely won't be enough without the passage of a federal bill helping people affected by the coronavirus.
One pending bill – which has already passed in the U.S. House of Representatives – includes about $1 billion allocated for food security programs. One provision would expand access to food stamps for all parents with children who access free or reduced-price lunch at their public schools if those schools are closed for an extended period of time. This expansion would also be open to everyone regardless of immigration status, even if they are undocumented.
The legislation would also provide additional funding for food banks to access food and for food assistance programs targeted toward low-income pregnant women or mothers with young children who lose their jobs because of the coronavirus outbreak.
But recent reporting indicates that the legislation is facing delays as the White House pushes for changes to the bill, which has yet to reach the U.S. Senate, and one representative has threatened to hold the bill up. 
The federal government also has a program that provides more flexibility for low-income people to access the Supplemental Nutrition Assistance Program in the aftermath of a natural disaster, though Berg said it was unclear how it would apply to the coronavirus outbreak. 
Some federal obstacles for expanding food assistance have been avoided for now. A federal judge has blocked a rule change – which was set to take effect on April 1 – that would have kicked more than 50,000 people in New York City off food stamps. 
But for those who have been involved in fighting hunger in New York for years, the latest health crisis only emphasizes how fragile the city's approach to hunger has been.
"What this whole pandemic is uncovering is really how weak the safety net is," Pearl said. "Even in New York City, which is a pretty progressive place. But the safety net is really weak. And if all of a sudden, lots and lots of seniors need food, there really isn't a good way to meet that need."