New York State
What if Twitter fact-checked New York politicians?
We suggested a few tweets from New York lawmakers that might elicit a double-take from Twitter's fact checkers.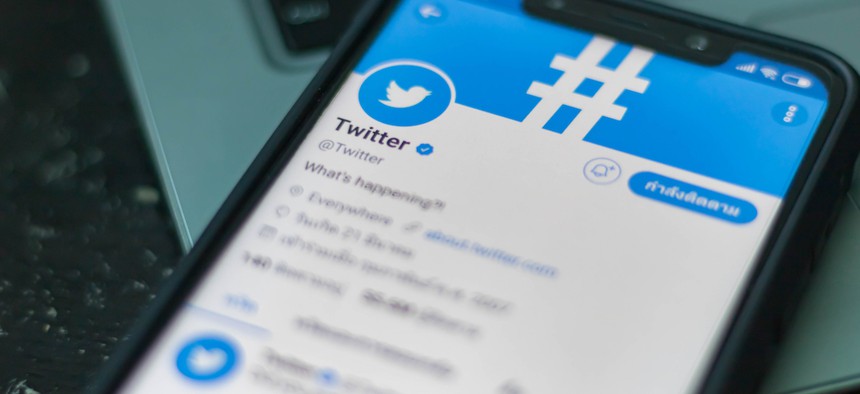 This week, everyone's favorite source of humor, rage and procrastination did something unprecedented. We're talking, of course, about Twitter, and the platform fact-checking a tweet from President Donald Trump.
The fact-check – which was arguably closer to Twitter's version of "The More You Know" than it was to censorship – was added on Tuesday to two of Trump's tweets about what he said were the dangers of mail-in voting in California, arguing that sending absentee ballots to residents will result in a "rigged election." Twitter didn't delete or obscure the tweet, but added a warning label and a link urging voters to "Get the facts about mail-in ballots." Following that link takes you to a page titled, "Trump makes unsubstantiated claim that mail-in ballots will lead to voter fraud," and an explanation from @TwitterSafety as to why it added a warning label: "We believe those Tweets could confuse voters about what they need to do to receive a ballot and participate in the election process."
Unsurprisingly, Trump did not take kindly to the social media platform cramping his tweeting style and threatened action against Twitter and similar sites. He followed through on the threat with an executive order that eliminated some of the legal protections that shield social media websites from lawsuits if they block obscene, violent or objectionable posts. The order targets Section 230 of the Communications Decency Act – a hot topic in tech long before this week. On Friday, Twitter went even further and actually limited interactions on a tweet from Trump about the protests over the death of George Floyd in Minnesota. Twitter prevented users from retweeting or liking Trump's tweet that said "when the looting starts, the shooting starts" because it violated Twitter's rules about glorifying violence. The tweet isn't really blocked, though. A user just has to click on Twitter's warning to see what Trump said.
Trump's efforts to rein in social media platforms will likely continue. But as long as Twitter is in the business of fact-checking politicians, City & State had a few thoughts about where the platform could begin with some of New York's lawmakers and high-profile political figures. Divisive and controversial messages are to be expected on Twitter, but some of these potentially misleading tweets from New York politicians could do with some added, factual context. Here are some notable tweets – some much more benign than others – that might raise some eyebrows among Twitter's fact checkers.
Rep. Alexandria Ocasio-Cortez
Get the facts about party membership
If you look closely at this @AOC tweet -

The lawmaker in the picture is a Democrat - Rep John Yarmuth of Kentucky pic.twitter.com/uaskLJAhrH

— Jamie Dupree (@jamiedupree) April 25, 2019
As one of the most popular New York lawmakers on Twitter – whose command of the platform is matched only by Trump's – Rep. Alexandria Ocasio-Cortez was probably bound to have a few dud tweets. But a few of her digital missives have attracted attention for being misleading or wrong. One example of the latter is this tweet from April 2019, in which Ocasio-Cortez referred to one of her Democratic colleagues in the House of Representatives – Rep. John Yarmuth of Kentucky – as a Republican. After Twitter users and media outlets rushed to correct her, Ocasio-Cortez deleted the tweet. Fact-check, successful.
Nate McMurray
Get the facts on immigration
Under @BarackObama illegal immigration dropped to a 50-year low (look it up).

For the first time, we passed a law on pre-existing conditions and near full healthcare coverage.

We recovered from a global economic collapse.

I could go on. But @JoeBiden was there too. Fighting.

— Nate McMurray for Congress 2020 (@Nate_McMurray) September 10, 2019
Nate McMurray, the former Democratic supervisor of Grand Island running in the special election to replace Republican Rep. Chris Collins, has always been pretty active on Twitter, even after losing to Collins in 2018. But in 2019, a tweet from McMurray claimed that under President Barack Obama "illegal immigration" dropped to a 50-year low. It caught the attention of PolitiFact, the Poynter Institute fact-checking organization, and since McMurray said "look it up," PolitiFact did, finding that the tweet was "Mostly False." Apart from the fact that McMurray didn't specify what he meant by "illegal immigration" – making it a tough claim to judge – the report McMurray drew the figure from didn't even go back 50 years. What's more, it showed that the population of undocumented people in the U.S. was lower in 1990 and 2000 than it was in 2016 under Obama. The tweet is still posted today, but we won't hold our breath waiting for Twitter to slap a warning on this one.
New York City Councilman Kalman Yeger
Get the facts on Palestine
Palestine does not exist.
There, I said it again.
Also, Congresswoman Omar is an antisemite. Said that too.
Thanks for following me. https://t.co/apM565HoEV

— Kalman Yeger ונשמרתם מאד לנפשותיכם (@KalmanYeger) March 27, 2019
New York City Councilman Kalman Yeger, whose district includes the ultra-Orthodox Jewish community in Borough Park, hasn't exactly made a secret of his pro-Israel stances. But a tweet last year in which Yeger claimed conclusively, "Palestine does not exist," landed the councilman in hot water. One could argue he stated it as a matter of opinion, but the statement nonetheless calls for a little context. Though the United States has not recognized the state of Palestine, it has been recognized by 138 members of the United Nations. The tweet may not get Yeger an official fact-check, but it did get him kicked off the council's immigration committee.
New York City Mayor Bill de Blasio
Get the facts on Gothic horror
And when it comes to supporting American women on issues like repealing the Hyde Amendment, @JoeBiden is Dr. Jekyll.

— Bill de Blasio (@BilldeBlasio) June 5, 2019
When New York City Mayor Bill de Blasio throws a punch, he sometimes misses. That was true last summer, at the start of his ill-fated presidential campaign, when he attempted a pun on the Gothic novella "Strange Case of Dr. Jekyll and Mr. Hyde." De Blasio tweeted that former Vice President Joe Biden was the "Dr. Jekyll" of supporting women because he had previously supported the Hyde Amendment – a measure preventing federal funding for most abortions. But blinded by what he probably thought was going to be a killer pun, de Blasio ended up referring to Biden as the good guy in the book. (The story is about the dual personalities of one man – Jekyll the good one, Hyde the evil one). Look, we've all been there. Referencing a book we've never actually read and acting like you get its gist? Can't blame de Blasio for that. Nonetheless, "book Twitter" would have enjoyed a fact-check on this tweet.
Former New York City Mayor Michael Bloomberg
Get the facts on doctored videos
Anyone? pic.twitter.com/xqhq5qFYVk

— Mike Bloomberg (@MikeBloomberg) February 20, 2020
Another New York City mayor with presidential ambitions – or just money to burn – tweeted an edited video from a Democratic presidential primary debate in February. The 25-second video shows a clip of Bloomberg saying that he's the only one on the stage who has ever started a business. He then asks, "Is that fair?" And that's where the video doctoring happens, with 22 seconds of cuts from one silent candidate to another – which were taken from different points in the debate and stitched together to make it look like Bloomberg's question left the others speechless for half a minute. In reality, Bloomberg just said "OK" after asking, "Is that fair?"
As PolitiFact noted, Twitter actually has a policy against manipulated or "deepfake" media, but didn't remove this one – likely because it wasn't found to be deceptively altered in a way that impacted public safety or caused serious harm.
The upside to Twitter's inaction is that this video sort of fact-checks itself. Who would ever believe that that frenetic debate stage of Democratic hopefuls would ever stay quiet for more than two seconds?
President Donald Trump
Get the facts on voter fraud
In addition to winning the Electoral College in a landslide, I won the popular vote if you deduct the millions of people who voted illegally

— Donald J. Trump (@realDonaldTrump) November 27, 2016
Twitter's move to place a warning on another Trump tweet this week suggests that the company wasn't scared off by the president's executive order. There is no shortage of Trump tweets that Twitter's fact-checkers could get into, but if they're up for the job, maybe it's best to end where we began: with voter fraud. Weeks after the 2016 election – when it was clear Trump won the Electoral College but lost to Hillary Clinton in the popular vote – Trump tweeted that he actually won the popular vote, if you count "the millions of people who voted illegally." The claim is one of Trump's favorites to repeat but there's no evidence to support it. Given the articles that have already been written debunking Trump's claim that millions of people vote illegally, Twitter may not see the need to step in on this one. PolitiFact rated this tweet as "Pants on Fire."