New York State
NYC's coronavirus tracing program is making small strides
One month in, New York City Health + Hospitals is finding its footing.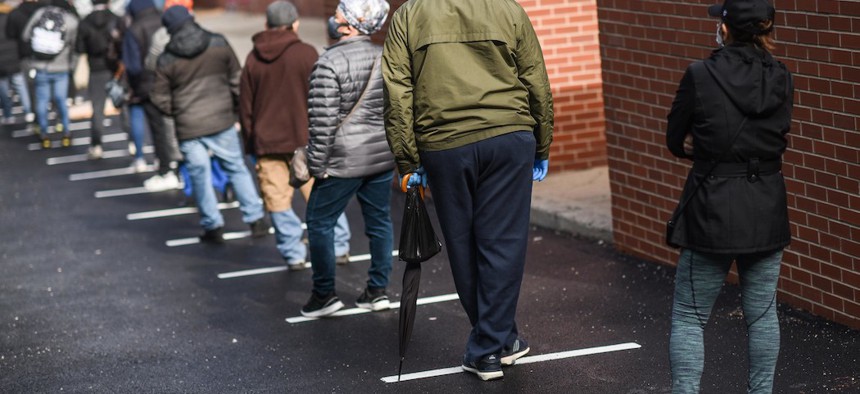 New York City's coronavirus testing and contact tracing program had an unquestionably bumpy start when it began at the start of June – but things are looking up.
Two weeks into the program's launch, contact tracers were having difficulty locating individuals who had tested positive for the coronavirus. A week ago, it was reported that the program only had a 35% contact rate with infected individuals – ideally it would be 75%. The program ran into difficulties due to the difficulty of the work, underskilled contact tracers and privacy concerns. They were also struggling to isolate infected individuals in hotel rooms rented by the city.
New York City Health + Hospitals Test & Trace Corps Deputy Executive Director Jackie Bray told City & State that the program is beginning to make strides as its first month comes to a close. "We always knew that it would take New Yorkers a little while to get used to this new thing called contact tracing in their lives," she said. "But we've actually been really excited and impressed with how much New Yorkers are participating. How well New Yorkers understand that they need to pick up their phone, talk to us and give us their close contacts in order to keep their loved ones safe."
According to Bray, as of Saturday, the program has reached 98% of individuals that they have an accurate phone number for, and 62% of those individuals are completing the program's intake interview. "Our goal is to get that number closer to 75%, but we're quite happy with 62% because it means that the majority of the people that we're talking to understand that it's really important to participate," she said.
While most individuals are opting out of isolating in hotels provided by the city, the Test & Trace Corps is providing them with information on how to isolate while living with family and has been ensuring that food and medication is available to those at home, according to Bray.
The program also appears to be cognizant of privacy concerns regarding the sensitive information being requested from New Yorkers, particularly among minorities who have felt intruded upon by the city in the past. Bray credits the program's training, which centers around building empathy and trust with individuals, as well as working with community-based organizations and hiring over 50% of the program's tracers from the neighborhoods that have been most impacted by the coronavirus. "This is hard stuff," Bray said. "We're talking to people who've been diagnosed with COVID-19, and we're talking to them about the need to really separate themselves from their loved ones, to not go to work, to not leave their home for 10 to 14 days. That's hard to do. We understand that that's hard to do. It's essential to stop the spread of the virus, but we don't want to play down that we're asking New Yorkers to make continued sacrifices."
While all information provided to contact tracers is supposed to be confidential, state Sen. Kevin Thomas has introduced a bill to ensure that all data collected by contact tracers across the state will be used solely for public health purposes.
"The lack of privacy protections (when it comes to contact tracing) is a nightmare but also a potential public health catastrophe," Albert Fox Cahn, the founder and executive director of the Surveillance Technology Oversight Project at the Urban Justice Center, a civil rights and privacy advocacy group, told City & State. "Information provided to contact tracers can never be handed over to the police or (U.S. Immigration and Customs Enforcement). For many people of color and immigrants, privacy is crucial, and we have fears that this information can be used to surveil New Yorkers, and the rush to violate privacy protections puts the largest health crisis we've faced in jeopardy."
South Korea, for example, has used cellphone data, credit card histories, mobile applications and facial recognition technology to track infected individuals. However, it is highly doubtful that such surveillance would ever be implemented in the U.S., let alone in the city, due to potential human rights violations. Contact tracing apps have been floated as a way to track individuals, but research indicates that those apps have not been nearly as reliable as other means of collecting data, such as contacting individuals by phone or in person.
Bray said the city doesn't have any plans to develop an app at the moment and is currently only contacting individuals by phone. "It wasn't always clear how effective an app would be because people need to opt in," she said. "And for that to work, all of the people interacting with the app would have to opt in and the apps have to be on and running in the background. We haven't ruled it out in any way, shape or form. We're constantly taking a look at the technology available, but we're not currently using an app."
Bray said that while the city initially hoped to have 10,000 tracers on staff, it is content with the 3,000 tracers it has already hired, since the city is seeing far fewer positive coronavirus cases, though the city could hire more tracers if needed.
As coronavirus cases begin to sharply increase in many other states, Bray said it is important for New Yorkers to remain vigilant when it comes to wearing masks and maintaining a safe distance from others. But most importantly, she said New Yorkers need to get tested for the virus and cooperate with contact tracers if they test positive. "I know we were talking about contact tracing, but all contact tracing starts with testing," she said. "It's called a test and trace program for a reason. Testing is safe. It is free. It is in your neighborhood. Go get a test."
Powered By
NEXT STORY: How the coronavirus harkens back to another modern epidemic