Five labor issues to watch
COVID-19 has upended whose workplace problems are deemed essential.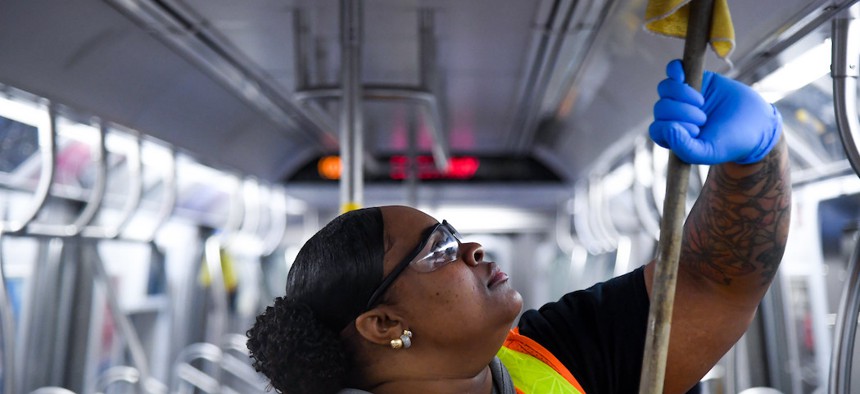 The coronavirus pandemic has changed perceptions about whose jobs really matter in times of crisis. This includes grocery store workers, delivery drivers and others who worked outside the home at "essential businesses" that the state allowed to continue operating during the pandemic. Despite the newfound appreciation for these workers, many are still waiting for city, state and federal governments to give them the help they need to get through the pandemic and all of the economic damage it caused.
As more people return to working outside home, they are joining the cause for new action on workplace safety and other issues. While it remains to be seen what will happen in the coming months – the ongoing pandemic and upcoming presidential election are two very big variables in all of this – there are some contentious fights ahead involving businesses, the people they employ and the unions that represent them. Here are five things to issues to watch.
Budget cuts
Public-sector unions are facing deep cuts to their ranks as the state and local governments grapple with the economic damage of the pandemic, including more than 22,000 possible layoffs in New York City alone. This will require everyone from teamsters to teachers to reconsider their collective bargaining agreements in order to help cities bridge budget gaps through pay freezes, early retirements and reduced health care benefits. 
A new round of federal stimulus funding could in theory save them from making such concessions, but it is increasingly likely that thousands of jobs will depend on organized labor agreeing to live with less moving forward. However, some might try to carve out exemptions from cuts at the local or state levels. This could come through a variety of legislative avenues, from protecting agencies from budget cuts to pushing new legislation that would require higher staffing levels.
Hazard pay
Gov. Andrew Cuomo, state lawmakers and other elected leaders agree that frontline workers deserve more pay for all the work they continue to do during the pandemic while others stay home. This could be a 50% increase in overall pay during the ongoing public health emergency, as the governor proposed back in April. Pending legislation in the state Legislature would set up a hazard pay program that would also includes two additional weeks of vacation. It could be something else entirely to be determined. 
There are two big hurdles to getting this over the finish line. The first is determining who qualifies as an "essential worker." A future hazard pay program could cover anyone from frontline health care workers (doctors, nurses and hospital staff) to public employees (cops, firefighters and professional bureaucrats) to millions of people in other positions like grocery store clerks, building cleaning staff and home health aides. An even bigger limiting factor in getting hazard pay passed is finding a way to pay for it. Elected officials are still hoping the federal government will foot the bill, though some state lawmakers say increasing taxes on the wealthy offers a different path at the state level.
Excluded workers
While pandemic aid programs have helped millions, there are some categories of people (undocumented people, the incarcerated and gig workers) who have missed out on government aid despite their various needs. For example, many food delivery workers are undocumented immigrants who do not qualify for things like stimulus checks, enhanced unemployment benefits and food stamps. This situation is unlikely to change in the near future at the federal level despite passage of some aid for undocumented people in the stimulus bill passed by House Democrats in May.
Supporters of a proposal to establish a new state fund to help excluded workers argue that it helps the overall economy by stimulating billions in economic activity while helping as many as 120,000 people get through a time of record unemployment in New York, according to a recent report from The Fiscal Policy Institute, a liberal think tank. The $750-per-week benefit would be paid for by a new tax on stock transfers. With the governor and key state lawmakers not yet behind raising taxes broadly speaking, it remains to be seen how far the proposed legislation can advance in the state Capitol. 
Workplace safety
State lawmakers are also pushing a bill that would require an employer to notify workers of outbreaks in workplaces like Amazon's sprawling warehouses. Another effort aims to require workplaces to have pandemic preparedness plans and plenty of PPE available at job sites of all types. A bill introduced by state Senate Deputy Majority Leader Michael Gianaris in August would mandate minimum workplace safety requirements in the new normal, based on many of the various labor-related executive orders that Gov. Andrew Cuomo has issued during the pandemic. The so-called New York HEROES Act would also include additional rules for testing, PPE and other health-focused workplace requirements. 
Meanwhile, political forces on the other side of the political spectrum are hoping that the pandemic will finally help them win a decades-old fight to amend the Scaffold Law, a 19th century law that makes employers responsible for injuries on the job. Political pressure from the construction industry did not get the governor to use his emergency powers to suspend such requirements earlier this year, but it does signal that many of the same fights will continue over how much responsibility employers have for making sure their workers are safe. 
Gig workers
Way before the advent of COVID-19, state lawmakers and the governor were negotiating how to update state labor laws for an era when digital startups like Uber, DoorDash and others have upended the relationship between worker and boss. While the pandemic has brought hardship to gig workers – like the unemployed drivers who had to fight the state to get their benefits – there is hope that they still might secure some significant advances (even the head of Uber says something has to be done) as the pandemic highlights their importance to the economy, whether they deliver food or provide transportation or other types of freelance services.
State lawmakers and the governor nearly struck a deal earlier in the year to change the way that gig workers are classified under state law. As things currently stand, many of them are independent contractors whose supposed self-employment contrasts with the various ways that app-based companies like Postmates control their hours and pay. The next state budget offers another opportunity for the sides to reach a deal that may make state labor laws better for gig workers moving forward.