New York City
The US Open's legacy in Northeast Queens: airplane noise
The Federal Aviation Administration has used a flight path to and from LaGuardia Airport that was designed to avoid disrupting the US Open, but disrupts locals.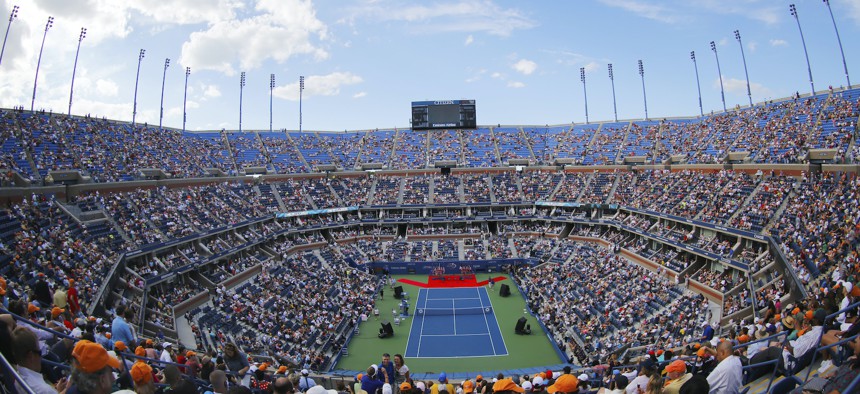 Since 2012, not a day has not gone by without Maria Becce's home in Flushing, Queens trembling from the near-constant sounds of airplanes flying overhead, like an aerodynamic assembly line, as they take off from and land at nearby LaGuardia Airport. With the completion of the U.S. Open tennis tournament last week, many residents of Northeast Queens are reminded that what was once an annual two-week inconvenience during the U.S. Open has become a yearslong aggravation.
Established in 1993, the "Tennis Climb" flight path was only used during the U.S. Open to divert airplane noise away from the matches. The Federal Aviation Administration granted New York City's request for a diversion of the aircraft from flying over Flushing Meadows Park, where the Billie Jean King National Tennis Center is located, to instead flying over residential communities in Northeast Queens during the annual late summer tournament. As part of the agreement between the city and the United States Tennis Association, in the event of excessive flyovers from LaGuardia during games, the city could be penalized up to $325,000 amongst other penalties.
Although the noise was disruptive, Becce learned to tolerate it as a two-week trade-off for having the prestigious event nearby. However, in 2012 the FAA quietly unrolled NextGen, a system designed to modernize air-traffic control and improve efficiency safety and reduce air pollution. As a result, the FAA permanently began to use the Tennis Climb as a more efficient route. Even though the agency's program generated a wave of community complaints about the noise during a six-month pilot program, the FAA has stuck with the route. "The agency did not find a significant environmental impact due to the use of the procedure," the FAA said in a statement to City & State.
Still, over the course of a recent hourlong interview with Becce, the conversation was interrupted over 10 times, as the planes took off overhead at an unrelenting pace. "Now imagine living with that noise every day of your life," said Becce, a lifelong Queens resident and retired vice president of the Broadway-Flushing Homeowners Association. "It will drive you crazy."
Local elected officials are also frustrated with the FAA, which they say has not performed sufficient environmental review study or community engagement. "Unfortunately, this was something that wasn't approved by the community, nor were they asked to consult and the FAA made this decision with negative effects on the community," said Assemblyman Ron Kim. "These buildings are literally shaking at times," he said, referring to buildings in Flushing. "The level of noise the planes are generating is causing headaches, mental stress to a point where people are making the decision to leave."
Other electeds agree. "Low-flying, booming airplane traffic is a quality of life disturbance that raises real health and safety concerns for families living below," said City Council Member Paul Vallone, who represents the neighborhoods of Bayside, College Point, Douglaston, East Elmhurst, Flushing, Fresh Meadows, Little Neck and Whitestone. 
In an attempt to limit the noise, Kim has introduced legislation in the Assembly that would study the effects of airport noise and establish a uniform metric for measuring noise impacts that will be implemented throughout the state as well as include specific penalties for the airlines and other authorities in charge of the airplanes for increased noise during evening hours. Currently, the bill is in committee. 
In 2014, Gov. Andrew Cuomo directed the Port Authority to create the New York Community Aviation Roundtable, a group made up of volunteer community stakeholders affected by JFK and LaGuardia Airports operations, with the purpose of addressing excessive aircraft noise. Bayside, Queens resident Warren Schreiber, who co-chairs the Roundtable, says that the FAA's failure to recognize the problem flyers in the face of communities across the country who are also fighting to limit aircraft noise. "We just ask for the airlines and the Port Authority to be good neighbors," Schreiber said. 
Business leaders such as John Cho, executive director of the Flushing Chamber of Commerce, say that flight paths have made it difficult for businesses, as well as faith-based organizations, to hold outdoor events. He points to the challenges restaurants face in providing outdoor seating and religious groups who wish to hold outdoor services during the pandemic. "Any type of noise pollution is going to have negative health effects for the people who live and work in Flushing," Cho said. "It's almost impossible to have live events or outdoor activities with planes flying overhead." 
Bobby Nathan, a downtown Flushing resident and community activist, complains that since flights began to be diverted over Flushing he has hardly been able to get any rest. "I work nights so I have to sleep during the day, but it's hard," he says. "The airplanes come down so low I can hardly sleep because the plains are just loud, roaring overhead."
Since the World Health Organization declared noise as a pollutant in 1972, the world has become an even louder place. Apart from anecdotal accounts of the adverse effects of airplane noise, an increasing number of studies are beginning to substantiate these claims.
In 2018 the Columbia University's Mailman School of Public Health published a study linking airport flight patterns to increased risk of adverse health conditions such as cardiovascular disease. The study, which analyzed the effects the Tennis Climb, also known as the TNNIS Climb, has on communities in Northeast Queens determined "that limiting the use of TNNIS would be cost-effective relative to its year-round use. Doing so would prevent much more disease at a much lower cost than commonly used clinical health prevention modalities, such as colon cancer screening or mammography."
Muzhe Yang, an economics professor at Lehigh University, co-authored a paper that studied the implementation of NextGen at Newark Liberty International Airport and its effect on the nearby communities. After examining birth records between 2004 to 2016, it was determined that mothers living near airport runways had a 17% greater chance of having a low birth weight baby. "I think we need to realize that our body will react to the noise, whether or not we subjectively feel annoyed because we have the central stress response symptom in our body," Yang told City & State. "You can argue that somebody can make peace with all the noise pollution but in reality, our body will naturally respond, triggering adverse outcomes."
The FAA is not conducting any additional environmental review of flight patterns at LaGuardia to examine the harm of noise pollution. "The FAA continues to address community concerns regarding the TNNIS FOUR procedure," the agency said in its statement to City & State. "However, the agency is not planning any additional environmental reviews at this time."
Kim, like many Queens residents of color, believes that the airplane noise is an environmental justice issue. "I would certainly think airplane noise, as pollution that negatively impacts minority and immigrant communities that result in declining health conditions, should be considered environmental racism," Kim said. "But I don't think it's legally thought of that way, and that is why we as a community have been trying to educate the FAA."
Schreiber views the FAA's failure to address the matter as due in part to the FAA's lack of engagement and language barrier with the largely Chinese and Korean community. "The problem with Flushing is that there are not as many complaints as there should be, and that's because there are so many people there (for whom) English is their second language – which is really not fair, because no matter what language you speak you are still subjected to the noise," he said. 
In addition to the negative health effects of the noise, community leaders fear that the rapid development occurring in downtown Flushing, with buildings creeping ever upwards, creates the potential risk of aircraft collisions. "Already, the planes come so low they almost touch the buildings," Nathan says. "If they build these new towers it's going to be dangerous for us in Flushing because if there is a wind shear or anything it could cause the planes to collide into the buildings."
Even after nearly a decade of fighting, Maria Becce refuses to give up and she refuses to move from her home of 39 years. Like an archivist, she meticulously documents every instance of airplane noise and files noise complaints with the FAA. She has since lost count of the number of complaints, assessing them somewhere in the thousands. "I have no choice, and I can't give up," she said. "I'm just trying to balance the scales a little bit. It can't always be tipped in the favor of one group. If you don't try you'll never know."