Coronavirus
4 things NYC should do to curb its COVID-19 outbreaks
Why placing restrictions on specific neighborhoods and zip codes isn't enough.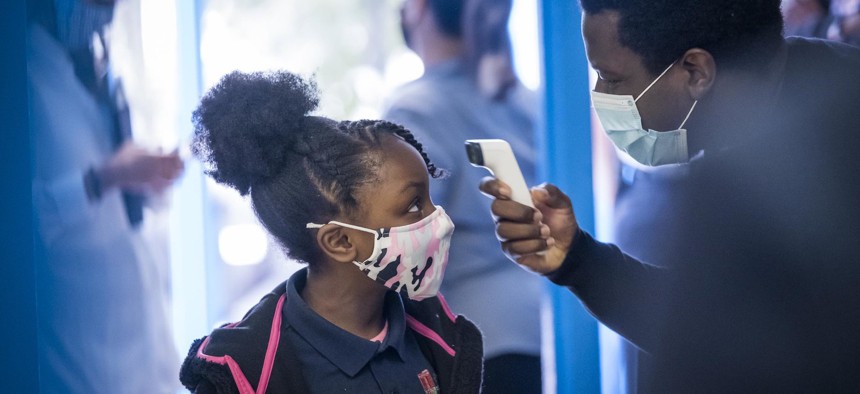 On Monday morning, Gov. Andrew Cuomo announced that New York City schools located within zip codes seeing the worst upticks in COVID-19 cases will shut down in-person classes starting on Tuesday.
Cuomo threatened to halt religious gatherings if the state doesn't see sufficient compliance with mask-wearing and social distancing requirements as it enforces virus-related restrictions. The state is also in the process of determining boundaries around the most affected areas, according to Cuomo.
The governor's announcement came just after New York City Mayor Bill de Blasio announced that the city would begin imposing stricter restrictions, such as shutting down schools, nonessential businesses and both indoor and outdoor dining, in Brooklyn and Queens' zip codes seeing higher infection rates on Sunday. That plan required state approval, so Cuomo's less aggressive plan trumps de Blasio's. 
The containment of one neighborhood or several isn't necessarily enough to prevent a second wave of the virus across the city, as the state learned when it created the New Rochelle containment area in March. 
Instead, the city and state should be turning their attention to the advice of public health experts over the past few months and following their advice on managing the ongoing crisis. 
Here are a few things that could help keep a second wave at bay:
Frequent testing for students
On Oct. 1, New York became the first big city to reopen all of its public schools for in-person classes. It's unlikely that outbreaks can be avoided unless COVID-19 tests are administered to students and staff several times per week. Public health experts have warned that as in-person learning begins, more positive cases are to be expected, until testing becomes more accessible or a vaccine is made available.
"The outbreaks could be quite large by the time they are detected by the monthly, 10-to-20 percent testing," Anna Bershteyn, an assistant professor of population health at New York University's Grossman School of Medicine, told The New York Times, regarding the flaws in the city's current plan to test its students.
Unfortunately, such frequent testing would rely on the federal government to provide funding and to fix supply chain problems that have limited laboratory capacity. New York has been requesting this since March.
Increasing testing capacity overall
COVID-19 testing is considered one of the most important aspects of containing the disease. While New York City has ramped up its testing efforts significantly since the initial onset of its coronavirus outbreak, it has been having difficulty delivering individuals' test results in a timely manner; sometimes making patients wait two weeks to learn their infection status. These delays can also make contact tracing efforts much less effective.
More rapid-results testing could make a big difference in mitigating the disease. Again, additional funds are likely needed from the federal government.
Ending indoor dining
One solution that doesn't rely on federal assistance is ending indoor dining throughout New York City. 
Indoor dining capacity in the city is only at 25%, but eating indoors has been tied to numerous COVID-19 outbreaks across the country and is considered an activity that puts individuals at especially high risk of contracting the virus. 
Studies cited by the Centers for Disease Control have found that all indoor maskless indoor activities, such as eating and drinking, pose a serious risk of viral transmission. Yet it seems as though neither the city nor the state has gotten the message yet.
"If you are six feet apart you do not need to wear a mask," Cuomo said during a press conference on Monday. Studies have shown that viral droplets can travel farther than six feet, and transmission is much more likely indoors than outdoors, leading some experts to recommend always wearing a mask when indoors in public. 
Re-evaluate its test & trace program
The city's test and trace program came under fire last week, after it was revealed that it had less than a dozen Yiddish speakers on staff despite the high volume of Hasidic and ultra-Orthodox Jewish residents who fell ill from the coronavirus in the spring. 
More concerning, however, is that the program has not sufficiently warded off the numerous outbreaks across Brooklyn and Queens affecting individuals who belong to a variety of communities, which is the main goal of contact tracing. This has led some to question what issues the program is facing and how it plans to address them. Without much transparency, it's hard to assess what needs to be done – which is why it's now up to the city to re-evaluate the work it's currently doing and where it could improve.