Transportation
Tech rides to transit's rescue
The Transit Tech Lab picks eight finalist companies to address pandemic challenges.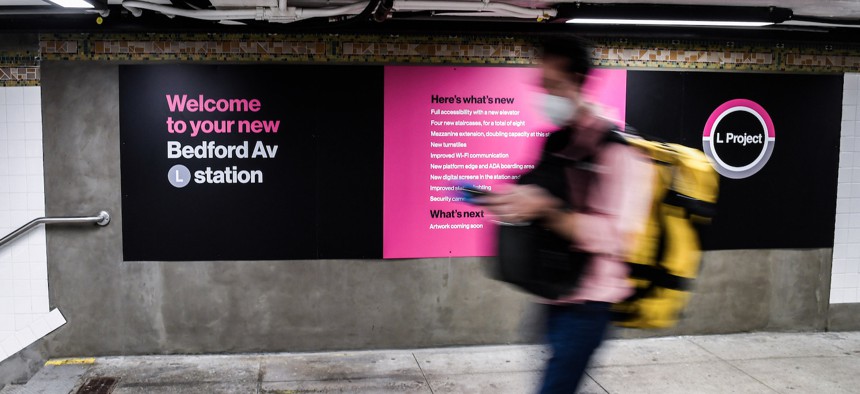 New York City's transit system has always had a bit of an issue with modernization – its decaying tracks and outdated signalling technology are just two symptoms, ones that some attribute to the lumbering procurement processes of the Metropolitan Transportation Authority.
But the Transit Tech Lab – an accelerator program launched by the MTA and the Partnership for New York City – was created in part to counter this status quo by injecting some private-sector innovation into agencies such as the MTA by inviting technology startups to help solve public transit issues. 
In the wake of the coronavirus pandemic, the Transit Tech Lab expanded that mission, launching a new challenge calling for innovative approaches from technology companies in direct response to pandemic-related transit issues. Companies selected could have their solutions piloted not just with the MTA, but with other partnering agencies, including the New York City Department of Transportation, NJ Transit, the Port Authority of New York and New Jersey, and the New York City Department of Education. 
Earlier this week, the Transit Tech Lab selected eight companies as finalists in the COVID-19 Response Challenge from over 200 applicants, according to MTA Chief Innovation Officer Mark Dowd. The solutions offered by the finalists span all areas of pandemic response, from disinfecting and cleaning technologies to an e-scooter rental company that has been pitched as a way to complement public transit and help move health care workers during the pandemic. 
Included among the eight finalists: CitySwift, an Irish company that provides capacity data on trains and buses to riders and operators; Piper, a California-based company that collects real-time crowding data on trains and platforms; and CASPR Group, a Texas company that aims to pilot its disinfection technology with New York City Transit. Four of the eight companies chosen are based in New York, including Strongarm, a Brooklyn company that pitched its wearable technology to help keep workers safe and promote social distancing.
The eight finalists will soon begin testing their solutions during an eight-week proof-of-concept period, after which some or all of them may be selected to pilot their tech with the agencies starting early next year. While public sector tech challenges like these can lead to short-term partnerships that fizzle out, some of the finalist companies in previous Transit Tech Lab cohorts have not only piloted their technology with the MTA, but gone on to provide other solutions as well. Axon Vibe, a finalist company in the Transit Tech Lab's first year, was called on to create the MTA's Essential Connector app this spring, which helps connect essential workers to alternative transit options when subways shut down for nightly cleanings. 
While there's a long road ahead for the finalists to prove their solutions can fulfill the needs of transit agencies during the pandemic, there's certainly an appetite for innovative ideas in New York transit. "To truly modernize every element of how we run our transit system, you have to look far and wide for new ideas," interim New York City Transit President Sarah Feinberg said in July during the COVID-19 Response Challenge launch. "That means tapping into the city's robust entrepreneurial and technology scenes, and thinking in new ways about how a vital institution like New York City Transit can embrace innovation."