An uphill battle against COVID-19 in prisons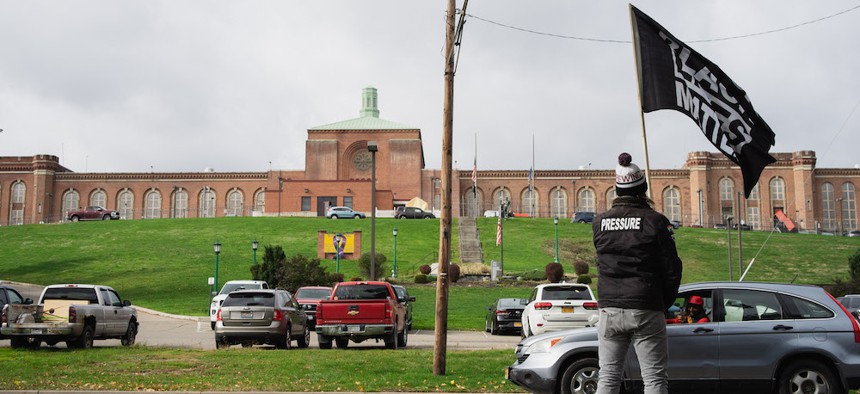 A resurgence of the coronavirus is turning attention to New York's prisons, where criminal justice reform advocates say that the roughly 36,000 inmates in state facilities are at heightened health risk.
Khalil Cumberbatch, a senior fellow at the Council on Criminal Justice, a think tank that creates policy recommendations for federal and state governments on criminal justice, said that while New York has sometimes been lauded for its response to the pandemic, it's a different reality inside prisons. "People are matching what's happening (with) the state's response to COVID in the communities to what's happening in prisons – which is largely nothing happening in prisons," Cumberbatch said. "You hear all of these great things that are happening in communities. You hear how testing is ramping up, you hear about a vaccine coming soon. But when you're in prison, you don't really include yourself in that reality." 
Cumberbatch, who was incarcerated in New York for six-and-a-half years, said that in his time in prison, he was never even offered a flu vaccine. A spokesperson for the state Department of Corrections and Community Supervision said that the department does not ration flu vaccines, but does not force the vaccine on anyone who doesn't want it and always orders in excess of what is actually used.
As COVID-19 cases rise in New York – in regions such as Western New York, the positive case rate has recently been as high as 5% – outbreaks are reemerging in prisons. In late October, Elmira Correctional Facility in the Southern Tier and Greene Correctional Facility in the Hudson Valley both experienced outbreaks, reporting hundreds of positive cases. As of Nov. 20, 597 of 604 people who tested positive for COVID-19 at Elmira were marked as "recovered," and all 161 of the people who tested positive at Greene were marked "recovered," according to the state Corrections Department.
As of Nov. 20, New York has recorded 1,713 positive cases among the incarcerated population, 1,676 positive cases among staff and 122 positive cases among parolees since the start of the pandemic. Eighteen incarcerated individuals have died from the virus, as have five staff and four parolees. Health hazards in prisons have a disproportionate impact on people of color. According to state statistics, Black New Yorkers made up 48% of state prison sentences in 2018, despite representing just 15% of the total population that year. 

A lack of widespread testing for the coronavirus in prisons has been one of criminal justice advocates' main criticisms. By June – three months into the pandemic – only 3% of the state's prison population had been tested. Only recently has the department completed tests for the rest of its incarcerated population, with 35,557 individuals tested as of Nov. 18, according to a Corrections Department spokesperson. The department does not release figures on how frequently inmates are tested and it's unclear how often they are able to access tests. According to guidance on the department's website, incarcerated individuals are tested when they are exhibiting symptoms and after a medical evaluation has been conducted. Tests might also be done in other circumstances, including if a person is identified for exposure to someone who tested positive.
"Conducting mass testing is a total failure on their part," said Alexander Horwitz, executive director of New Yorkers United for Justice, a coalition of criminal justice reform advocacy groups. 
It's not just a lack of testing, he added, but the conditions inside prisons that make the pandemic particularly risky for inmates and staff. "Inside prisons, what we know is there is little to no ability to socially distance. We know that there is a lack of consistent use of (personal protective equipment) by corrections staff, and we know that there is a lack of availability of PPE for the folks who are actually incarcerated," he said. 
A spokesperson for the Department of Corrections and Community Supervision said it requires all staff to wear face masks while on duty and that inmates have been given "a number" of masks, and are provided with new ones "as necessary." Seating in mess halls has also been arranged to allow for social distancing.
But as with any confined and shared space, there's only so much people can do to socially distance. That's why some criminal justice reform advocates and lawmakers are pushing for the release of more incarcerated individuals. 
New York's state prison population is as low as it has been since 1986, with 35,596 people in state correctional facilities as of Nov. 18. That's down more than 8,500 people since Jan. 1 of this year. In March, Gov. Andrew Cuomo ordered the release of up to 1,100 people held in local jails on low-level technical parole violations, and then directed the Corrections Department to identify other opportunities for early release, including among those over 55 years of age and people within 90 days of their release date.
As of Nov. 18, 3,145 individuals have been released from prison since the start of the pandemic. Among those are 2,342 individuals who were imprisoned on non-violent, non-sex offenses and were within 90 days of their release date; 791 people who had low-level parole violations canceled; and 12 women who were pregnant or postpartum and committed on non-violent, non-sex offenses and within 180 days of their release date.
But that's not enough, advocates for the incarcerated and some state lawmakers say. "We've called for the release of people who meet a myriad of different qualifications, and early release is one of them," Cumberbatch said. 
A number of state legislative proposals aim to reduce the incarcerated population. "In order for us to combat COVID, naturally, you have to decrease the inmate population throughout the state," said state Sen. Luis Sepúlveda, who chairs the Senate committee on Crime Victims, Crime and Correction. "Throughout the whole process, we've been working on ways, primarily through legislation, to achieve the goal of decreasing the population." Sepúlveda has introduced a bill to establish general emergency release protocols during the crisis, so that the Corrections Department could release certain incarcerated individuals – including some who are immunocompromised or pregnant – as long as they don't pose an unreasonable public safety risk and remain under supervision. Assembly Member David Weprin, who chairs the Committee on Correction, sponsored that bill in the Assembly. "On the Senate side, there was a concern that it would be perceived as going too far in releasing inmates that could potentially be dangerous, so we just didn't do it," Weprin said. But Weprin said he still thinks there should be a system in place for releasing inmates and giving preference to specific groups like older individuals or people close to their release date, for example.
Another bill sponsored by Sepúlveda and Weprin would permit emergency medical parole through the crisis for those with a disability at serious risk of death or harm. Only five incarcerated people have been released on medical parole since March 16.
One bill that has languished in the Legislature since before the pandemic would also address the goal of reducing the prison population. The elder parole bill, sponsored by state Sen. Brad Hoylman, would create a process for evaluating certain inmates over 55 years old for parole eligibility even if they haven't served their minimum sentence. Hoylman reaffirmed support for this bill in an emailed statement but said it's just one step the state needs to take in light of the pandemic's threat. "We're facing a more urgent situation right now in our prisons with the threat of COVID-19, and it's a threat that impacts all incarcerated people, not just the elderly," he said. "Allowing widespread illness and death in our prisons like we've seen in Texas would be a moral failure on the part of New York state, and I am strongly supportive of any legislative or clemency efforts to remove incarcerated people from harm's way."
These are just a few of the multiple bills to reduce the incarcerated population that Sepúlveda said would be addressed at the start of the session in January. "I think what we're going to try to do is prioritize according to which is more effective at combating the spread of COVID," he said. "Certainly we want elder parole, we want the medical parole bills that we have, the emergency releases. These are the things that we believe will immediately lower the population."
But it's not just the Legislature that has a role to play here, Cumberbatch said. "The governor has executive clemency power in the form of a commutation, and he could be literally commuting hundreds of sentences if he wanted to on a daily basis," he said, noting the irony of the national attention Gov. Andrew Cuomo has garnered for his handling of the pandemic in New York. "When it comes to people in prisons and jails, this governor has fallen way short on what he could have done," Cumberbatch said. A spokesperson for Cuomo did not comment on criticisms that the governor has not done enough to release incarcerated individuals during the pandemic, but cited statistics on the roughly 3,000 inmates who were released by the Corrections Department under Cuomo's direction. In addition, during Cuomo's tenure as governor there have been 24 commutations – three of which happened since March of this year.
Sepúlveda and Weprin have also pushed Cuomo to release more incarcerated individuals during the pandemic. "We've written many letters to the governor, citing individuals, asking them to be considered. There have been some, but there probably are not enough," Weprin said. "I'd like to see more."
While the coronavirus pandemic – and the current resurgence of the virus that the state is experiencing – adds urgency to calls to reduce the population of New York's prisons, the state should be doing that anyway, Horwitz said. "We have to design these kinds of proposals not just for this pandemic, but understanding that our prisons are in crisis, period," he said. "There will be another pandemic after this."