Health Care
Some NY counties won't enforce COVID-19 restrictions
Making sure private gatherings don't exceed 10 people isn't high on their list of priorities, despite recent COVID-19 surges.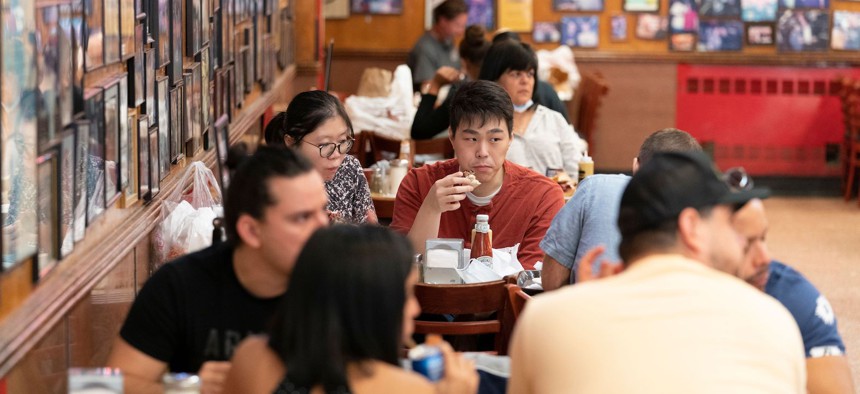 As COVID-19 cases rise in the state, restrictions instituted during the height of the pandemic have been slowly returning – but who's in charge of enforcing them? Technically, it's up to local state governments but not every county is willing to impose these new restrictions.
On Nov. 11, Gov. Andrew Cuomo said that indoor service at bars and restaurants, as well as gyms, will be forced to close from 10 p.m. to 5 a.m. The governor also announced that indoor and outdoor gatherings at private residences can not surpass 10 people. 
"The rules are only as good as the enforcement," Cuomo said during a press conference. "Local governments are in charge of enforcement. There are only two fundamental truths in this situation: it's individual discipline and it's government enforcement. Period. End of sentence. I need the local governments to enforce this."
Some sheriffs, however, from New York's Fulton, Washington, Saratoga and Erie counties, have said that they will not be enforcing the state's newest restrictions, especially those pertaining to gatherings at private residences. On Tuesday, Police Commissioner Dermot Shea also said that the New York City Police Department would not be enforcing the restriction on private gatherings.
"I can't see how devoting our resources to counting cars in citizens' driveways or investigating how much turkey and dressing they've purchased is for the public good," Saratoga County Sheriff Michael Zurlo said in a press release on Monday, adding that the public should "act responsibly" and continue to be vigilant about hand washing and wearing face masks.
The Fulton County Sheriff's department also stated in a lengthy Facebook post that it was unsure if the governor's new directives would "sustain a Constitutional challenge in Court" and that "obtaining a Search Warrant to enter your home to see how many Turkey or Tofu eaters are present is not a priority."
On the contrary, Suffolk County announced on Nov. 13, that it would create a task force of its own to enforce the governor's directives. "Small gatherings that seem harmless could lead to a spreader event," County Executive Steve Bellone said. "We've seen that happen in Suffolk County. Cases are surging nationally and Suffolk County is not immune. Now is the time to double down on common sense measures that work."
On Wednesday, Cuomo shot back at the sheriffs who said they would not be enforcing his directives. "I don't believe that person is a law enforcement officer," Cuomo said during a press conference. "I don't want a law enforcement officer who says, 'I'm only enforcing the law that I like or think should be enforced.'"
The question of who should be in charge of enforcing public health measures has been raised throughout the course of the coronavirus pandemic, particularly when it comes to face coverings. In September, the NYPD was directed to fine individuals refusing to sport masks on public transit but has only given out fines to 15 people thus far. Ironically, many members of the city's police force have been heavily criticized for refusing to wear masks themselves, making matters even more confusing.