Coronavirus
COVID-19 inequality likely to return in second wave
Experts say national changes, including universal health care, needed to address race and income disparities.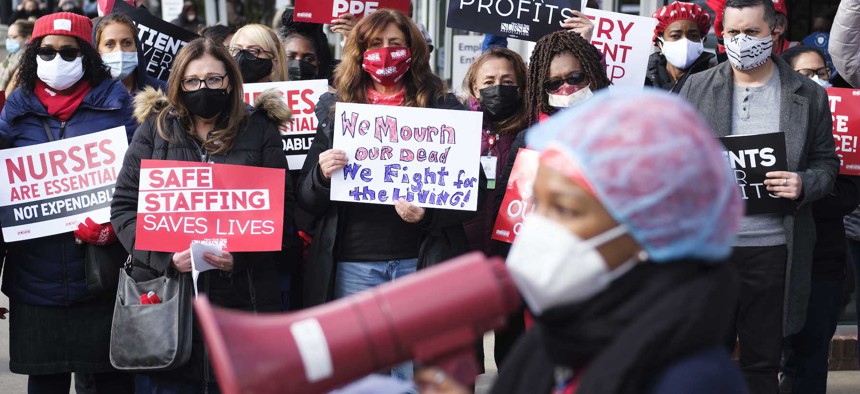 New York is entering its second wave of the COVID-19 pandemic, and there's reason to fear it will repeat the inequities of the first one. 
During the first wave of COVID-19 infections that began in March, neighborhoods with higher proportions of Black and Latino residents, as well as those with lower median incomes, saw far higher death rates than other neighborhoods in New York City. This reflected a disturbing national trend, where data revealed that Black, Latino and low-income individuals were twice as likely to die of the coronavirus than white individuals. Now, as the city is in the midst of its second major coronavirus outbreak, it's likely that it will continue to see these same racial disparities.
In April, Gov. Andrew Cuomo announced that the state would be increasing COVID-19 testing in majority non-white communities and would begin investigating what has contributed to these racial disparities. In June, New York City Mayor Bill de Blasio announced the city's Racial Inclusion & Equity task force to ensure that the city's hardest-hit communities have access to health and mental health resources. Cuomo has also said that low-income communities and those most affected by COVID-19 would be among those first in line for a vaccine, once it becomes available, following first responders and nursing home patients. 
Experts say that these initiatives could help a little bit, but to really eliminate this inequality national systemic changes would need to be made, including universal health insurance, the elimination of food deserts, and a reduction in air pollution.
Dr. Maya Clark-Cutaia, an assistant professor at New York University's Rory Meyers College of Nursing, told City & State that she has not seen significant changes in how the state has responded to this issue, however. Clark-Cutaia said that she has been present at hearings and panels with national health experts discussing such disparities and what could be done in New York, in particular, since the onset of the coronavirus crisis. Still, she says things remain very much the same as these disparities have existed for a very long time. "We have actively ignored them (these disparities) for a very long time," Clark-Cutaia said. "COVID, unfortunately, has just brought everything to the forefront so now we see them, we're way more aware of them. But a lot of it is systemic and until we choose to do something about that, we're going to continue to see these disparities."
"You know areas in the Bronx, they faced the brunt of patients coming in and their hospitals are overrun, short of building larger hospitals getting more resources to that area, what do you do?" she continued.
Data has indicated that essential workers and individuals who are economically insecure were most likely to contract the coronavirus. During the first wave of the pandemic, the city's neighborhoods with the highest number of COVID-19 cases also had the highest number of service workers, people of color and rent-burdened households. A significant portion of the city's essential workers, who are required to go to their jobs in-person and risk exposure to COVID-19, such as service, restaurant and health care workers, are people of color or undocumented immigrants. People of color account for about 75% of the city's frontline workers overall, according to city Comptroller Scott Stringer's office. 
Individuals that have a lower income, or are financially strained, are also more likely to live in crowded housing, making it easier to transmit the virus in small spaces. Residents of low-income neighborhoods are also more likely to be exposed to pollution and lead, and have less healthy food options, which can lead to diseases responsible for worsening COVID-19 such as hypertension, chronic kidney disease, coronary disease and diabetes. People of color are also far more likely to have those underlying conditions and to have less access to health care. 
While there are no quick remedies for these overarching systemic issues that doesn't mean that changes can't be made to lessen the blow. Clark-Cutaia says that having conversations about how to tackle these disparities and inequities is a good place to start, but universal health care is the only effective way to deal with health care disparities. "We can't have it both ways. We cannot take care of everyone and keep people healthy and give people what they need without having some form of universal health care, it's just not going to happen," she said. "We're not going to get rid of disparities without having some form of universal health care and I get that that upsets people. But the fact of the matter is that there are people who don't have access to care and have stayed home and weren't getting treated."
Clark-Cutaia also says that the public health messaging regarding the virus has not effectively reached people of color or individuals living in low-income communities, which is necessary to protect them and others. "We haven't had mass campaigns trying to educate people trying to keep people home. In fact, we've been catering to those who are annoyed that they've been restricted. Those aren't the people who are at the greatest risk (of contracting COVID-19)," she said.