Coronavirus
Canceled appointments are the latest vaccine headache
Two weeks into New York's expanded coronavirus vaccine rollout, some parts of the state are hitting the brakes.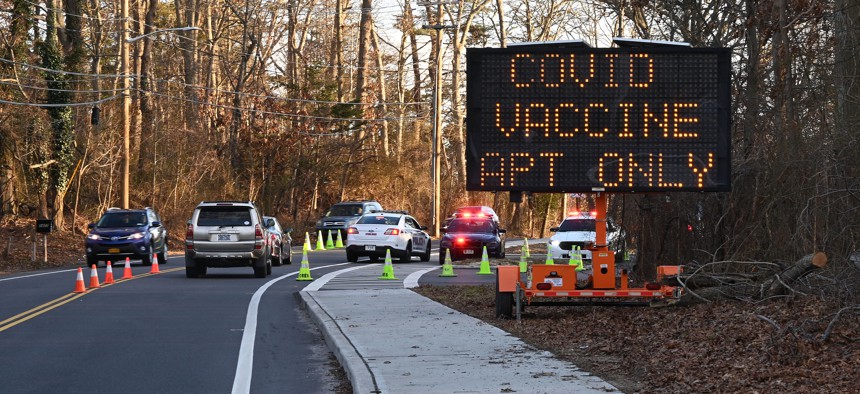 New York, like much of the country, has pinned its hopes of conquering the coronavirus pandemic on President Joe Biden's administration. But a shortage of COVID-19 vaccines is one problem that apparently can't be fixed with just a few days of new federal leadership. Now, health departments across the state are canceling vaccine appointments due to the shortage.
New York City Mayor Bill de Blasio announced Wednesday that the city has canceled 23,000 vaccination appointments – all for first doses of the COVID-19 vaccine – because of the shortage. Vaccine planning in New York City this week was also affected by a delayed shipment of Moderna vaccines, with more than 103,000 vaccine doses arriving over the course of Wednesday and Thursday, rather than earlier in the week as planned.
An additional 109,000 doses are set to be delivered to the city over the course of next week, Gov. Andrew Cuomo's office told the New York Post, but in the meantime, canceled appointments are just the latest in a series of disappointments with New York's vaccine rollout.
De Blasio, meanwhile, expressed confidence that production will ramp up in the coming weeks. "I know the Biden administration is going to intensify production," he said Wednesday. "I have faith that (in) the weeks ahead, we're going to see a whole different level of production of the vaccine happening."
New York City isn't alone in being forced to cancel vaccine appointments due to a lack of doses; Erie County also canceled appointments. A spokesperson for the Erie County Health Department said the county was instructed by the state to schedule appointments in anticipation of future vaccine availability, booking appointments through the end of January. But with only partial fulfillment of their vaccine orders from the state, the county canceled seven days of first dose appointments, affecting about 8,000 people.
In the future, the spokesperson said, the county will only schedule appointments based on how much vaccine they have on hand or what they know has been confirmed as delivered to them.Representatives for Cuomo did not immediately respond to a request for comment, but Cuomo said at a Friday press conference that providers should not schedule appointments unless they know they have enough doses. "Providers should only schedule appointments for allocations they know they will receive," he said.
If there's a silver lining here, it's that New York is not alone in struggling with a shortage of COVID-19 vaccines. Unanticipated shortages have led to appointment cancellations and postponements in South Carolina, Georgia and other states. "It's such a lottery," Dianne Bennett, who lost a vaccine appointment in Erie County, told The New York Times. "I just think it's outrageous."