Andrew Cuomo
New COVID-19 variant sparks calls for restrictions
Public health experts hope the discovery acts as a "wakeup call" about New York's troubling increase in cases.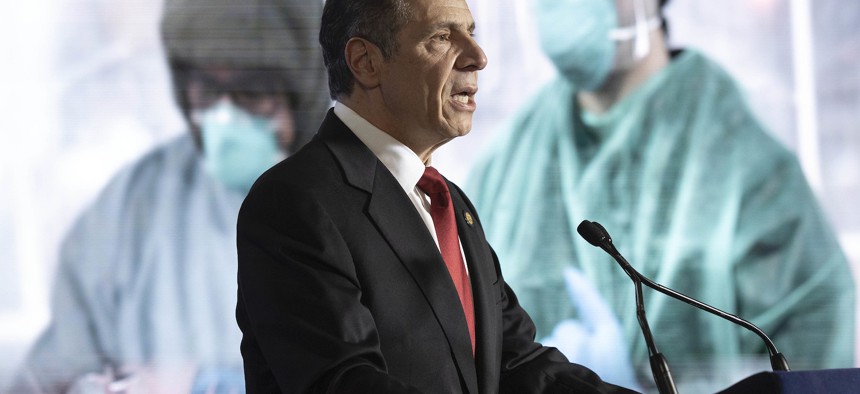 New York has entered a troubling new phase of the coronavirus pandemic: the state has confirmed four cases of a more contagious strain currently wreaking havoc in Britain. While much remains unknown about the new variant, public health experts said now is the time to take proactive steps to prevent worse-case scenarios. And they say that officials need to begin seriously considering the reintroduction of restrictions, like ending indoor dining statewide, to slow the spread. 
New York state's rate of positive coronavirus tests has been steadily increasing since the beginning of November. In the last month alone, the seven-day rolling average of positive cases has increased over 2% statewide, hitting nearly 8% recently. Various regions of the state have even higher rates of positive cases, as well as spikes in hospitalizations. Despite this, Gov. Andrew Cuomo has not announced any new microcluster zones, or updates to existing zones, since December 14, according to the website of New York Forward, the state government's hub for coronavirus information. The zones have varying degrees of restrictions for nonessential businesses, dining and gatherings, and have been Cuomo's main method of combating spikes in new cases while avoiding regional or statewide shutdowns. That same day, December 14, Cuomo warned about broad shutdowns looming if numbers cross the state don't improve, but he has not implemented any piecemeal restrictions to slow the spread between then and now. Since last month, the governor had been calling on the federal government to impose new testing requirements for U.K. travelers and to impose a ban on travelers from Europe, in response to reports of a highly contagious new coronavirus strain there. He repeated the demand for a travel ban after the first case of the variant was discovered upstate. 
Public health experts say that discovery of the new coronavirus strain should serve as an alarm bell to members of the public and state officials alike that proactive measures are needed to slow the ever increasing spread and avoid overwhelming hospitals. Although vaccines will eventually slow the spread of COVID-19, vaccinations are off to a slow start and it will take many months for the rate of vaccination to prevent outbreaks. In Israel, which is the world leader in vaccine deployment, COVID-19 cases are spiking, in part because of the new strain. The Israeli government just tightened its lockdown in response. The United Kingdom similarly entered its third national lockdown recently due to the impact of the new strain.
Dr. Syra Madad, senior director of the system-wide special pathogens program at New York City Health + Hospitals, said that while the vaccine means there is a light at the end of the tunnel for this pandemic, the new variant "made the tunnel a little longer." Cuomo himself has said that the new variant is likely more widespread than the handful of cases already identified because the United States has lagged behind other countries in genetic sequencing to identify new strains and their prevalence. The acknowledgement echoes the early days of the pandemic when a lack of testing masked the extent of its spread, with deadly consequences. 
"We don't want to wait too long," Dr. Danielle Ompad, associate professor of epidemiology at the NYU School of Global Public Health, said, warning the state should not wait until capacity at hospitals hits critical levels. "We could probably tighten some things down now as we wait for the data to come in." 
Even with the limited data available about the new strain, warnings have emerged that the increased transmissibility could cause spread to grow exponentially, which means more hospitalizations and more deaths. That's the worse case scenario, as it could wreak havoc even as vaccines rollout if it isn't tempered. "We need to unfortunately be proactive about this before we start seeing a real increase in cases," Dr. Stephen Morse, a professor of epidemiology at the Columbia University Mailman School of Public health, said. "In New York, we still have time to try to slow down the increase and try to prevent it from becoming another big spike."
Even aside from the new variant, public health experts say the state has already reached a point where Cuomo should be implementing some new restrictions to slow in the increase, and avoid more dramatic shutdowns implemented at the beginning of the pandemic. In particular, many agree that the time has long since passed to shutdown indoor dining statewide. "I think we should consider more rigid public health measures, independent of this new variant," Dr. Thomas Russo, chief of infectious disease at the University at Buffalo Jacobs School of Medicine and Biomedical Sciences, said. He noted that in much of Erie County, indoor dining has been shut down for months after Cuomo enacted an orange zone microcluster, and suggested that such restrictions would help other parts of the state currently faring worse than Erie. At one point, Western New York was emerging as the new epicenter in the state. "There is some heterogeneity in terms of certain public health restrictions, such as indoor dining and things like that," Russo added. Morse made a similar observation about the greater restrictions imposed on New York City – like ending indoor dining – and how it has fared during the second wave compared to other parts of the state. "I personally am not a great fan of restrictions simply because they are obviously hard to enforce," Morse said. "But we've gotten to the point where I don't see we have much alternative."
The last statewide restrictions Cuomo announced came on November 11, when he said that indoor dining, bars and gyms would close at 10 pm. And since announcing that indoor dining would end in New York City on December 14, Cuomo has made no similar announcement about any other part of the state. This despite New York City having a less severe COVID-19 outbreak by every measure compared to several other regions of the state, including the Finger Lakes and Mohawk Valley. When asked why Cuomo has only implemented new indoor dining restrictions in New York City despite troubling indicators in other parts of the state, a spokesperson referred to Cuomo's December 11 comments when he shut down the city's indoor dining, in which he cited density as a complicating factor in New York City. The comments did not explain why increasing COVID-19 and hospitalization rates in other regions over the last few weeks did not trigger similar restrictions, despite a lack of density, nor did the spokesperson answer a follow-up question asking if the governor's stance is that indoor dining does not pose a risk in less dense parts of the state.
Cuomo said on Friday that if hospitalization rates don't stabilize soon, "we are going to close regions," apparently skipping over any less dramatic restrictions. He reiterated that assertion during his State of the State Address on Monday. But public health experts say that blanket shutdowns are generally a last resort, after more targeted restrictions fail to slow the spread. "Obviously, if you have more community transmission, and your data and your surveillance and your forecasts and your modeling are telling you that this is only going to get worse… you want to be proactive and put these restrictions in place," Madad said. She added that while household spread is a major source of cases now, those restrictions can "cut the chain of transmission" by limiting high-risk activities like indoor dining. But Morse added that uncontained spread without other mitigating measures leaves little other solution besides a shutdown. "Once it starts going up, you have to do something to prevent it's continuing increase," Morse said. "Once it gets out of control, we have limited options."
Cuomo has largely avoided implementing such restrictions during this second wave, shifting the goalposts multiple times about how and when microcluster zones will be implemented and restrictions like closing schools would be enacted. At times, he has seemed not to adhere to his own constantly mutating guidelines, brewing confusion about what measures to expect when. "Before the strain was discovered, the cases were already going up, and it was clear that we need to make some changes," Ompad said. A spokesperson for Cuomo did not provide a specific answer about how the variant may change the governor's approach to restrictions, shutdowns and microcluster zones. At a press briefing last week, Cuomo said "containment (of the new variant) is vitally important," but offered no details about steps the state could or would take to contain it aside from that it is something "we have to watch and we have to pay careful attention to." He later only said that if the new strain leads to more hospitalizations, regional shutdowns could be in the cards, before pivoting to blame the federal government for not acting fast enough to stop the new strain from entering the country.
Russo said he hopes that the discovery of the new variant will be a "wakeup call" for officials in the state that perhaps new measures are needed to slow the spread and prevent hospitals from getting overwhelmed as cases increase across the state. But he said this should similarly be a sign for members of the public to double down on their own personal actions to limit the spread. "As I like to say, we control our own curve, our behavior dictates how many cases we're going to have," Russo said. "And if everyone behaved well, our cases would be much lower than they are." He said that "the government can only control so much" when it comes to public behavior. Madad said the government could be doing more to get high-quality and effective masks to people after she has observed many in the public wearing thin masks, or even just pulling their shirt over their faces. Individuals with means could invest in better masks themselves. 
Ompad concurred that the pandemic has reached a point where personal responsibility is of utmost importance and that adhering to best practices at a personal level. But she acknowledged that if people are not voluntarily engaging in best practices, then more restrictions should be implemented to make them mandatory. "I know, it's frustrating for the public when things change – it's frustrating for me too," Ompad said. "(But) nobody wants this to go on for longer than it needs to, and nobody wants our hospital systems to be overwhelmed."