New York State
How New York can distribute the vaccine more equitably
Vaccine distribution has been woefully unequal. Here's how New York might start to fix it.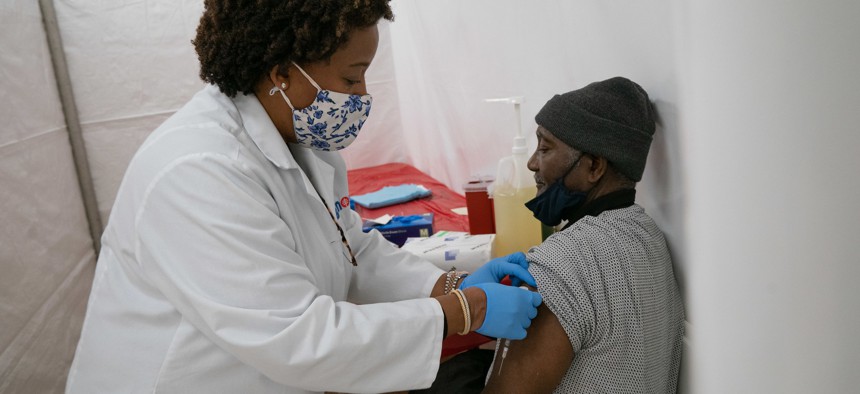 Data breaking down how the coronavirus vaccine is being distributed across New York state is hard to come by, but from what is known – thanks to information provided by New York City and seen through anecdotal reporting – one thing is clear: some of the same inequities that have made low-income communities of color bear the brunt of this pandemic are making it more difficult for them to access the vaccine.
Last weekend, New York City released demographic data on its vaccinations, showing that among adults who received at least one dose and noted their race or ethnicity, 48% were white, while only 15% where Latino and 11% were Black, even though the city is 29% Latino and 24% Black. The takeaway? Black and brown New Yorkers are getting shorted again. 
Public health experts said that to achieve a more equitable rollout of the vaccine, New York state and local governments need to do a better job of bringing the vaccine to the people in those hard-hit neighborhoods, instead of expecting people to overcome the barriers to getting their jab. That requires making it easier for people to sign up for appointments, prioritizing residents of the hardest hit neighborhoods for appointments in those neighborhoods and bringing the vaccine directly to people. New York is already starting to take some of those steps. 
The release of that data followed reporting by The City showing that at a vaccination site in Washington Heights – a largely Hispanic neighborhood – most people in line appeared to be white suburbanites, and Spanish-speaking guides were hard to find at the site.
New York state has so far released only minimal demographic vaccine data – only releasing a racial breakdown for hospital workers vaccinated in the 1A eligibility group – despite calls to disclose data for the much wider group of New Yorkers who have now been vaccinated. Gov. Andrew Cuomo's office has said that that data is being collected, and a larger dataset will be made available once state officials are comfortable with its accuracy. Meanwhile, a bill from Rep. Grace Meng calls for a national breakdown of demographic vaccination data.
Despite the dearth of information on just how inequitable the rollout of the vaccine has been, the early signs are not promising, reflecting stark disparities between white communities and Black and Latino communities. The latter represent the communities hardest hit by the pandemic. Across the country, Black and Hispanic Americans are dying from COVID-19 at roughly 2.8 times the rate of white people. 
New York is not alone here; many of the states and cities that have started to release demographic breakdowns show similar patterns, with people from white and wealthier communities having an easier time accessing the vaccine and taking up a greater share of appointments.
In New York, the inequitable distribution observed so far likely has a few explanations, public health experts said, but it's hardly surprising. "New York took the equality approach – everyone has equal access to everything," Melody Goodman, associate dean for research at the New York University School of Global Public Health, said of New York's vaccine rollout. "But often, that means that some people are going to be more likely to take it up... Just putting it out there is not the same as getting it to where it needs to be."
While part of the challenge New York confronts is in convincing disadvantaged communities that the vaccine is safe – especially because of a historical distrust of health care providers stemming from systemic bias against people of color in the healthcare system – hesitancy about getting the vaccine is just a part of the challenge. Public health experts said that not enough has been done to make it easy for people of color and low-income residents to learn about the vaccine, easily sign up for an appointment and eventually get vaccinated. 
Part of that has to do with New York not relying enough on its health departments in its rollout of the vaccine, Goodman said. As The New York Times reported earlier this week, the state health department has seen an exodus under Cuomo, as some health officials reportedly felt underutilized despite their expertise in public health. 
Rather than rely on the vaccination plans that the state health department had collaborated on with local health departments, Cuomo has relied mostly on hospitals for the rollout. "We often marginalize public health. Even in this public health crisis we've been marginalizing the experts. We've not been giving our public health departments the infrastructure to do the work that they've been doing this entire time," Goodman said. "Instead we've been giving it to more commercial entities." Reaching underserved communities and communicating essential information about the vaccine are functions local health departments are well-equipped, and in fact designed, to handle, she said. 
Facing the same problems as New York, some other states and localities have started to refocus their vaccination efforts on reaching disadvantaged communities. One North Carolina county is prioritizing vaccinating older people who live in ZIP codes with the highest rates of COVID-19. When releasing new appointments for vaccinations, Washington D.C. has started restricting the first day of reservations to residents of ZIP codes with the highest infection and fatality rates. Other cities are starting pop-up vaccination clinics in Black churches and community centers, and Baltimore is going door-to-door in housing complexes for seniors, The New York Times reports.
Similar efforts have started in New York. At vaccine sites located in 33 hard-hit neighborhoods, New York City will prioritize appointments for residents of those neighborhoods, Mayor Bill de Blasio announced on Sunday. New York state has also launched pop-up vaccination sites in public housing developments and churches, delivering vaccination kits to those sites and working with local partners such as the health network SOMOS to administer the vaccine. "In just over two weeks, we've deployed pop-up vaccination clinics to 27 public housing developments and churches statewide, which have administered shots to nearly 10,000 New Yorkers in communities of color," Cuomo spokesperson Jack Sterne wrote in an email. Dozens more pop-ups are planned in the coming weeks, Sterne said, with the goal of setting up 300 sites in communities of color.
Actions like these are moving in the right direction, public health experts said, but there's more that New York state and local governments can do. Here are a few of the steps New York could take to bring the vaccine to underserved communities and ensure that all New Yorkers – especially those hardest hit by the virus – are getting vaccinated:
Stop relying on an online system for signing up to get the vaccine
As COVID-19 vaccine eligibility expanded last month, sign-ups for vaccination appointments were largely relegated to online booking and information websites developed by the state and New York City, which have experienced glitches and have been frustrating and time-consuming to use. Just as importantly, they're ill-suited to reach the very people that New York's leaders have said it's important to reach."Think about the fact that part of who we said we wanted to vaccinate first was older adults, and then we rolled out an online system," Goodman said. That's not to say older adults can't use the internet, she noted, but it's insufficient as a primary tool for signing up to get vaccinated – especially when trying to sign up older adults with less education, wealth, free time or English language skills. The state and city each have phone lines too, but people have gotten stuck on hold on those or experienced calls dropping. These options not only disadvantage those without internet access, but those who don't work from home or otherwise have a white-collar job that allows them to constantly check a website or call back in hopes of finding an available slot.
Instead, New York should be meeting people where they are to spread information about the vaccine and get them signed up for an appointment. Wafaa El-Sadr, a professor of epidemiology at Columbia University, suggested having workers devoted to helping older New Yorkers or those without internet access find and sign up for vaccine appointments. That includes making information about signing up available in all languages that New Yorkers speak, she said. 
Community centers, churches and schools could be used as sign-up hubs, too. The state has also said it's working with nonprofits and community groups to register people at community vaccine hubs. A New York Times editorial also suggested sending public health workers door-to-door to help people book appointments. "The faith-based strategies make sense, as long as they're safe. The door-to-door strategies make sense," said Derek Griffith, a professor in the department of Medicine, Health & Society at Vanderbilt University. "Talking to folks from those communities and asking them, 'What kind of things would reach people that are having difficulty accessing this kind of information?'"
Reserve spots for local residents at community vaccination sites
Cuomo has committed to creating more pop-up vaccination sites at public housing developments, churches and other community centers, and that is a first step in directly reaching unserved residents, experts said. But to take it a step further, vaccine sites in some of the hardest-hit neighborhoods should prioritize appointments for residents of that neighborhood – as New York City announced it would start doing. Guillermo Chacón, president of the Latino Commission on AIDS, founder of the Hispanic Health Network and a member of New York state's Vaccine Equity Task Force, said that after The City reported on suburban New Yorkers flocking to a vaccine site in Washington Heights, he and other members of the vaccine task force put pressure on the city to start restricting who is able to get those appointments. Now, those kinds of restrictions have to be put in place statewide, he said. "If the intention is to bring a vaccination center to a Black or Latino neighborhood, we cannot allow people from outside those neighborhoods to just show up … and then get appointments," Chacón said. 
Cuomo has said he's open to this approach. "I do not have a problem with restricting the site when you are targeting a problematic community, by positivity (rate) or lack of coverage," he said last week.
Of course, this would be an easier challenge to confront if New York weren't faced with a scarcity of vaccines and a ticking clock on the doses themselves before they expire. "I would just say go door-to-door in communities and vaccinate people. But we don't have enough vaccines to even do that," Goodman said. 
Still, there doesn't necessarily have to be a choice made between making sure the vaccine gets to as many people as possible as quickly as possible, and making sure the most vulnerable New Yorkers have easy access to it. "You can achieve rapid enrollment, but you have to be attentive to who is rapidly enrolled," El-Sadr said. "And by going to the community, by going out there and facilitating and situating vaccination sites, and facilitating people coming to these vaccine sites, we can achieve both."
Collect and produce complete demographic data on vaccinations
Perhaps the easiest first step New York could take in achieving equitable vaccine distribution is ensuring the complete collection and timely publication of data about vaccinations broken down by categories including race, ethnicity and geography. "It is urgent to receive data on race and ethnicity at the state level," Chacón said, noting that the state has yet to release that data. "That's the other side of the coin to help us to be more responsible and focused about where to put energy."
Goodman said it shouldn't be hard to collect and report this data. While the minimal data we have now gives us an idea of how inequitable vaccinations have been so far, there's still a lot we don't know. "The fact that so much of the data is missing means that we have an idea of what the picture is, but we really don't know," she said. "It could be better than what we think it is, but it actually could be a lot worse."