Health Care
Upcoming vaccine shipments might not fix racial disparities
Experts say outreach efforts have to accelerate alongside increases in supplies.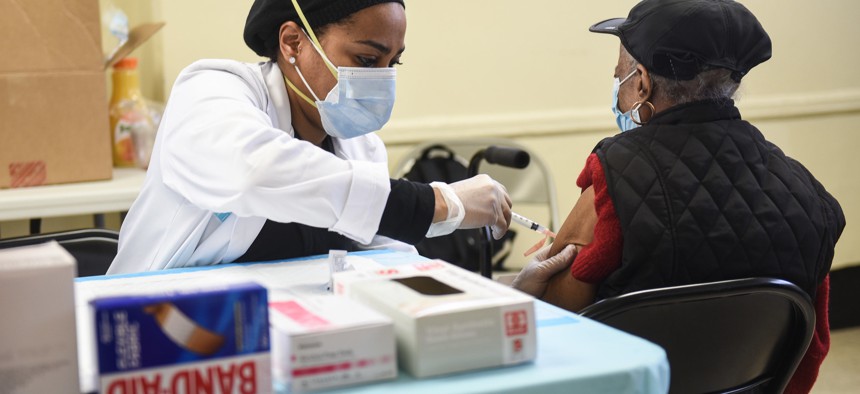 The vaccine distribution process got off to a bumpy start, but recent events suggest supply issues could soon be a thing of the past. Pharmaceutical companies Moderna and Pfizer say they can make 240 million more doses of their respective two-shot vaccines by the end of March. Federal regulators gave the green light today to a single-shot vaccine developed by Johnson & Johnson. More evidence shows that New York alone could save hundreds of thousands of doses by only giving a single shot to people who were previously infected with the coronavirus.
Making more doses available will undoubtedly ensure that a higher percentage of the general public gets vaccinated, but it could worsen ongoing disparities in the distribution of vaccines unless a greater proportion of these new supplies reach communities of color. And public health experts say we will not achieve herd immunity and be able to return to normal life unless confidence and access to vaccines keeps up with growing supplies.
"You can have a rapid vaccination program and make sure that you're not leaving any marginalized community out," Dr. Syra Madad, senior director of the System-wide Special Pathogens Program at New York City Health + Hospitals, said in an interview. "And I think there's a couple of things that you're starting to see we need to just do more of."
New mass vaccination sites opening today in Brooklyn and Queens are examples of ongoing efforts by local, state and federal governments to increase access to vaccines. Pop-up sites have also brought vaccines directly to people in public housing projects and other places disproportionately ravaged by COVID-19. A vaccine equity task force helped convince the state to loosen eligibility rules to include essential workers that are disproportionately people of color – like restaurant workers and delivery drivers. Black clergy are pushing confidence in the safety of new vaccines.
Yet, city and state data has shown that white people are still getting inoculated at higher rates than their Black and brown counterparts. There are a multitude of factors that appear to be causing this. Non-English speakers are still having problems getting information in their native languages, even when a mass vaccination site is literally across the street from their homes. Setting up more sites in vulnerable communities can also be difficult given the logistics of operating in the pandemic, according to Jo-Ann Yoo, a member of the equity task force and executive director of the Asian American Federation. "It requires a lot of space," she said in an interview. "There's this entire process. You have to register people. You have to follow up in the end to give them their (immunity) card."
The new Johnson & Johnson vaccine does not need to be stored in extremely cold freezers like the Moderna and Pfizer vaccines, which will make it easier to distribute. Its single shot also cuts in half the number of appointments that people have to make. Yet, vaccines are only useful once they get into people's arms, and polls, government data and scientific research continue to show that Black and Latino people are relatively wary of getting vaccinated. A long history of racism plays a role, according to the Rev. Kevin McCall of Brooklyn, but ever-changing public health guidance on masks, Cuomo's various feuds with New York City Mayor Bill de Blasio and the ongoing scandal surrounding nursing home deaths sometimes makes health experts and political leaders poor messengers, according to McCall. "We have trust issues when it comes to dealing with the city government and state government," he said, adding that he is delaying getting a vaccine for now.
Patience appears to be a key ingredient in successful vaccination efforts. Polling continues to show that the percentage of Americans willing to get inoculated is still short of the 75% or so level that public experts say is necessary to reach herd immunity. Madad said that addressing racial disparities is not an exact science, but things might be getting better for New York moving forward. "We absolutely need really good, and robust science communication," she said. "We just need more people that can speak the language (of local communities) – people that communities are familiar with and that are trusted messengers to give good information."