Can New York reform its responses to people in mental health crises?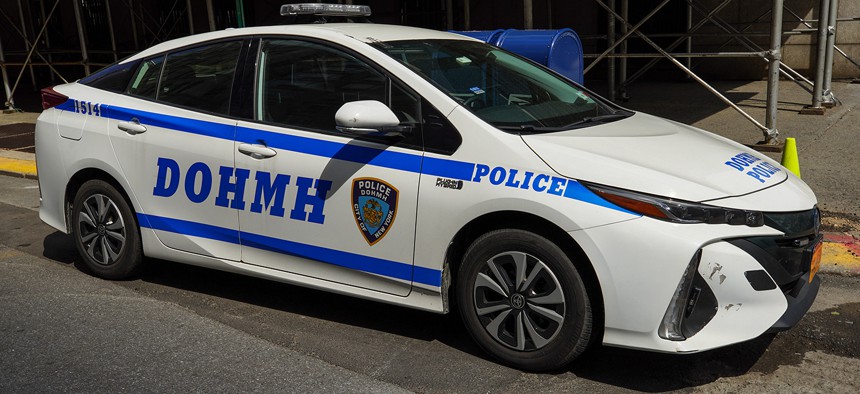 When officers from the Rochester Police Department arrived on the scene of a family dispute involving a 9-year-old girl in emotional distress in January, a brand-new tool was at the city's disposal: Rochester's new Person in Crisis team. Launched earlier that month, the PIC team was created as an alternative response to mental health, substance abuse and other emergency calls that would normally involve police or paramedics. Instead of police officers being the first responders to these calls – and risking the potential that the encounter could escalate into a violent one, as was the case in the death of Daniel Prude in Rochester last year – a two-person team of crisis intervention counselors and social workers would show up with the aim of de-escalating, assessing what level of care the person in crisis needed and helping to connect the person to the relevant resources, such as a mental health urgent care center.
The PIC team was not dispatched that January day, however. Because the original call to 911 was to report a stolen car within the family, not a child in distress who was suicidal, it didn't trigger a PIC team response. Once on the scene, officers did not call upon the PIC team or another team of mental health responders managed by Monroe County, known as the Forensic Intervention Team. Instead of directing the 9-year-old girl to medical care or other resources, the interaction ended with police pepper-spraying and handcuffing her in the back of a squad car.
Rochester Mayor Lovely Warren was quick to point out at the time that the just-launched PIC team couldn't have responded at first because the 911 dispatcher wouldn't know to send them for a call about a stolen car. And while they operate 24/7, the PIC team is still a pilot program, consisting of just 16 people, with plans to expand to 30 people later this month. Rochester, a city of over 200,000 people, has a police force of roughly 700.
The challenge of delivering an adequate and safe response to mental health calls is not a new problem, nor is it one unique to Rochester.
The explanations provided for why a mental health response was not deployed in this situation – or for Tyshon Jones, a man who was experiencing a mental health crisis when Rochester police shot and killed him last month – fail to satisfy some of the police reform and mental health advocates who have been pushing for the removal of police from calls like these. The suffocation death of Daniel Prude, a man who was in mental distress when cops restrained him with handcuffs and a mesh hood over his head last year, has forced the issue into the spotlight. But the challenge of delivering an adequate and safe response to mental health calls is not a new problem, nor is it one unique to Rochester.
Hawa Bah has been advocating for the removal of the New York City Police Department from mental health response since officers killed her son Mohamed in 2012. Hawa Bah had called for an ambulance in Manhattan because Mohamed was experiencing a mental health crisis, but cops arrived instead and eventually shot him eight times. "What happened to Mohamed, I don't want that to happen to no one. My life changed, my whole family's life changed. We will never be the same," Bah told City & State recently. "And I'm not alone." A 2015 report by the Treatment Advocacy Center, a mental health organization, found that people with untreated serious mental illness are 16 times more likely than other people to be killed when approached by law enforcement.
For years, advocates for mental health and police reform have been pushing for communities to remove, or at least limit, law enforcement's involvement in responding to people in mental health crises. Governments are starting to listen to those calls – creating pilots like Rochester's Person in Crisis team, New York City's Behavioral Health Emergency Assistance Response Division or Nassau County's Mobile Crisis Team.
Rochester's PIC team, which will be evaluated for future phases in June, complements an existing program run by Monroe County that partners mental health professionals with law enforcement agencies to respond to calls alongside police. "There is a commitment from City Council and there is a cry from the community to see this type of service provided to the citizens," said Rochester City Council Vice President Willie Lightfoot of the PIC team. Lightfoot, a Democrat, said he anticipates the pilot will be expanded in the city's upcoming budget cycle.
Little data is available on just how often the PIC team is being dispatched in Rochester. Justin Roj, a spokesperson for Warren, said that the PIC team has responded to hundreds of calls, and he said the city plans to publish a dashboard with more specific data in the coming weeks. The team can be dispatched either by either calling 911 or by calling 211, a separate line for city services.
In its first few months, a few speed bumps have appeared in the pilot, even as it's had some successes. Rochester City Council Member Mary Lupien said that she's heard some positive feedback from situations where PIC was deployed. "One of the situations I heard of was a woman who was afraid at a grocery store, she was afraid of men and was screaming. The PIC team came, they calmed her down, they got her home," Lupien said. But a call later on about that same woman triggered a police response instead of a PIC response, displaying some of the kinks to be worked out in how the team is dispatched by 911. "Because of the way the dispatcher phrased the questions, she ended up with a police response the second time. And that ended up with her being MHA'd," Lupien said, using shorthand for Mental Hygiene Arrested to describe when a person who appears to be mentally ill is deemed to be at serious risk of harming themselves or others and is placed into emergency custody.
Another complaint from local lawmakers and advocates is that the pilot program is underfunded and its clinicians are overloaded with work. Just over $660,000 has been allocated to the program. "We have a police department that has an over $90 million budget. Mental health has to take priority," said Shani Wilson, chair of Rochester's Police Accountability Board.
"People in the city are really concerned about whether their loved ones are going to be safe if they actually call the police on their behalf." – Shani Wilson, chair of Rochester's Police Accountability Board
Pilot programs and promised investments in new training or resources for mental health responses don't automatically undo what some say is the inherent problem in having police involved in these interactions. Wilson said that in her job as a physician assistant, she's never sure what's going to happen when she places a mental health call for a patient. "I think people in the city are really concerned about (whether) their loved ones are going to be safe if they actually call the police on their behalf because they cannot control the mental health issue that they're having," Wilson said. "People are tired of rolling the dice, wondering what's going to happen to their loved one."
Rochester's PIC team falls short of what some advocates refer to as the gold standard of mental health response: the CAHOOTS (Crisis Assistance Helping Out on the Streets) model pioneered in Eugene, Oregon, a mobile crisis team that sends a mental health crisis worker and medic to respond to mental health calls instead of the police. Police are only called in as backup if needed. Lupien and Wilson both said they'd like to see a similar model implemented in Rochester. But Lightfoot stopped short of calling for the complete removal of police from responding to some mental health calls. "I'm more in favor of a hybrid approach or a joint response, in certain instances where weapons are involved or where highly erratic behavior is happening," Lightfoot said.
Where there is widespread agreement, however, is that Rochester's PIC team represents an important first step for a city looking to overhaul how it responds to people in mental health crises. Daniele Lyman-Torres, the commissioner of Rochester's Department of Recreation and Human Services, which oversees the pilot, did not respond to requests for comment. But in a recent Police Accountability Board meeting, she previewed what may be next steps for the program after the initial pilot phase, including incorporating trained peers – those with lived mental health experience – in responding to these calls.
Rochester is not the only city that has been in the spotlight for its response to people in mental health crises. For years, following the deaths of people including Mohamed Bah, Saheed Vassell and Deborah Danner, New York City has been mulling alternative approaches to mental health calls. Some efforts have been launched already. Mobile Crisis Teams made up of clinicians and peers can be dispatched through the city's mental health crisis hotline, public hospitals or health care providers. These teams can respond within 48 hours, and are deployed about 20,000 times a year, according to Susan Herman, Director of the Mayor's Office of ThriveNYC, the city's wide-ranging mental health initiative. With a two-day response window, these teams aren't responding to emergencies, but less time-sensitive crises where a person can wait hours for mental health assistance. Co-Response teams, which pair police officers with a behavioral health clinician, have been deployed over 10,000 times since 2016. And Health Engagement Assessment Teams (HEAT), composed of a clinician and peer, are tasked with preemptively engaging people who frequently call 911 or present mental health issues.
None of these programs yet achieve a real alternative to police. Mobile Crisis Teams come close, but they're not immediate responders, though the city said it plans to shorten their response time to within a few hours of a call. Last year, New York City Mayor Bill de Blasio announced a new initiative that aims to make mental health professionals, and not police, the default response to 911 calls. First set to launch this February, the B-HEARD (Behavioral Health Emergency Assistance Response Division) pilot program is now planned to start later this spring, a city spokesperson said. The pilot will pair a New York City Health + Hospitals social worker with two emergency medical responders, who will be dispatched to respond to mental health calls that go to 911. De Blasio announced the initiative with the support of some mental health organizations, lawmakers and even a director in Eugene's CAHOOTS system.
"Are we going to say, 'Please don't have your mental health crisis at 9 a.m. because we won't be able to get you the right response.'" – Ruth Lowenkron, director of the Disability Justice Program at New York Lawyers for the Public Interest
But like any pilot, there are a few caveats to note in this program's lofty ambitions. To start, it will only be available in certain precincts in East and Central Harlem, and the teams will only be available to respond 16 hours per day. "Are we going to say, 'Oh, honey, please don't have your mental health crisis at 9 a.m., because we won't be able to get you the right response. Could you hold off until noon time?'" asked Ruth Lowenkron, director of the Disability Justice Program at New York Lawyers for the Public Interest. The city's goal is to expand geographically and to 24/7, but that may be a ways down the road.
Other advocates said that the pilot still relies too heavily on the existing police infrastructure and counts on 911 dispatchers to decide whether a call will be routed to the police or the new teams. "There's still a chance that dispatch would still call the NYPD to the scene," said Reem Fareed Ramadan, lead organizer at the New York City Anti-Violence Project, an advocacy and counseling organization. Police and EMTs will also still be the default response for mental health situations in which a weapon or serious risk of harm is involved.
Suburban counties are also shifting mental health responses away from cops. Nassau County has a mobile crisis team made up of trained social workers and nurses who can respond to mental health crisis calls seven days a week, but it currently responds on the scene only from 10 a.m. to 11 p.m. While police officers are still the default response to those calls, the county plans to shift to a two-tiered response, with only mobile crisis teams responding to calls where a person isn't aggressive, violent or in possession of a weapon. Under the county's recently approved police reform plan, the mobile crisis teams will also shift to operating longer hours, enhancing mental health training for 911 dispatchers and adding more teams of nonpolice responders. "I think that the framework is … on par for what I would have expected at this point," said Nassau County Legislator Siela Bynoe, a Democrat who has sponsored bills to study alternatives to police mental health response.
Nassau County's mobile crisis team has been around in some capacity since 1985, and Ulster, Albany, Orange and Rockland counties are just a few localities with mental health response teams. What still eludes most cities and counties, however, is a true alternative to the default police response to mental health calls, at any hour of the day.
Legislation from state Sen. Samra Brouk and Assembly Member Harry Bronson, both Democrats from Rochester, would prompt the entire state to reevaluate how all of New York responds to mental health calls. Daniel's Law, named for Daniel Prude, would create a statewide mental health council and then regional mental health councils, tasked with creating nonpolice mental health response units in every part of the state. "The whole objective here really is to recognize having law enforcement as the first responder to mental health crisis isn't always the most appropriate, and is typically not the most appropriate," Bronson said. "Having mental health providers and experts in that field be the first responders would be what's most appropriate, and that's where we're trying to move the system."
While Bronson said the legislation wasn't ready to be part of the state budget this year, it will be a priority for him as a post-budget item. "Time and time again, we've seen police response to mental health emergencies escalate the situation, leading to what I consider unnecessary violence and at times death," Bronson said. "The tragic death of Daniel Prude, and then recently, the pepper-spraying of a 9-year-old child, have outraged our communities, and it's shown that real change is needed to prevent these tragedies from occurring."

If you or someone you know is struggling with thoughts of suicide, you can call the National Suicide Prevention Lifeline at 1-800-273-TALK (8255).