New York State
Progressives are enlisting businesses in support of New York Health Act
A successful single-payer system would give employees of small businesses more access to health care.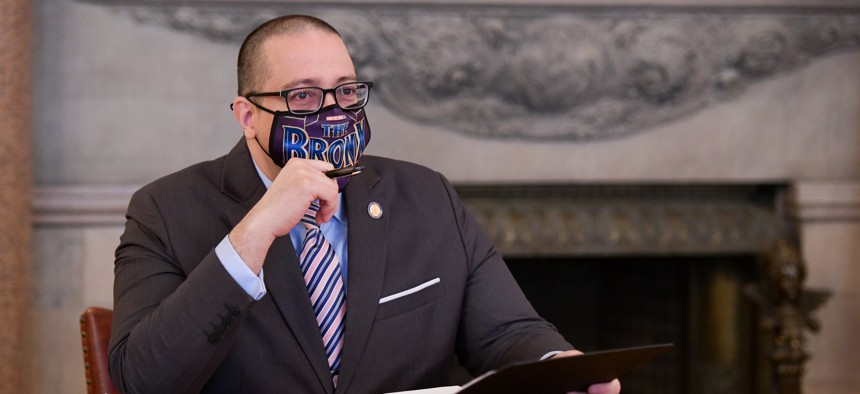 A majority of Democratic lawmakers have signed on to the New York Health Act, which would set up a state-level single-payer system. Supporters are hopeful that they might even bring the bill to a vote in the state Senate and Assembly this year, but making health care an entitlement for millions of New Yorkers is going to be expensive. The details of using federal Medicaid funding are complicated. Business groups warn their members can't afford the increase in payroll taxes needed to make New York the first state to successfully implement a single-payer system.
Supporters have argued for years that the long-term benefits of a single-payer system are worth the short-term costs to individuals and businesses, but a Tuesday morning press conference highlighted how legislators, activists and business owners are increasingly focusing on dismantling the argument that businesses could not afford the taxes needed to provide health care to all. "There are lots of moral and ethical reasons to support the New York Health Act, but there are equally compelling business reasons to support it too," said Sarina Prabasi, who runs three coffees shops in Manhattan. "It levels the playing fields for smaller businesses."
Some small businesses would undoubtedly benefit from a health care system that provides insurance to their employees who otherwise would not have coverage. "My business can't afford to provide health care to our workers, even though every year we sit down and we do the numbers, and we say: 'This year is the year. We're going to do it,'" Prabasi added. About 500 other business owners have also signed on to the advocacy effort pushing the New York Health Act. The list also includes a long list of left-leaning groups like 1199 SEIU, which represents health care workers, the New York City chapter of the Democratic Socialists of America and the Working Families Party.
The New York Health Act does not prescribe specific rates for the payroll tax that would fund a single-payer system. "The taxes shall be set at levels anticipated to produce sufficient revenue to finance the program, to be scaled up as enrollment grows, taking into consideration anticipated federal revenue available for the program," reads the legislative language. Employers would have to pay at least 80% of the tax, with the rest coming out of workers' paychecks, including from people who commute from out-of-state. People who make less than $25,000 per year would be exempted. 
A 2018 study by the Rand Corporation remains the most authoritative review of how single-payer could work in New York. It concluded such a system would require roughly $140 billion in new revenue, which is more than two-thirds of the $212 billion state budget approved by state lawmakers earlier this month. Total state spending on health care could fall by a few percentage points a decade after a single payer gets established, assuming that a payroll tax is set high enough to raise enough money. That would likely require rates of between 6.1% and 18.3%, according to the Rand study. 
While a single-payer system would cover everyone, it could lead to higher costs for businesses and complicate the plans they already provide to employees. "It could be prohibitively expensive for employers to pay both for health coverage for their employees and the increased payroll tax," reads an April 21 letter from The Business Council of New York State to Assembly Health Committee Chair Richard Gottfried and his state Senate counterpart Gustavo Rivera, who are sponsoring the New York Health Act. 
While big business is not likely to get behind single-payer anytime soon, some smaller businesses remain vocal supporters as Gottfried and Rivera continue pushing their respective chambers to vote on the bill this year. Rebeca Ramirez, co-owner of a Putnam County cheese shop, said at the press conference the New York Health Act could save her something as valuable as money. "How does anyone have time to deal with appealing to insurance companies?" she asked. "Right now, what we have is not working."
Powered By
NEXT STORY: De Blasio proposes expanded "recovery budget"