New York City
New York is inching toward its MWBE goals
The pandemic hit MWBEs particularly hard, making New York City and state contracting even more important.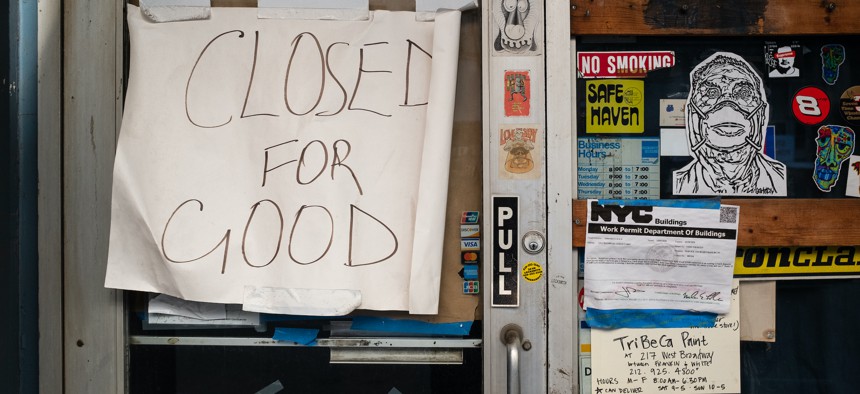 The pandemic has taken a disproportionate toll on people of color across the board. Rates of COVID-19 infection are higher, death rates are higher and vaccinations are rolling out more slowly in Black and Latino communities.
The same can be said for the pandemic's impact on New York's small businesses. "We are mired, right now, in pandemics," said Michael Garner, chief diversity officer at the Metropolitan Transportation Authority, at City & State's Diversity Summit in February. "A health pandemic, a fallout economically. When this country is in a recession, Black America is in a depression."
A report last summer found that nationally, 41% of Black-owned businesses, 32% of Latino-owned businesses and 26% of Asian-owned businesses had closed either temporarily or permanently, compared to 17% of white-owned businesses. And in New York, businesses owned by people of color have struggled to access funds from federal relief programs. A report by New York City Comptroller Scott Stringer last summer found that out of 500 minority- and women-owned business enterprises surveyed, only 10 received COVID-19-related government contracts from the city.
That fact makes New York's progress on its goals to utilize more minority- and women-owned businesses in government contracts especially important this year. "I think overall, the movement towards the goal for both the city and state has been progressing. It probably could have progressed a lot faster and it would have been higher, but since the pandemic, everything has taken a step back," said Assembly Member Rodneyse Bichotte Hermelyn, who chairs the Assembly Subcommittee on Oversight of Minority- and Women-Owned Business Enterprises. A spokesperson for New York City added that with overall procurement declining during the pandemic, the value and number of contracts awarded to MWBEs have declined as well.
New York City and the state had both set goals of awarding 30% of government contracts to MWBEs by the end of this fiscal year. Despite the setbacks of the pandemic, both the city and state are inching closer toward that goal, with New York City awarding 28% of government contracts to businesses owned by women and people of color, and the state awarding 29.51% in the past fiscal year. That amounts to just over $1.1 billion in prime and subcontractor awards for the city, and $3.1 billion for the state.But Bichotte Hermelyn and others watching New York's progress say there's still more that the city and state could do to invest in its minority- and women-owned business programs to ensure that those businesses are able to emerge from the pandemic fully equipped to compete for more government contracts.
"When this country is in a recession, Black America is in a depression." – Michael Garner, Metropolitan Transportation Authority chief diversity officer
The city and state's progress has been accompanied by legislative reforms in recent years, including state legislation passed in 2019 that increases the personal net worth cap on minority and women business owners from $3.5 million to $15 million, and legislation that increases discretionary spending thresholds across all agencies and authorities from $200,000 to $500,000 for MWBEs. The state also extended its program for another five years in 2019 and changed the law so that MWBE certification lasts for five years instead of three years.
Bichotte Hermelyn said that while these were welcome strides, there's ample room for improvement. For one, there are aspects of New York City's approach that New York state could learn from, including the steps firms first have to take to get certified as MWBEs. New York City has surpassed the state in certifying firms, reaching over 10,000 as of the end of the last fiscal year. By comparison, the state counted a total of roughly 8,200 certified minority- and women-owned business enterprises by that time.
Bichotte Hermelyn credited the city's work engaging chambers of commerce, local small businesses and nonprofits, and conducting outreach and workshops to assist firms in getting certified. But she also noted that the state's certification process can be more cumbersome. "Because New York City doesn't have a personal net worth threshold, the application process is a lot faster than the state's," she said, noting that the cap is just one more hurdle firms have to clear to earn certification. Bichotte Hermelyn is sponsoring a bill that would repeal the state's personal net worth cap.
And then there are steps that the city and state could take when it comes to actually awarding contracts to the firms that have already been certified. Jonnel Dorris, director of the New York City Mayor's Office of MWBEs, applauded the increased discretionary spending threshold at City & State's February Diversity Summit. "We're going in the right direction," he said "We believe that if we want to increase utilization, we want to make sure that the discretionary ability of our city agencies goes even higher. We were asking for $1 million."
Others have pointed out that winning prime contracts is still a challenge for some businesses owned by women and people of color. They often get subcontractor positions under larger firms that do business with the city and the state. The city and state both have mentorship programs that aim to help more experienced firms network with smaller or newer firms, possibly to help navigate the daunting prospect of competing for prime contracts. New York City and state also each have loan funds for vendors working as either prime or subcontractors.
Bichotte said she would like to see more lending programs to help firms get access to capital. As businesses begin to recover from the pandemic, these are the kinds of changes that she said will help keep the city and state from falling behind on its goals.
Garner, the MTA's chief diversity officer, touted the authority's work with minority– and women-owned businesses during the pandemic, but added that there's always more work to do, especially in light of the outsized effect the pandemic has had on people of color. "If we're not awarding a substantial number of contracts to women, to Black companies, to Latinx companies, to Asian American companies, then we need to come up with strategies that are going to allow us to not only award our contracts in a cost-effective manner – because it's taxpayer's money being spent – but in an inclusive manner."
Powered By
NEXT STORY: Prisoners slowly receiving COVID-19 vaccines