Health Care
Should NY relax its mask mandate?
Public health experts and epidemiologists are concerned that doing so could lead to a spike in COVID-19 cases.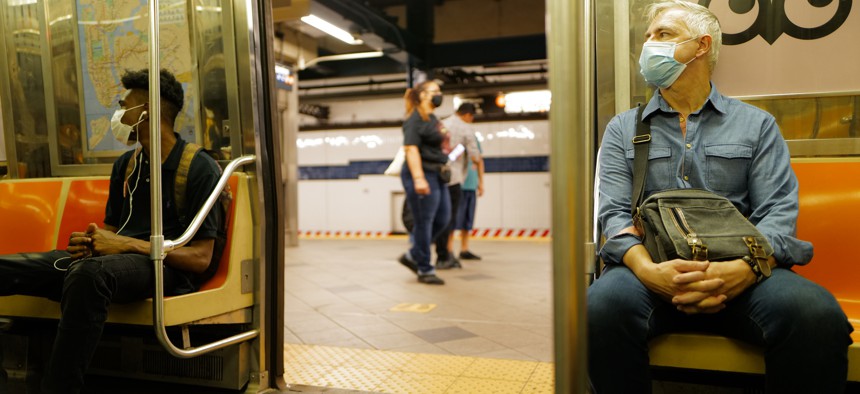 On Monday, the governor announced that the state would be adopting the Centers for Disease Control and Prevention's new mask and social distancing guidance, which means the state will be ending its executive order requiring masks in all indoor public settings such as stores and offices. Private businesses may decide on their own rules when it comes to wearing a mask indoors but the state will not enforce them. And masks are still mandatory on public transportation, in schools, nursing homes, correctional facilities and homeless shelters. This followed the CDC issuing new guidance on Thursday, saying that people who have been vaccinated no longer need to wear masks indoors or outdoors but should continue to follow the COVID-19 safety guidelines set forth by each state.
While some New Yorkers are eager to return to their lives without masks, others remain concerned and skeptical about the new CDC recommendations. Public health officials and epidemiologists have also been calling this new guidance into question, considering the lack of direction provided by the CDC, the inability to adequately verify whether or not individuals have been vaccinated, vaccination rates across the country – and state – have yet to reach herd immunity levels and new variants are surfacing across the globe.
The CDC based its decision to announce that vaccinated people no longer need to wear masks indoors or outdoors on two studies that indicated that individuals who have been vaccinated with either the Pfizer-BioNTech or Moderna vaccines are at an extremely low risk of contracting COVID-19. The rate of transmitting the virus to others, should they become infected, is also very low. 
However, more research is needed to assess how effective other vaccines are in preventing people from contracting and transmitting the disease, according to epidemiologists. "All of the authorized vaccines provide strong protection against serious illness, hospitalization, and death, and we are accumulating data that our authorized vaccines are effective against the variants that are circulating in this country," the CDC said in a statement on Friday.
Dr. Robyn Gershon, a professor of epidemiology at New York University's School of Global Public Health, told City & State that the CDC's abrupt announcement left her and fellow epidemiologists extremely confused. "I think we would have been so much better off if they (the CDC) had said, in two weeks, we can pretty much stop wearing masks and here are the steps (we're going to take)," Gershon said, adding that the new advice makes it seem as though the pandemic is over, even though cases remain relatively high in New York. Even though the number of COVID-19 cases have dropped over the past week, they're still high, as is the risk of COVID-19 transmission, according to data compiled by The New York Times, 
As of Monday, 51.8% of the state has received at least one dose of a COVID-19 vaccine, which means that it's still far from reaching herd immunity of 70 to 90% vaccinations. "I think the CDC might send a wrong message saying that everything's OK," Dr. Ahammed Hashim, a pulmonologist in Texas, told the Times. "It would feel much better if we had a 60 or 70 percent vaccination."
It's also worth noting that there are big disparities in vaccination rates between rich and poor neighborhoods. For example, 56% of people are fully vaccinated in Yorkville, on Manhattan's Upper East Side, whereas 24% are fully vaccinated in Canarsie, Brooklyn. Lifting mask mandates when only 24% of people are vaccinated in certain areas could pose a big risk to the many unvaccinated people living in that area.
New York City Council Member Mark Levine, who is chair of the council's Health Committee, said in a series of tweets that New York City should refrain from lifting its mask mandate indoors, as it would be extremely difficult to determine if someone has been vaccinated and could lead to further spreading the virus. Gershon similarly remarked that she's concerned the state might see a spike in cases in about four or five weeks. 
A crowded store, supermarket, movie theater, gym, museum etc in which many people (both vax'd and unvax'd) are unmasked would pose a risk of covid spread. This is especially unfair for workers, for the immunocompromised, for kids.
5/

— Mark D. Levine (@MarkLevineNYC) May 15, 2021
Currently, the only way to tell if someone is vaccinated is their vaccination card, although the city and state has been developing a "vaccine passport" app that would enable people to show their vaccination status without having to carry their vaccination card around with them. However, the app is not yet available. Neither the CDC nor the federal government have vaccine databases with immunization records, and they do not plan to create any. 
Being without any sort of formal vaccination verification system means that everyone is operating on a vaccination honor system, which means that unvaccinated individuals could easily pretend that they've been inoculated. And already, people have been caught peddling fake vaccination cards, which makes verification even more difficult. 
"I worry about passports and permission to travel becoming the focal point," Jason Schwartz, a public health professor at Yale University, told The Atlantic, "when we really need to focus on helping to sell these vaccines."
New Yorkers who remain most at risk of contracting COVID-19 are those who have not been vaccinated yet. People who are immunocompromised, including people with diabetes, cardiovascular issues and asthma, are also much more likely to suffer from a severe case of, or die from, COVID-19. Anyone with these conditions, regardless of whether or not they have been vaccinated should continue to wear a mask indoors and outdoors, according to Gershon.
There are also new variants that have emerged and it's unclear whether any COVID-19 vaccines offer sufficient protection from them. "I know that vaccines cover 70 to 80% of the variants, but we have newer variants now that have not yet been tested, like the India variant," Gershon said. "For me, personally, I'm not taking off my mask. I don't feel we have enough people out in the community fully vaccinated for me to feel safe against all these other variants."