Health Care
Hochul to unveil new COVID-19 plans on New Year's Eve
Public health restrictions might tighten in the upcoming weeks if hospitalizations continue to rise.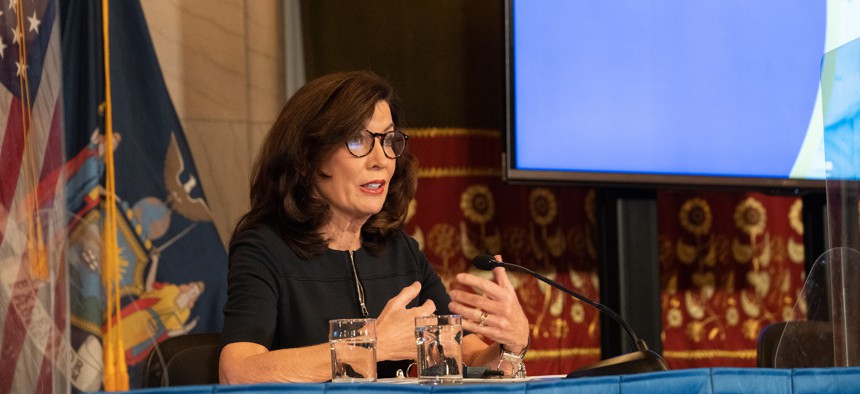 There was a time just a few weeks ago when public health experts were saying that maskless, and vaccinated, New Yorkers like Gov. Kathy Hochul could attend Broadway shows and hang with their friends without worrying too much about COVID-19. New variants of the coronavirus, however, have made such advice increasingly outdated in recent weeks. Breakthrough cases are rising among the vaccinated, which means they too need more testing, and public health restrictions are tightening once again as elected officials confront the latest twist in a nearly two-year pandemic saga. 
Hochul is among the leaders who have emphasized in recent weeks how different the winter surge of COVID-19 cases is this year compared to last, but her administration appears increasingly likely to take dramatic action in upcoming weeks to curb the spread of the coronavirus. She has already declared a new public health emergency and issued an executive order days ago allowing the state Legislature to meet remotely in January. A New Year's Eve press conference will detail how public health restrictions might be tightened in the weeks ahead, she announced Monday. 
"We're preparing for all scenarios, including the worst case scenarios, which we're not at," she said at an Albany press conference. "I've said from the very beginning, I want to have the ability to deploy whatever actions need to be taken if we get to a crisis situation." 
New York has experienced record numbers of positive cases for the coronavirus over the past week and children are being hospitalized at a notably higher rate than earlier in the pandemic. However, total statewide hospitalizations are still much lower than at this point in 2020, which suggests that the health care system is in better shape this time around to deal with the wave of new cases. A total of 7,183 people were hospitalized as of Dec. 26, 2020 compared to 5,526 on Sunday, according to the state. 
Some of the most sweeping actions Hochul has taken in recent weeks have aimed to alleviate an ongoing shortage of health care workers. The public health emergency she declared in late November allowed her to suspend elective surgeries at hospitals where increased cases and strained workforces have led to decreased capacity. Suspending elective surgeries means some New Yorkers will have to wait for vital medical procedures while costing cash-strapped hospitals revenue. Her administration has also deployed the National Guard at some facilities. She announced this week that the state Department of Health had shortened – from 10 days to five – the amount of time that vaccinated healthcare workers must quarantine after being infected by the coronavirus, which would allow them to go back to work sooner. 
Hochul's handling of the pandemic has been controversial at times. Political rivals like Rep. Lee Zeldin of Long Island, who is campaigning for the Republican nomination for governor, have attempted to blame state vaccine mandates for exacerbating staff shortages at hospitals. Some health care workers did lose their jobs because they refused to get vaccinated, but recent reporting suggests their numbers hardly account for the ongoing shortages. The mandate also raised vaccination rates among health care workers to more than 90%, which means many of them will be able to continue working without getting sick. Democratic rivals like Rep. Tom Suozzi of Long Island, who is running against Hochul for the 2022 Democratic nomination for governor, meanwhile, have accused Hochul of lacking a comprehensive plan to deal with the winter surge. 
The governor offered a few hints at the types of actions she might take in the upcoming weeks if COVID-19 cases continue rising at their current rate. More efforts to expand testing and vaccinations appear likely. She also appears to be getting ready to outline how public health data might be used to tighten restrictions. "That is something that we're studying on an ongoing basis," she said about possibly closing schools in the upcoming weeks. "There's not going to be one number. It's going to be a combination of (data) – looking at hospitalizations, the rate of spread." She added that expanding current vaccine mandates to transit workers was not happening in the immediate future because a state study concluded they are not in close enough proximity to the public. 
Her executive actions have also extended to allowing state lawmakers to work remotely once their scheduled 2022 session begins next month. That order expires on Jan. 15 along with a statewide eviction moratorium, statewide vaccine (or mask) mandate, limits on elective surgeries at some hospitals and the suspension of state limits on holding government meetings remotely. A lot about the state response to the pandemic is up in the air, but on New Year's Eve at least, Hochul is promising to give New Yorkers a better idea of her latest thinking on dealing with the increasingly dire situation with COVID-19. "We're not looking to do shutdowns, not looking to disrupt the economy, not looking to have any setbacks," she said Tuesday while concluding her press conference. "However, I will always reserve the right to take a different action if circumstances warrant."