Health Care
How will NY schools handle omicron?
Gov. Kathy Hochul said remote learning is not on the table for now.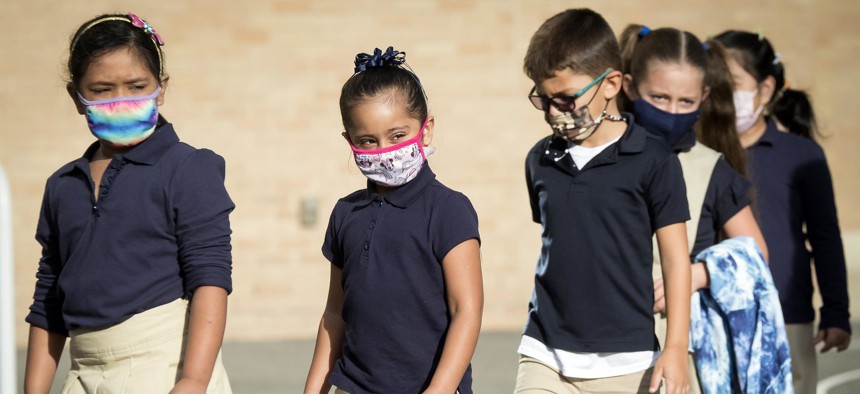 As the first case of the omicron variant traced to New York City was identified, more precautionary measures have been highly recommended across public schools to prevent possible outbreaks, but Gov. Kathy Hochul said keeping students in person at schools is a priority.
With the winter months approaching, cases across New York City have risen, and health officials warn that the omicron variant will cause a spike. 
School shutdowns and a return to remote learning seem unlikely as of now. During a Thursday press conference, Hochul emphasized the importance of maintaining children in schools to prevent any more of them falling behind in their education. 
"What we've done is order another 1 million antigen tests," Hochul said. "We're allowing departments of health to prioritize getting them to students, telling our communications with departments of health to get them out to the schools as well."
Schools across the state are expected to receive more testing kits and vaccination opportunities. Hochul mentioned that schools are now allowed to use over-the-counter antigen rapid tests. 
Hochul went on to say that she's not prepared to shut down schools during this time. 
"That would be considered an overreaction to the fact that this is not our first, second, or third or fourth variant," Hochul said.
The DOE recently announced it would be reinstating testing for staff members, including vaccinated adults, across the city's public schools, making it more accessible to staff who wish to participate. The DOE hasn't required staff to get tested for COVID-19 since the vaccine mandate took place in October. Testing of staff reportedly dropped off significantly in recent weeks as schools emphasized testing of unvaccinated students.
Teachers and all other municipal workers were required to be vaccinated by Nov. 1. Except for students older than 12 who participate in high-risk activities like chorus, marching band or cheerleading, students are not required to be vaccinated. Everyone on school property is required to wear a face covering.
New York City in-person learning has largely not been disrupted by the virus this school year. On Wednesday, 371 confirmed positive COVID-19 cases were reported in all New York City schools, 288 of which were students and 83 were staff, according to the city Department of Education. There are approximately 1 million students enrolled in New York City schools. From the beginning of the school year to Wednesday, Dec. 1, the confirmed cumulative positive COVID-19 cases of students in public schools are 7,094 reported cases, and 2,395 cases in teachers and staff.
"Our schools are among the safest places to be during this pandemic due to our extensive, multi-layered approach to health and safety. We are offering vaccinations at our schools, encouraging all families and eligible children to get vaccinated, and closely following the guidance of our public health experts," a spokesperson told City & State.
In response to the seemingly more contagious omicron variant, the United Federation of Teachers, the labor union that represents most teachers across New York City public schools, pushed the city to test vaccinated staff like they previously did earlier in the school year.  The union criticized the DOE's testing program for being too small and emphasized the need for expansion to everyone across public schools to be an effective public health measure.
"When I first called the city over the weekend about (the omicron variant), and I said, look, we really need to ramp up the testing for the adults, you know about the new variant," said Michael Mulgrew, president of the United Federation of Teachers. "We need to put more aggressive testing into place and testing for an early warning system which requires testing of a certain percentage of every school population."
Dr. Donna Hallas, the director of the pediatric nurse practitioner program at NYU Rory Meyers College of Nursing, told City & State that parents should take safety precautions when it comes to preparing their children for the possible arrival of the new variant.
"Parents need to be vigilant and say, 'You know what, my child isn't feeling well today, they can't go to school.' That's just common courtesy," Hallas said.
She urged parents to get their children vaccinated and set an example for their children by abiding by public health protocols.
"There's still a lot of resistance from parents to wear masks, and they really need to step up now," Hallas said. "We have to get rid of the false information and really encourage people to follow these measures really carefully."
Once again, Hochul urged parents to get their children vaccinated whether it's through their own private providers, local pharmacies or in their schools.
"As kids hit the holidays, they're going to be around older relatives, and we want to make sure all the kids are safe and vaccinated before they come back after the holiday season," Hochul said.
Earlier this week, New York City Mayor Bill de Blasio urged New Yorkers to wear their masks in indoor settings, regardless of one's vaccination status. While a mask mandate hasn't been reinstated in the city, medical experts urged public schools to continue following their own safety measures to protect students and staff.
"I believe that the public health measures we currently have in place for masks, for everyone in the school system, basics of handwashing and not being on top of each other have been good measures," Hallas said.
Meanwhile, the city is still looking for more omicron cases.
"We are constantly sequencing specimens (positive COVID-19 tests) for variants," Michael Lanza, a spokesperson for the city Department of Health, told City & State.