Coronavirus
Language barriers compound COVID-19 challenges among non-English speakers
More than 200 languages are spoken in New York City, making pandemic outreach efforts a monumental task.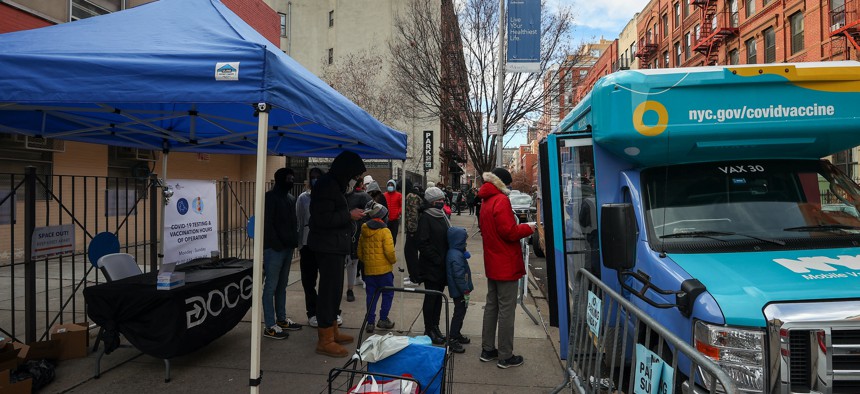 Disinformation, along with ever-changing protocols and a constant stream of new findings about COVID-19, has plagued communities in New York City across social, ethnic and economic spectrums throughout the pandemic. But in areas of the city, in which English is not the primary language for many people, the lack of reliable information has proven to be especially troublesome.
A confluence of factors that existed among many non-English speaking communities long before the introduction of COVID-19 – distrust in institutional medicine, employment and housing constraints and a lack of access to technology – has exacerbated the effects of the language barriers, experts explain. Non-English speakers in New York City are often left in the dark when COVID-19 directives change or important news breaks about the virus on English-language mediums, such as televised press conferences or news stories. Information that does trickle through is sometimes lost in translation and conflicts with reports out of their home countries. Navigating websites where the public can sign up for COVID-19 vaccines, testing or to receive personal protective equipment have also been hindered by language barriers.
"Among non-English speakers in a place like New York City, we are seeing some of the same issues that were always there before the pandemic, but just magnified on a greater scale," Allison Squires, an associate professor at NYU Rory Meyers College of Nursing, told City & State. "Much like with English speakers, there is also a ton of misinformation … and many folks, especially if they've immigrated recently to the country, are comparing the local information with what they're hearing back home, so that just adds additional layers and complexities."
Some low-income neighborhoods in New York City that are home to large immigrant communities and where English is not the predominant language, have seen higher rates of COVID-19 spread. Experts say the disparity is due to a variety of factors, including language barriers, though data on the correlation between language and COVID-19 susceptibility, along with vaccination rates, is not widely available.
In East Harlem, also known as "El Barrio," where more than 50% of the community identifies as Hispanic or Latino, according to 2010 Census data, the neighborhood at one point had the highest rate of COVID-19 spread of all ZIP codes in the city.
In recent months, disparities in vaccination rates between white communities and those composed of other races and ethnicities – where English is often not the primary language – have closed in some cases, thanks in large part to advocacy work and outreach efforts in nonwhite neighborhoods, coupled with the political drivers of vaccine skepticism in white communities.
A recent study by the Kaiser Family Foundation found that the vaccination rate among white and Latino people was virtually even and lower among the white population in 17 states, including New York.
To tackle the dissemination of bad information, along with the general lack of access to reliable public health messages about COVID-19 among non-English speakers, community leaders, including grassroots activists and elected officials, have had to navigate the various mediums that are frequently used by communities with large populations of non-English speakers. This includes media in their home countries, WhatsApp channels and Facebook.
Juan Haro, director of the advocacy group Movement for Justice in El Barrio, recalled a sensationalized storyline that came out of Mexico that was repeatedly cited by East Harlem residents there who said they were skeptical about seeking coronavirus-related medical care because of it. The narrative was about a coronavirus-infected woman whose distraught family blamed hospital staff for refusing to allow them to be with her in the hospital. Haro said El Barrio residents feared this meant they would be unable to leave the hospital if they sought coronavirus-related care.
"It was very alarming for folks here, because, obviously, they're in touch with their families back home, and they would sometimes hear these stories and begin to become concerned that entering a hospital may not be safe for them, that they might not be able to leave or they might die if they go into the hospital to get tested (for COVID-19)," Haro told City & State.
That sort of lethargy around language access is a deep failure. It is what makes access to language services and inclusive services life or death.
– New York City Council Member Shahana Hanif
New York City Council Member Shahana Hanif, who represents District 39 that encompasses Brooklyn's Kensington neighborhood and is home to one of the city's largest enclaves of Bangladeshi immigrants, said she, along with Bengali-speaking medical experts, regularly appeared on Bengali TV programs that were broadcast on Facebook and widely watched among members of the city's Bangladeshi community throughout the pandemic. They used the air time to disseminate general information about the virus, along with coronavirus-relief programs.
"Information consistently reaches folks we want to target … last," Hanif said. "That sort of lethargy around language access is a deep failure. It is what makes access to language services and inclusive services life or death."
In addition to the language barrier, job constraints can also fuel the knowledge gap among non-English speakers, explained Council Member Pierina Sanchez, who represents District 14 in the Bronx and is the daughter of Afro Dominican immigrants.
"Our people work really hard, and they're working grueling hours, multiple jobs often, and the traditional ways of reaching folks – they're not going to see a Tweet or a very nicely designed graphic unless we are making sure it gets to them," Sanchez told City & State. "I was with several other elected officials handing out test kits for COVID-19, and I can not tell you the number of conversations I had where people were like, 'Wait, why do I need that? Is that the vaccine?' … there isn't widespread understanding of these things."
That dynamic has made in-person outreach all the more important, experts say. Movement for Justice in El Barrio recently hung 2,000 posters in Spanish around East Harlem urging people to get vaccinated. The organization also hosted a community meeting about COVID-19 relief services and medical care via conference call since many people in the community do not have access to reliable internet, Haro said.
In addition to language barriers that prevent communities where English is not the primary language from receiving information about COVID-19 protocols, health care and the virus in general, there are additional layers of complexity that immigrant communities face that have made coping with the pandemic even more difficult. For example, non-English speakers often live in multigenerational households, making it harder to quarantine, hastening the spread of the virus.
New York's public health agencies have been criticized for failing to reach non-English speakers. The state was cited in a civil rights complaint filed by the National Health Law Program in April last year to force access to COVID-19 information in additional languages. The complaint noted that a state-run vaccination site in Manhattan's Chinatown had no Chinese-language signs or interpreters. Since then, the city and state have made some strides in mitigating the language barriers.
The New York City Department of Health and Mental Hygiene has partnered with faith and community-based organizations to conduct COVID-19 outreach in 16 languages, the agency told City & State. All health department materials posted online are available in at least 13 languages, the agency said.
"Prior to COVID, the NYC Health Department's paid media campaigns relied on more targeted outreach to the audience that needed to be reached and planned for ad placement in the corresponding languages," agency spokesperson Pedro Frisneda told City & State. "Given the citywide scope of the COVID-19 pandemic, we have developed citywide, multimedium, multilingual campaigns."
The city's public hospital system, New York City Health + Hospitals, conducted a phone outreach campaign regarding the vaccine that made 19,000 calls translated into 86 languages between December 2020 and November 2021, the agency said. Health care providers also have access to translation services in over 200 languages at all New York City Health + Hospitals sites.
"It is a priority of our public health system to ensure we're reaching all patients with language-appropriate and culturally competent strategies that empowers them to make the best health decisions and feel comfortable being cared for by our staff," the agency said in a statement. "This priority only grew more important with the COVID-19 pandemic, leading us to expand this work, including strengthening partnerships with community-based organizations."
At the state level, staffers operating COVID-19 hotlines can provide interpretation services in over 100 languages, the state Department of Health told City & State. The state also pointed to a series of downloadable graphics and posters on its website as an example of its language-access efforts, but they are only available in English, Spanish and Chinese.
The federal rollout of free at-home COVID-19 testing kits this week shows there are still serious shortfalls in government approach to language access. The Department of Health and Human Services-run website, where households can order tests, is only available in three languages. Rep. Grace Meng, who represents the 6th Congressional District, which encompasses Queens, tweeted that she is working with the federal government to expand language access on the testing kit website and ensure those who do not have internet access are able to place orders. Meng last year introduced a bill that would require the federal government to translate all COVID-19 information to the top 20 languages spoken in the U.S.
"Ultimately, one's grasp of the English language should never determine their ability and access to fighting against this pandemic," she said in a statement.