Health Care
State mask mandate remains in place — for now
The Hochul administration is appealing a recent ruling striking down the public health rule.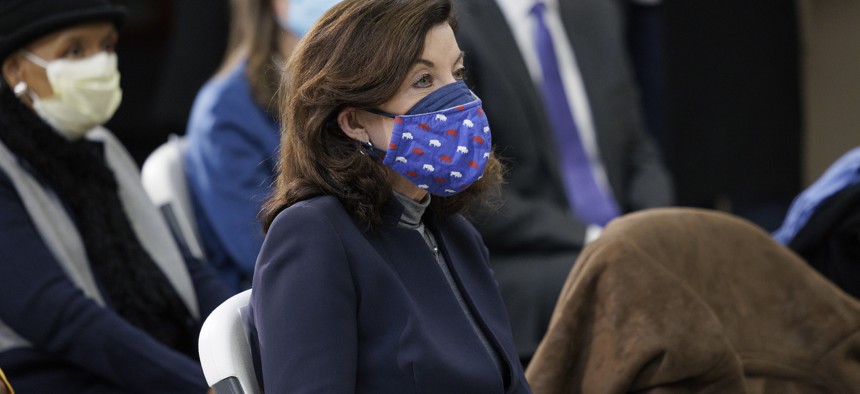 A statewide mask mandate will remain in place while a legal challenge moves through the court system, according to state Attorney General Letitia James, following a decision by the Appellate Division, Second Department.
A state Supreme Court judge ruled Monday that the Department of Health had violated state law by requiring New Yorkers to wear masks indoors during the Winter COVID-19 surge, but the Department of Health moved Tuesday to keep the mandate in place by appealing to Appelate Division of state court on the lawsuit brought by Long Island parents. 
"These measures are critical tools to prevent the spread of COVID-19, make schools and businesses safe, and save lives," Gov. Kathy Hochul said in a statement following the ruling. "We will not stop fighting to protect New Yorkers, and we are confident we will continue to prevail."
Legislative leaders appear to be in no hurry to make a moot point out of the legal controversy over whether the Hochul administration overstepped its authority by issuing the mask mandate weeks ago. State Senate Majority Leader Andrea Stewart-Cousins and Assembly Speaker Carl Heastie told reporters Tuesday that they will wait on the legal process to issue a final decision about the existing mandate before considering any actions of their own. 
Hochul expressed optimism Tuesday that the mask mandate will be upheld despite the current uncertainty over how long it will take for the courts to make a final ruling on the matter. "We disagree 100% with the conclusion of the judge who in his opinion thought the Department of Health does not have the authority to protect public health," Hochul told reporters Tuesday at a press conference in Syracuse. "We believe this will be settled very shortly."