Health Care
Bassett defends Hochul administration policies on masks
New York legislators questioned state Health Commissioner Dr. Mary Bassett at a Tuesday budget hearing.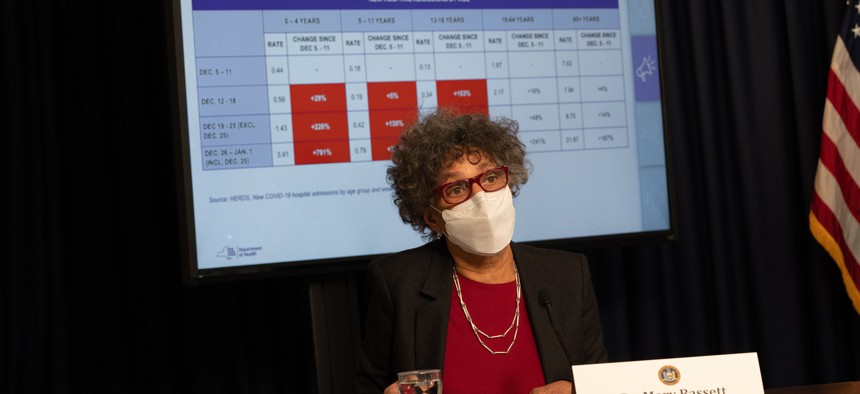 Mask mandates have been a partisan issue in Albany for most of the COVID-19 pandemic despite scientific consensus on their effectiveness at blocking the spread of the coronavirus. Republicans have generally opposed them by arguing that personal liberty ought to outweigh the greater good while Democrats have generally argued the opposite. This bipartisan divide on masks has persisted for nearly two years, but that is beginning to change. 
Democrats are increasingly questioning current mask rules as COVID-19 cases continue decreasing statewide, but Gov. Kathy Hochul appears to be splitting the difference. The governor suggested Monday that the end is coming for the statewide mask mandate she implemented weeks ago, but the same cannot be said for the mask mandate in schools that is coming under increasing criticism from Democrats and Republicans alike. "We say that this is all based on science," Democratic state Sen. John Liu said to state Health Commissioner Dr. Mary Bassett at a Tuesday budget hearing on fiscal issues affecting her agency. "It's more difficult to keep explaining to our constituents when neighboring states are starting to lift their mask mandates."
The push for loosening public health rules in New York comes as other states like New Jersey announce plans to phase out mask requirements in schools though the Centers for Disease Control still recommends them in schools. "There has been no decision made on a date in which the mask mandate in schools will end," Bassett said at the hearing. "We've been able to keep children safe and in school and we've done that by throwing everything we have in terms of prevention interventions." Hochul is expected to announce Wednesday when the state will lift the ongoing requirement that New Yorkers wear masks at public venues that do not check their vaccination status. 
Democrats have generally had science on their side when arguing in support of mandates, but that is beginning to change. High-quality types of masks like N95 are effective at blocking the transmission of the omicron variant, but the state permits New Yorkers to wear face coverings whose value is much more in doubt despite their effectiveness against past variants. The ongoing decrease of COVID-19 cases in the state adds another line of argument against the mask requirement, especially considering the low infection rates in schools compared to other public places. But Bassett told state lawmakers Tuesday that limiting cases as much as possible in schools was worth the inconvenience to students, teachers and staff.  
Lawmakers, particularly Republicans, pressed Bassett to defend the state response to the pandemic on a number of other fronts. GOP Assembly Member Ed Ra asked Bassett why the administration leaned on executive authority, rather than the Legislature, to implement the statewide mask mandate that became the target of ongoing litigation. "It has to do with the ability of government to respond with agility during a public health crisis," she said. GOP state Sen. Sue Serino pushed Bassett to respond to renewed calls for a probe into how the prior administration handled COVID-19 in nursing homes, which Bassett sidestepped once more. Freshman Republican state Sen. Edward Rath III raised the question of when all these debates about masks and other interventions might finally end as the two-year anniversary of the first confirmed COVID-19 case in New York approached. "There is no single magic number that we look at and say this pandemic is over, except zero cases," Bassett said. "We all know (that) is unlikely to occur anytime soon."