Coronavirus
Statewide school mask mandate and NYC vaccination deadline prompt protests, confusion
Thousands of city workers were set to lose their jobs on Friday for refusing to be vaccinated. Meanwhile, lawmakers questioned why the mask mandate was lifted statewide, but remains in place in schools.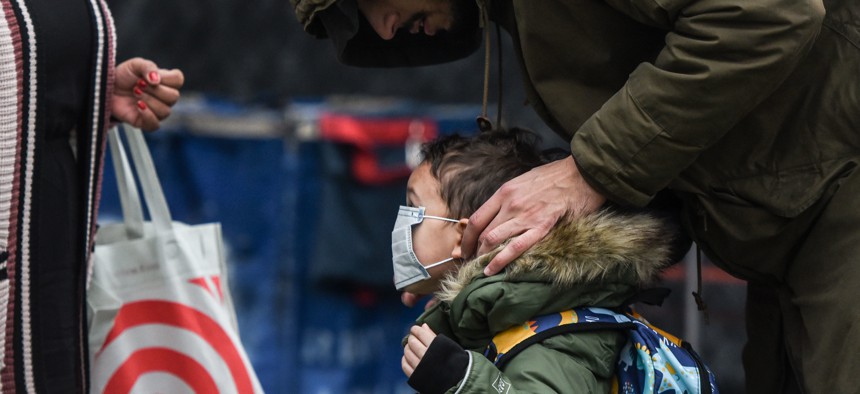 Big changes were made to New York's COVID-19 rules this week, prompting a fresh round of protest and confusion about the ever evolving regulations. Gov. Kathy Hochul lifted a statewide mask mandate for most indoor public spaces on Thursday, but not schools. And in New York City, where local leaders have kept the mask mandate in place, thousands of municipal workers were set to be fired on Friday for failing to get vaccinated. 
The shifts came as the statewide positivity rate dipped to 4% this week from a high point of 23% in early January during the peak of the omicron surge, officials reported Wednesday.
"This is what we've been waiting for – tremendous progress after two long years, and we're not done, but this is trending in a very, very good direction," Hochul said Wednesday, while announcing she would let the mask order expire on Thursday, following suit with governors in California, Connecticut and New Jersey. The rule remains in place in certain places, such as healthcare facilities and homeless shelters, and is up to the discretion of local leaders.
Continued masking in schools prompted debate from some parents and Republican lawmakers who claim there is no legitimate reason to keep the order in place in schools. "The public deserves to know which metrics and so-called science her administration used to make this misguided decision," state Senate Republican Leader Rob Ortt said in a statement. Hochul said she will reassess the directive before Feb. 21.
Democrats and school officials also joined Republicans in expressing the need for better COVID-19 metrics in schools to determine when to deploy more restrictive protocols, such as classroom shutdowns and masks. A misguided metrics system allegedly led former New York City Mayor Bill de Blasio to shut down schools when the infection rate reached 3% in November 2020, according to an editorial by his former COVID-19 adviser Jay Varma in the New York Times in which he wrote about the difficulties of establishing guidelines. 
"For me, the darkest moment of relying too much on metrics was when Mr. de Blasio temporarily closed in-person public school in November 2020 because he had publicly committed that he would do so when the citywide coronavirus test positivity rate rose above 3 percent," Varma wrote Wednesday, noting he backed the guidelines.
New York City Mayor Eric Adams said he "wants to get rid of these darn masks so bad" but will "err on the side of caution" and keep the requirement for now citywide. 
And while some COVID regulations were rolled back this week, one significant mandate took effect on Friday: the deadline for city workers to be vaccinated. 
An estimated 3,000 unvaccinated city employees, about 1% of the total workforce, were set to lose their jobs on Friday for failing to get the shots. An additional 1,000 employees who were hired after de Blasio instituted the rule in August will also be required to show proof of full vaccination by Friday or face termination. The approximately 3,000 others have been suspended without pay since the initial inoculation deadline on Nov. 1.
The Correction Department, which is already experiencing a crippling staff shortage, has the lowest single-dose vaccination rate of any city agency, 88% as of Wednesday, NY1 reported. The New York City Housing Authority and Police Department both have vaccination rates around 89%, compared to 95% for all city workers.
Protesters gathered at City Hall throughout the week to contest the firings, but Adams said he would not reconsider the directive. 
"The responsibility is clear … if you're hired, if you get this job, you have to be vaccinated. If you are not following the rules, you are making that decision," he said during a Thursday press conference.